May clashes with Blair over second Brexit vote
If they can't reach an agreement, then the logical thing is to go back to the people: Tony Blair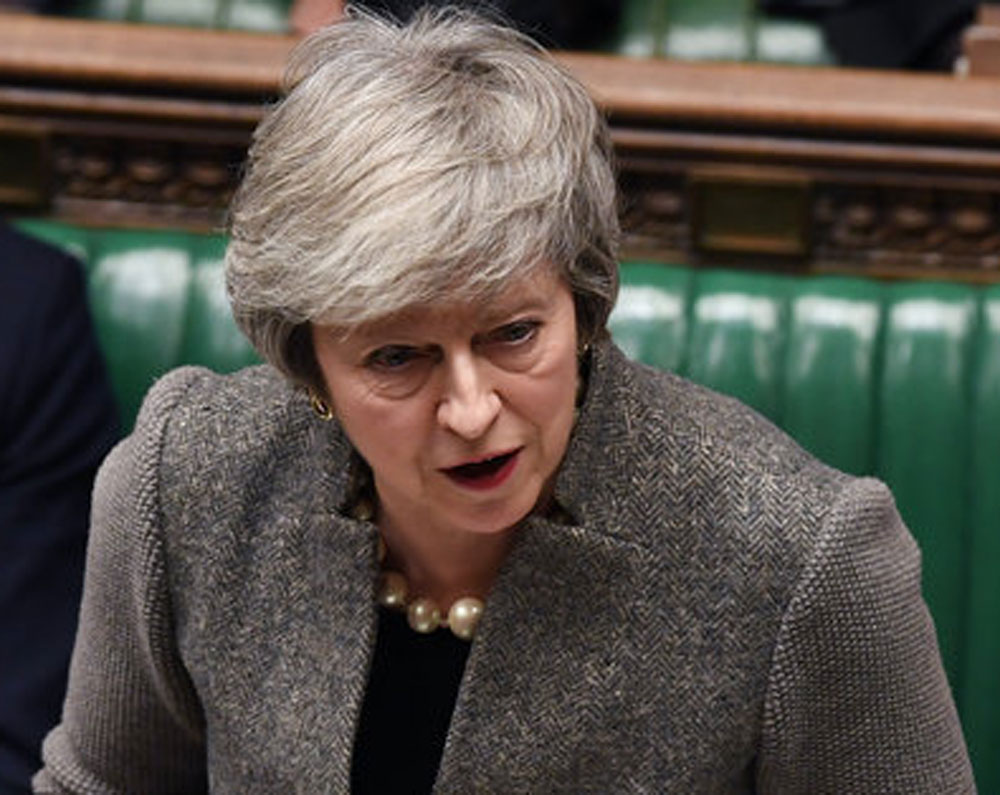 Britain's Prime Minister Theresa May delivers a speech in the House of Commons in London on Monday.
(AP)
---
London
|
Published 17.12.18, 07:51 PM
|
---
In yet another example of Brits behaving in a very un-British way, the Prime Minister Theresa May, who is adamant there should not be a second referendum, has exchanged angry words with the former Labour Prime Minister Tony Blair who believes there should.
The exchanges have become very personalised.
The dialogue runs like this:
May (very angry): "For Tony Blair to go to Brussels and seek to undermine our negotiations by advocating for a second referendum is an insult to the office he once held.
"I have never lost sight of my duty, and that is to deliver on the referendum result.
"We cannot, as he would, abdicate responsibility for this decision.
"Parliament has a democratic duty to deliver what the British people voted for."
Camera cuts to Blair who is equally furious: "What is irresponsible is to try to steamroller MPs into accepting a deal they genuinely think is a bad one with the threat that if they do not fall into line, the government will have the country crash out without a deal.
"To describe such a course as an insult is a strange description of what would be the opportunity for them to instruct parliament as to how to proceed.
"Far from being anti-democratic, it would be the opposite — as indeed many senior figures in her party from past and present have been saying."
That seems to be true, with some cabinet ministers and Tory MPs, as well as many Labour politicians, agreeing with Blair that a second referendum — euphemistically called a "people's vote" — is the only way to break the impasse when parliament rejects May's withdrawal deal but cannot agree the way forward.
May was on Monday repeating her message to the Commons: "Let us not break faith with the British people by trying to stage another referendum.
"Another vote which would do irreparable damage to the integrity of our politics, because it would say to millions who trusted in democracy, that our democracy does not deliver.
"Another vote which would likely leave us no further forward than the last.
"And another vote which would further divide our country at the very moment we should be working to unite it."
Until the Brexit crisis, Blair was considered damaged goods for having led the UK to war against Saddam Hussein for possession of "weapons of mass destruction" when events proved that was a false prospectus.
But with Brexit, he is back in business and lashed out further at May.
He said: "In these circumstances it is not irresponsible or insulting to put forward an alternative way to achieve resolution.
"The sensible thing is now to allow parliament to vote on each of the forms of Brexit canvassed including the Prime Minister's deal.
"If they can't reach agreement then the logical thing is to go back to the people.
"I have always said, and did again in my speech on Friday in London, that I personally sympathise with the PM's heavy burden in doing her job.
"I do not disrespect her at all. I understand her frustration.
"But I profoundly believe that the course she is pursuing will not work and is emphatically not in the national interest. And that's the reason I am speaking out and shall continue to do so.
"Survey the political wreckage of the past weeks… Chaos, the character of the process; and no viable solution in sight.
"The clock which should never have been set ticking (is) now ticking ever louder as we approach the midnight hour.
"How can it be said that in these circumstances, given the riot of confusion... it is wrong to go back to the people and ask that they clarify whether they wish now, in the light of all this, to remain or leave?"