Texas shooting: I'm sick and tired of it, says Biden
President questions why mass shootings keep happening in US, asks nation to stand up to gun lobby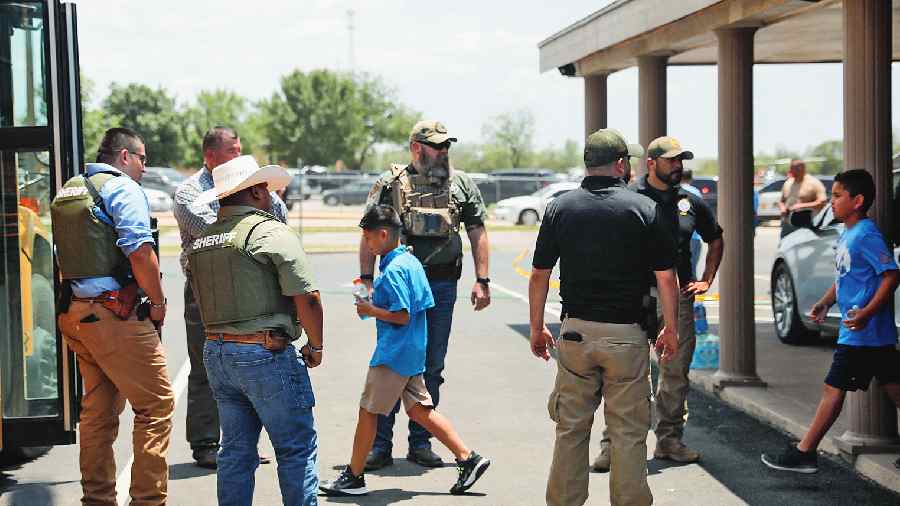 Students get on a school bus as police officers guard the scene of the shooting near the Robb Elementary School in Uvalde, Texas, on Tuesday.
Reuters
---
Washington
|
Published 26.05.22, 01:36 AM
|
---
A shaken and emotional President Biden declared that it is "time to turn this pain into action" on Tuesday night as he addressed the nation following the slaughter of 18 elementary school children and a teacher in Texas.
"It's just sick," he said of the sorts of weapons that are easily available in the US.
Biden spoke for just seven minutes, giving voice to the grief and anger and frustration of many Americans, asking: "Why? Why are we willing to live with this carnage? Why do we keep letting this happen?"
The President took direct aim at gun manufacturers and their representatives in Washington, urging politicians to stand up to the power they wield. But he made no specific gun control proposals nor called on Congress to vote immediately on legislation.
"The gun manufacturers have spent two decades aggressively marketing assault weapons, which make them the most and largest profit," Biden said. "For God's sake, we have to have the courage to stand up to the industry."
He added: "Where in God's name is our backbone?"
The President delivered his remarks from the Roosevelt Room of the White House less than two hours after returning from a five-day trip to South Korea and Japan. Noting his return home, Biden said no other country had the same kind of problem with mass shootings.
But while Biden expressed horror and outrage at the shooting, he steered clear of using the moment to wade directly into the gun control debate, which has been one of the country's most polarising issues for more than a decade.
Biden was in the White House, as vice-president, in December of 2012, when 20 young children were killed at the Sandy Hook elementary school in Newtown, Connecticut.
He spent more than a month developing a list of gun control proposals, only to see most of them flame out in the Senate three months later.
In the years since, he has decried mass shootings again and again: at schools, churches, restaurants, nightclubs, workplaces and more. In his remarks on Tuesday night, Biden repeatedly appeared to choke back tears as he was called to do it again.
"My fellow Americans," he said, speaking slowly. "I'd hoped when I became President, I would not have to do this. Again."
"Another massacre. Uvalde, Texas. An elementary school," he said. "Beautiful, innocent, second, third, fourth graders. And how many scores of little children who witness what happened, see their friends die as if they're on a battlefield for God's sake."
Speaking from personal experience, he added: "To lose a child. It's like having a piece of your soul ripped away." He did not mention the loss of his son Beau from cancer or the death of his first wife and young daughter in a car crash.
But he made it clear that he understands — and grieves — for the parents of the children who were killed on Tuesday.
"The hollowness in your chest," he said. "You feel like you're being sucked into it and never going to be able to get out."
Arming teachers
Would armed teachers have made a difference? That's the question frequently raised by conservative lawmakers in the wake of school shootings.
And on Tuesday, Ken Paxton, the Texas attorney-general, suggested in an interview with Newsmax, the Right-wing news outlet, that having "teachers and other administrators who have gone through training and who are armed" would save lives. He reiterated his point in an interview on Fox News.
Senator Ted Cruz, Republican of Texas, said on CNN that restricting gun rights is ineffective in stopping shootings; instead, Cruz pushed for more law enforcement on campuses.
After delivering an impassioned and anguished plea to his colleagues calling for stricter gun control measures, Senator Chris Murphy, Democrat of Connecticut, objected against the idea of armed staff on sites like school grounds. Murphy was a young representative during the Sandy Hook Elementary School massacre in Newtown, Connecticut, in 2012.
New York Times News Service