Taliban declare victory from Kabul airport tarmac after US withdrawal
Spokesman Zabihullah Mujahid said that the oerations will reopen for air traffic within a matter of days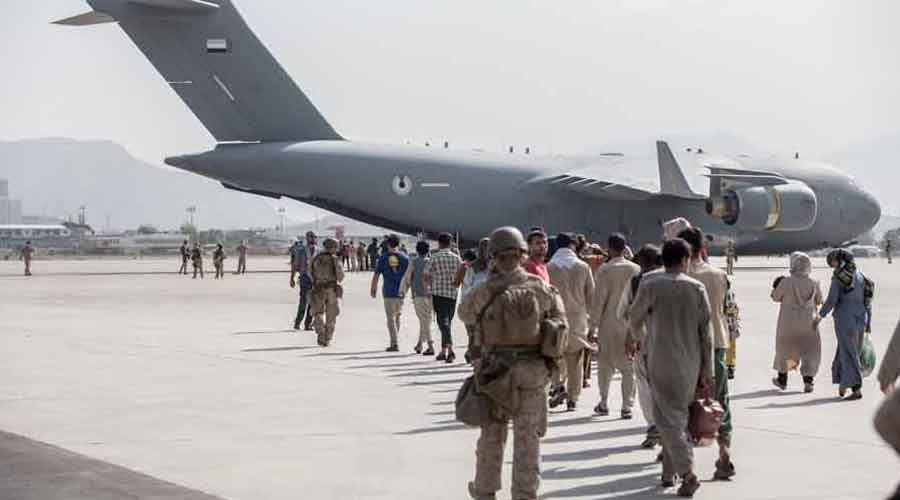 Despite Mujahid's assertions, the passenger terminal was in an evident state of disorder.
File photo
---
Washington
|
Published 01.09.21, 02:50 AM
|
---
From the tarmac where the last American plane had departed from Afghanistan's capital around midnight, the Taliban's spokesman declared victory on Tuesday in their two-decade fight against US occupation.
Zabihullah Mujahid, the spokesman, congratulated Afghans as he toured the airport. "This victory belongs to us all," he said.
Mujahid made the declaration as he led journalists through a facility littered with the remains of the frantic operation to evacuate tens of thousands of Afghans fleeing the new reality of life under the rule of the militant group.
But celebrations by the Taliban are likely to be short-lived. The group now faces the daunting challenge of governing a desperately poor and polarised country, plagued by food and cash shortages, terrorist threats and an intensifying humanitarian crisis.
A third of all Afghans face what the UN calls crisis levels of food insecurity.
Mujahid, flanked by Taliban officials and fighters from the group's elite unit, said that the airport, still named after the President whom the US installed years earlier, would reopen for air traffic within a matter of days.
He also repeated the Taliban's previous assurances that Afghans with passports and visas would be allowed to leave the country, regardless of their role during the American occupation.
"The end of the occupation was our biggest goal and we have been fighting for this day for the last 20 years: to end this war and attack of foreigners on us and bring our own Islamic government," Mujahid said. "That goal is achieved now."
He added that the Taliban would work to "strengthen the government and protect our beliefs and serve our nation. This is a day of happiness and a historical day."
Despite Mujahid's assertions, the passenger terminal was in an evident state of disorder. Shattered glass littered hallways, and destroyed vehicles were jamming the parking lot.
New York Times News Service