Swank plans divorce
Read more below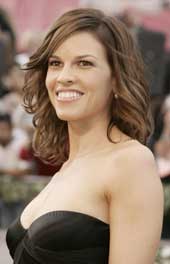 ---
Published 28.05.06, 12:00 AM
|
---
Swank: Girls don't cry
Los Angeles, May 27 (Reuters): Oscar-winning actress Hilary Swank and her husband of eight years Chad Lowe have decided to divorce, a spokeswoman for Swank said yesterday.
She was confirming a report on People.com that the couple, who separated last January, had decided to end their marriage.
People quoted the couple's lawyer Jeffrey Bernstein as saying: "Hilary Swank and Chad Lowe have jointly decided to divorce. They continue to be friends."
Swank, 31, who won best actress Oscars for her performances in Million Dollar Baby and Boys Don't Cry, wed Lowe, 38, in 1997. After separating, the couple tried to reconcile but failed, People said.