Statute 'doesn't assure citizenship' : Trump
The policy proposal is aimed chiefly at families from Mexico and Central America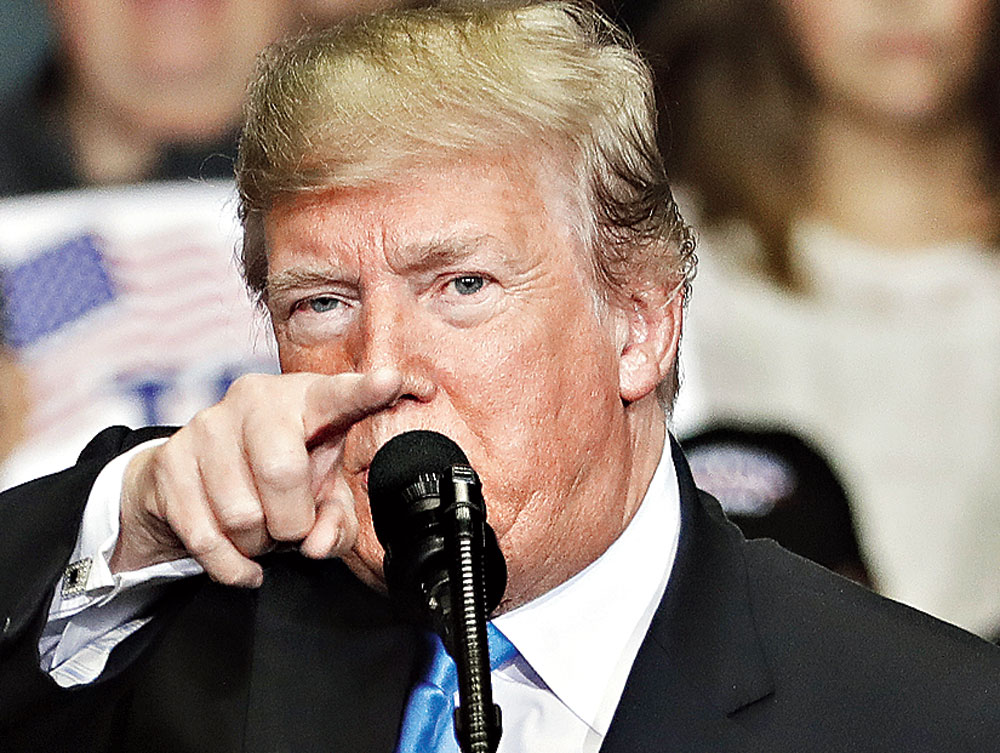 President Donald Trump points to the media as he speaks at a campaign rally in Charlotte, North Carolina.
(AP)
---
Washington
|
Published 31.10.18, 08:25 PM
|
---
President Donald Trump said on Wednesday the US Constitution does not guarantee the right to citizenship to everyone born in the country and he would continue his push to end the practice, bringing his tough line on immigration to the fore as the country heads into next week's congressional elections.
"So-called Birthright Citizenship, which costs our Country billions of dollars and is very unfair to our citizens, will be ended one way or the other. It is not covered by the 14th Amendment because of the words 'subject to the jurisdiction thereof.' Many legal scholars agree....." Trump wrote in a Twitter post.
The 14th Amendment, added after the US Civil War, grants citizenship to anyone born on US soil and was intended to give constitutional protections to former slaves.
But Republicans such as Trump say it creates an incentive for people to come to the country illegally to have children. The lawyer husband of one of Trump's top advisers, Kellyanne Conway, wrote in an opinion piece on Wednesday that such a move to end birthright citizenship would be unconstitutional.
"Sometimes the Constitution's text is plain as day and bars what politicians seek to do. That's the case with President Trump's proposal to end 'birthright citizenship' through an executive order," George Conway wrote.
White House press secretary Sarah Sanders said in an interview with Fox News on Wednesday there was "more than just one piece of the puzzle" on immigration.
"The President wants to see a total reform take place. We have massive loopholes in our immigration system that we have to close or we're just going to continue kicking the can down the road," she added.
The US is one of at least 30 countries that automatically grants citizenship to anyone born within its borders. The beneficiaries range from the children of entrepreneurs and academics working in the US to so-called birth tourists, who travel to the US while pregnant, often from China, Turkey or West Asia, in order to give birth to children who will be American citizens.
The latest policy proposal appears to be aimed chiefly at families from Mexico and Central America, who make up three quarters of the undocumented population in the US and who continue to arrive at the southwest border in substantial numbers.
Upon turning 21, the American children of undocumented immigrants are allowed to sponsor their parents for legal permanent residence, adding to concerns among advocates of stronger immigration laws that newcomers are using "anchor babies" to get public benefits and a foothold toward legal residence.
Many parents who have gained permanent legal residence through their children say they earned it by working and paying taxes. Reuters