Sri Lanka crisis: Cooking with firewood; million-rupee bicycle
Most parts of Colombo are mercifully still calm and undisturbed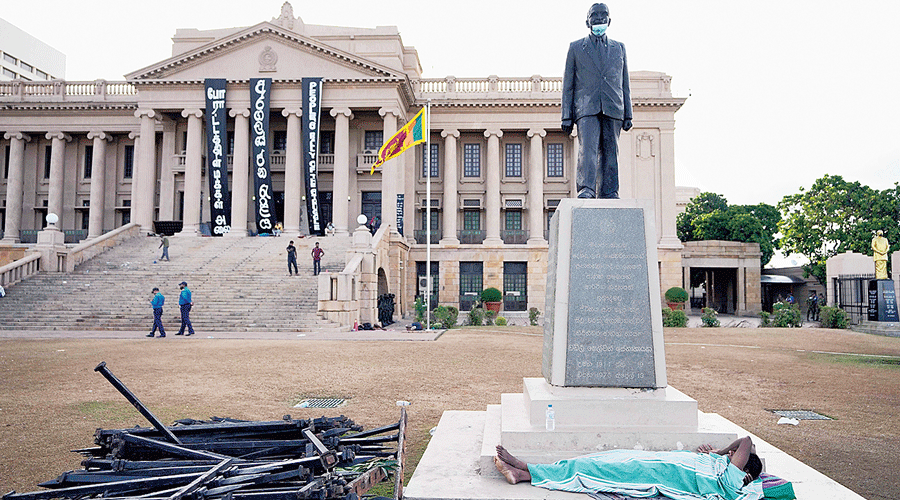 A protester sleeps under a statue on the presidential secretariat premises in Colombo on Friday.
AP/PTI
---
Colombo
|
Published 16.07.22, 02:57 AM
|
---
The following is a first-person account by an Indian corporate professional leaving Sri Lanka in the middle of turmoil earlier this week.
Life in Sri Lanka — and in the capital Colombo, where I have lived and worked for more than two decades now -— has become increasingly tough and taxing. Leaving was relatively easy.
Unlike what you have been seeing of Colombo on television news over the past fortnight or so, the Sri Lanka capital isn't in an encompassing turmoil.
The protests and troubling scenes of chaos have so far been limited to a section of the Galleface Road, which runs along the rim of the Indian Ocean, and where the presidential palace and some other key government facilities and residences are. That is where the news cameras have remained focused, which is why it seems to distant viewers that all of Colombo is in a mess. Not so.
Most parts of the city are mercifully still calm and undisturbed. When I left with my family, we took the help of a tour and travel operator we have known for a long time. He had vans and enough fuel. He got us to the airport without fuss.
It was actually a much shorter ride because there were very few vehicles on the roads. And the airport that day was nearly empty: very few aircraft flying out, so very few passengers. Getting out was smooth.
That said, life in Colombo has been going down the tube, as it were. For the last six months now, there has been a terrible squeeze on daily essential supplies — cooking gas, fuel for vehicles, daily requirements.
The last three months have been hellish. Things had turned so bad that at one point we decided to gather some firewood and attempt cooking the old-fashioned way. This, in the centre of what is upper middle class Colombo!
There was a time when people with connections in relevant places could still manage gas, fuel and other essentials through the backdoor. Indian Oil Corporation is the only company retailing fuel from bunks at the moment, and at first some NRIs were able to leverage their connections.
But when people got onto the streets, doing that became tougher and tougher. They would see a car or limo sneak into the back of a fuel station, follow it, record the backdoor refuelling and put it out on social media.
Getting things done with the help of contacts was no longer a thing VVIPs could easily do. You needed to queue up for no less than a week for any hope of getting fuel into your vehicle. Increasingly, people had taken to cycling from one place to another. Cycle prices had spiralled to ridiculous heights: some cycles can now cost upwards of a million Sri Lankan rupees. Personally speaking, I was fortunate to live very close to where I worked in Colombo; I walked to office and back.
Because of the fuel crisis, fruits and vegetables had become scarce and very expensive. Farmers and growers were unable to move their produce from the countryside to the cities. And when they were able to do so, the transport costs they had to pay was huge.
My sense is that at the moment the protests are chiefly political; the anger has not turned into social unrest as yet. If that happens, the ramifications could be far more serious. Sri Lanka has a history of ethnic divisions. There are also a fair few Indians. But there is nothing at the moment that should make Indians feel unsafe.
At the same time, there is very little that I see can be done to prevent Sri Lanka's slide. The current crisis has been brought on by a series of corrupt and inept leaders. Leaders across the political spectrum have lost credibility, which is why after Gotabaya Rajapaksa fled and quit office, the ire immediately turned on Ranil Wickremesinghe.
I personally can't think of a single Sri Lankan leader in the top rung who has credibility. And watching the temper of the street, I would seriously wonder if anybody really wants the job, or can do what Sri Lanka urgently requires --- restoration of faith in public office and a period of calm in which urgent repair work can be conducted.