Small Boris majority likely in election
A hung House cannot be ruled out, possibly allowing Corbyn to form a minority govt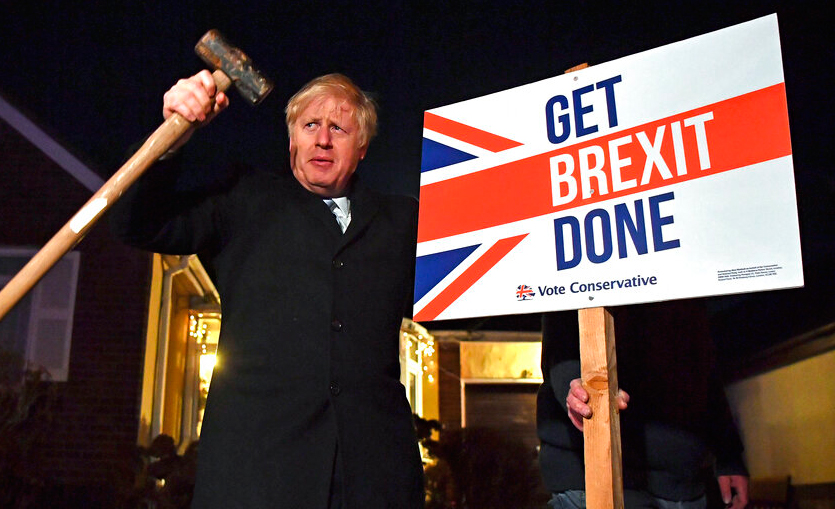 ---
|
London
|
Published 11.12.19, 08:46 PM
---
Indians, for whom this has been "the Kashmir election", will learn on Thursday whether their nightmare has materialised and the Labour leader, Jeremy Corbyn, has ousted Boris Johnson as Prime Minister of the UK.
Whoever loses will be expected to fall on his sword.
Polling will begin at 7am and end at 10pm on what is expected to be a cold, wet and windy day, with the BBC predicting the result within seconds based on fairly accurate exit polls.
As counting progresses through the night in some 650 seats — it is still done the old-fashioned way by hand — there will be plenty of shocks with unexpected wins and prominent politicians losing their seats.
The latest polling indicates a 28-seat majority for Boris, down from 68 only a few days ago, with Labour catching up on the Tories. But the margin of error is such that a hung Parliament cannot be ruled out, possibly allowing Corbyn to form a minority government with the help of the Scottish National Party.
The country's top polling guru, Prof, John Curtice, said the Tories had a 10-point lead over Labour but added a number of qualifications: "That 10-point lead sounds like frankly it's all over — well no, not necessarily. We have to remember that this election isn't simply about who wins, but rather whether or not the Conservatives win by enough.
"Sure, the Conservatives are still favourites — looking at maybe 339 seats or so — but we can't be sure that in the end they won't fall below the 326 mark needed for an overall majority."
On Wednesday, the last day of frantic campaigning, Boris toured Labour marginal constituencies in Yorkshire, the Midlands and Wales where he has to topple Labour MPs, before finishing with a rally near London.
Asked whether he was nervous, Boris, who began the day by loading milk and orange juice bottles onto a delivery vehicle in West Yorkshire, acknowledged: "This could not be more critical, it could not be tighter — I just say to everybody the risk is very real that we could tomorrow be going into another hung Parliament.
"That's more drift, more dither, more delay, more paralysis for this country. We're fighting for every vote."
In a hard-hitting interview with Sky News, Dave Merritt — father to 25-year-old son Jack who died alongside Saskia Jones, 23, in the attack by Usman Khan during a prisoner rehabilitation near London Bridge last month — said: "Instead of seeing a tragedy, Boris Johnson saw an opportunity, and he went on the offensive and started talking about extending the tariff for prisoners serving sentences with a maximum of 25 years."
The Daily Mail's headline on Wednesday reflected jittery nerves in Tory ranks: "Britain's future down to the wire. Major poll reveals dramatic fall in Tory lead."
He has pledged to strengthen relations with India and with "Narendrabhai" if he wins.
Corbyn, who began his day in Glasgow, said his party "never indulged in the politics of personal abuse and never will. It demeans politics, it demeans democracy. It doesn't build a house, it doesn't train a doctor, it doesn't end poverty."
However, Momentum, Labour's hard left group, has been caught out trying to dig up dirt on the Tory-Hindu partnership caused by Labour's support for Pakistan over Kashmir.
A group member wrote: "We need someone to pull together the key facts about: 1, Labour's position on Kashmir, 2, positive stories about Hindus and Labour, 3, negative stories about Hindus and Tories (especially nasty remarks)."
What makes this election especially hard to predict is the expected and widespread use of "tactical voting".
Perhaps the most famous cheerleader of tactical voting is film star Hugh Grant, star of Love Actually and one time boyfriend of Elizabeth Hurley, who wants to prevent a Conservative majority.
The Notting Hill and Four Weddings and a Funeral actor has campaigned in several constituencies where he has urged people to vote tactically to ensure the Tories do not win the election, telling residents that a Conservative victory would lead to the "catastrophe" of a no-deal Brexit.
In Reading West, for example, he has spoken in support of the Labour candidate, Rachel Eden, who is seeking to defeat the sitting Tory MP, Alok Sharma, the international development secretary, who has a majority of only 2,876.
Norman Smith, the BBC's assistant political editor, commented: "Labour folk know the polls show them behind but they console themselves with the fact that they didn't look so good last time (in the 2017 election campaign) and Jeremy Corbyn did much better than people expected. They hope, too, that the issue of trust is beginning to bite Boris Johnson."