Six decades later, world's youngest mother awaits aid
Read more below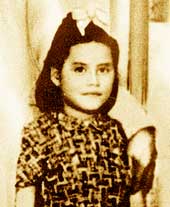 ---
Published 27.08.02, 12:00 AM
|
---
Lina Medina
Lima, Aug. 26 (Reuters): Lina Medina's parents thought their five-year-old daughter had a huge abdominal tumour and when shamans in their remote village in Peru's Andes could find no cure, her father carried her to hospital.
Just over a month later, she gave birth to a boy.
Aged five years, seven months and 21-days-old when her child was born by Caesarean section in May 1939, Medina made medical history, and is still the youngest known mother in the world. At the time, Peru's government promised aid that never materialised. Six decades on, Medina lives with her husband in a cramped house in a poor, crime-ridden district of Lima known as "Little Chicago."
Now 68, she keeps to herself and has long refused requests to rake up the past. Gerardo, the son she delivered while still a child herself, died in 1979 at the age of 40. But a new book, written by an obstetrician who has been interested in her case, has drawn fresh attention to Medina's story, and raised the prospect that the Peruvian government may belatedly offer her financial and other assistance. "The government condemned them to live in poverty. In any other country, they would be the objects of special care," Jose Sandoval, author of Mother Aged 5, said.
"We still have time to repair the damage done to her. That's my fundamental objective," he added. Sandoval has raised Medina's case with the office of First Lady Eliane Karp, and has asked the government to grant her a life pension — something officials say is possible. "We're totally willing to help her," said spokeswoman Marta Castaneda. But Suni Ramos, of the social action department of Karp's office, said that before the government could grant her a pension or any other of the aid it was already planning — such as kitchen and other household equipment — it needed to talk to her to discuss what she wanted and needed.
It is currently trying to contact Medina and her family. Medina's husband, Raul Jurado, said his wife remained sceptical. "She got no help (in 1939) that I know about," he said. "She thinks governments never deliver. Maybe today there will be a promise that will never come true."
Jurado said his wife, whose story is a medical textbook classic and whose case is confirmed as true by such bodies as the American College of Obstetricians and Gynecologists, had turned down Reuters' request for an interview.
No one has ever established who was the father of Medina's child, or confirmed she became pregnant after being raped.
One of nine children born to country folk in Ticrapo, an Andean village at an altitude of 7,400 feet in Peru's poorest province, Medina is believed to be the youngest case of precocious puberty in history, Sandoval said.
He said she had her first period at two-and-a-half, became pregnant aged four years and eight months and that when doctors performed the Caesarean to deliver her baby, they found she already had fully mature sexual organs.