Shooter used 'homemade' gun: Police
Former Japanese PM Shinzo Abe assassinated while giving speech
Shortly after the incident cops chased down and arrested Tetsuya Yamagami, 41, who confessed his intention to kill the leader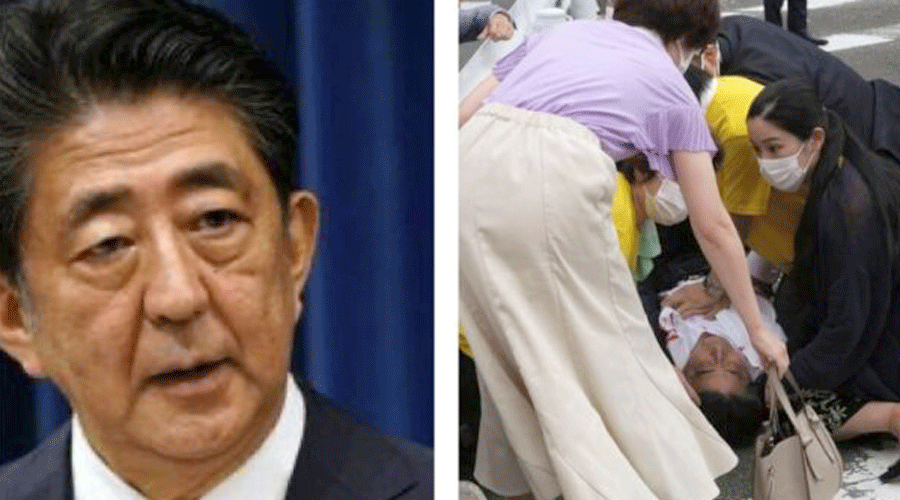 (Left) Shinzo Abe; (right) Former Japanese Prime Minister lies on the ground after he was shot during an election campaign in Nara, western Japan, on Friday.
Twitter
---
Tokyo
|
Published 09.07.22, 01:45 AM
|
---
One minute, Shinzo Abe, Japan's most influential former Prime Minister, was stumping on behalf of a junior politician from his party near a train station in Japan's old capital city of Nara on Friday morning.
The next minute, Abe had collapsed and was bleeding on the street, shot in the neck, doctors said, by a gunman who later admitted he had come to kill him.
Less than six hours later, Abe, the longest serving leader in Japan's post-war history, was dead at age 67, shocking a country where guns are tightly controlled and political violence is almost unthinkable.
Until the assassination at the campaign stop on Friday, the public and Japanese news media had largely ignored the parliamentary election scheduled for Sunday, when Abe's Liberal Democratic Party was expected to sail to victory.
Now the party will have to move forward in the polls without the man who guided its agenda for the last decade and had the power to anoint future leaders even after he left the Prime Minister's office.
The shooting comes at a pivotal moment for Japan, as it is trying to stake out a stronger leadership position in the region in the face of mounting threats from its neighbours in China and North Korea.
Shortly after the shooting at 11.30 on Friday morning, police chased down and arrested Tetsuya Yamagami, 41, at the scene. He has been charged with murder.
Police officials said he used a "homemade" gun and confessed that he had intended to kill Abe.
The suspect said he bore a grudge against a "specific organisation" and believed Abe was part of it, and that his grudge was not about politics, the police said, adding it was not clear if the unnamed organisation actually existed.
The police said he was a Nara resident who had worked at Japan's Maritime Self-Defence Forces for three years but now appeared to be unemployed. They were investigating whether he had acted alone.
Abe staked his legacy on trying to turn Japan into what he called a "normal" country, able to defend itself and even engage in combat after more than 70 years of pacifism imposed in a Constitution written by post-war American occupiers. In Sunday's election, the Liberal Democrats are running on a platform that includes Abe's proposal to revise the Constitution to explicitly acknowledge the existence of the country's self-defence forces.
As a jet-setting diplomat, Abe worked closely with allies but also reached out to countries like Russia with which Japan had thorny relations. As the US wavered in its commitment to Asia, Abe cast Japan as the regional leader upholding free trade and the rule of law against an increasingly aggressive China.
Abe could be a divisive figure among the public for his Right-wing views about constitutional reform, women's right to keep their names after marriage, and historical revisionism about Japan's wartime atrocities.
On social media, he was attacked by some commenters even as he lay dying in hospital.
But his political opponents quickly rose to his defence. Renho Saito, a former leader of an Opposition party, cancelled her campaign schedule on Friday and exhorted people to stop issuing "heartless comments" on social media.
"I would like to connect not with ideological beliefs, but with a desire to protect democracy, and to ensure that these outrages are not allowed to continue," Saito wrote on Twitter.
Fumio Kishida, the current Prime Minister, who rushed back to Tokyo from campaigning in northern Japan when he heard the news, called the assassination "an act of cowardly barbarism" in remarks to reporters after doctors from Nara Medical University Hospital announced Abe's death.
"I am simply speechless over the news of Abe's death," Kishida, Abe's protege, told reporters.
Earlier, as Abe still lay in hospital where doctors tried to revive him, Kishida struggled to keep his emotions in check. "This attack is an act of brutality that happened during the elections - the very foundation of our democracy - and is absolutely unforgivable," he said.
Condolences poured in from around the globe for Abe, who had forged relationships with world leaders, including Prime Minister Narendra Modi, during his nearly eight-year tenure.
In a news briefing on Friday night, police officials from the Nara prefectural office said Yamagami had made the double-barrelled gun, about 16 inches long and 7 inches wide, and that police had found several similar weapons in his apartment near the site.
Shock waves reverberated across Japan's political establishment and among a general public unaccustomed to such violent crime, particularly in a country with some of the strictest gun laws in the world.
With images of extreme violence from Ukraine and the US playing out on screens in Japan, the public is unsettled by the possibility that the nation they assumed was safe may not be after all.
It was the first killing of a sitting or former Japanese leader since a 1936 coup attempt, when several figures including two ex-Premiers were assassinated.
Post-war Japan prides itself on its orderly and open democracy. Senior Japanese politicians are accompanied by armed security agents but often get close to the public, especially during political campaigns when they make roadside speeches and shake hands with passers-by.
Abe's grandfather, Nobusuke Kishi, had faced an assassination attempt in 1960 shortly after he resigned as Prime Minister. He was stabbed six times in the thigh by a member of a small ultranationalist group but, unlike his grandson, survived.
Cellphone videos taken by bystanders at Friday morning's campaign event showed a man in a grey T-shirt and khaki trousers standing quietly behind Abe as he began to speak.
Standing on a riser set against a traffic barrier on a street close to a train station in Nara, Abe shook his fist and declaimed into a microphone as he praised Kei Sato, 43, who is running for re-election in the Upper House of Parliament.
Suddenly, people heard two loud bangs like the sound of tires blowing out. Masao Nakanishi, 80, who was standing in front of Abe, said he saw the former Prime Minister topple onto the street.
Cellphone videos shown on NHK, the public broadcaster, showed the man in the grey shirt and khaki trousers, later identified as Yamagami, taking aim at Abe and firing, smoke billowing from his gun. Police said Abe looked behind him after the first shot and then was hit by a second blast.
Three men in suits, believed to be part of Abe's security detail, pinned Yamagami to the ground. He had tossed aside what appeared in video and photos to be a crude, homemade gun.
Ambulances and fire engines rushed to the scene and as emergency workers administered CPR, Abe was covered with a large blue tarp. Emergency workers loaded him onto a stretcher and, under cover of the tarp, loaded him onto a medical evacuation helicopter that took him to Nara Medical University Hospital, where he landed, already in cardiopulmonary arrest, at 12.20pm.
Doctors worked all afternoon to stabilise him, but Hidetada Fukushima, the professor in charge of emergency medicine at the hospital, said that despite blood transfusions and efforts to stem massive haemorrhaging from his heart, Abe died shortly at 5pm, around the time his wife, Akie Abe, arrived at the hospital.
New York Times News Service and Reuters