Senior Maoist leader quits Nepal cabinet
Read more below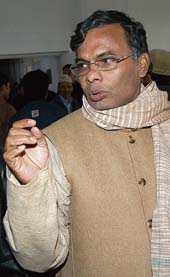 ---
Kathmandu
|
Published 03.08.07, 12:00 AM
|
---
Matrika Yadav
Kathmandu, Aug. 2: Senior Maoist leader and minister for forests and soil conservation Matrika Yadav today resigned from the Girija Prasad Koirala cabinet after accusing his ministerial colleagues of not cooperating with him.
Yadav submitted his resignation to the leader of the Maoist group in the government and minister for information and communications Krishna Bahadur Mahara.
In his letter, Yadav accused the home ministry of protecting timber smugglers and the general administration ministry of intervening in his ministry's work. The former minister also accused the government of ignoring the demands of the Madhesi people.
Yadav's resignation comes after the meeting of the Maoist central committee. Among other things, the central committee is believed to have reviewed the performance of six Maoist members of the government.
Maoist sources told The Telegraph here that Yadav had been under tremendous pressure during the last few months as the Maoist influence in the Terai region waned owing to the Madhesi agitation.
Yadav rose up the Maoist hierarchy because of his influence with the Madhesis. He headed the Maoist-affiliated Madhes Rashtriya Morcha which was totally marginalised in the Terai region.
Yadav tried in vain to regain lost ground in the Terai which is home to nearly half of Nepal's population. Later, Maoist chief Prachanda himself headed the Madhes Morcha after forcing Yadav to relinquish charge.
Yadav's performance in the cabinet also came under the scanner after Prime Minister Koirala was not pleased by the way some sandalwood smuggling cases were handled. Yadav also spent time in a Siliguri jail after he was arrested during the Maoist armed struggle.