Connery will be hailed as Bond but he was more than Bond
'Once here in life but forever on our cinema screens'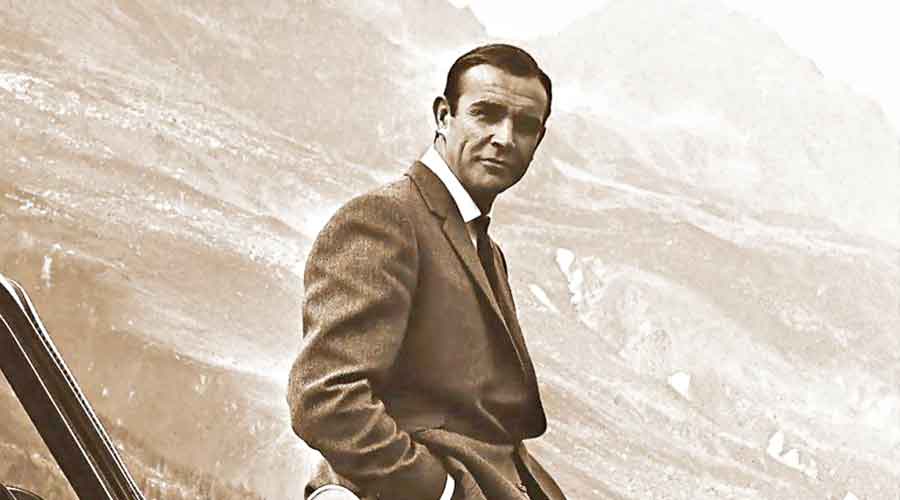 ---
London
|
Published 01.11.20, 01:32 AM
|
---
The man is winning at cards and the woman losing at the gaming tables of Les Ambassadeurs Casino in Hamilton Place, Mayfair.
"I admire your courage, Miss…."
"Trench. Sylvia Trench. I admire your luck, Mr…."
"Bond. James Bond."
The best-known introduction on the planet is born.
Sean Connery, who will be remembered by millions of his fans across the world as perhaps the best actor to play James Bond even though he was not the first choice of 007's creator Ian Fleming, has died at his home in the Bahamas. He was 90.
Connery died peacefully in his sleep on the night of October 30-31, having been "unwell for some time", his son Jason Connery said.
"For the late Sir Sean Connery — you only live twice," was how Ajay Chowdhury, editor of the James Bond International Fan Club and Britain's foremost authority on Ian Fleming's creation, put it for The Telegraph. "Once here in life but forever on our cinema screens."
Connery played Bond in seven movies, making his debut in Dr No in 1962. Then followed From Russia with Love (1963), Goldfinger (1964), Thunderball (1965) and You Only Live Twice (1967). He appeared again as Bond in Diamonds Are Forever (1971) and Never Say Never Again (1983).
Connery will be remembered as Bond but he was more than Bond. He was awarded an Oscar in 1988 for his part playing the policeman Jimmy Malone in The Untouchables. He acted in other successful films — The Hunt for Red October, Indiana Jones and the Last Crusade and The Rock.
Chowdhury takes "scholars and worldwide enthusiasts" of Bond movies on a guided tour of Mayfair in London to show how the world of Fleming intersects with that of Bond.
"When you watch the first James Bond film, Dr No, Sean Connery first meets Sylvia Trench across the gaming tables of Les Ambassadeurs Casino in Hamilton Place, Mayfair," Chowdhury said.
"The actual Les Ambassadeurs set was built in Pine Studios but it was based on the interior of Les Ambassadeurs. So James Bond begins here when Fleming finally does the deal with (producer) Harry Saltzman in 1960. James Bond literally begins here because this is where we first see James Bond in the films — admittedly on a film set across the gaming tables."
Thomas Sean Connery was born in the Fountainbridge area of Edinburgh on August 25, 1930, the son of a Catholic factory worker and a Protestant domestic cleaner. He left school at 13 with no qualifications and delivered milk, polished coffins and laid bricks before joining the Royal Navy.
Unlike Fleming, who went to Eton, Connery's own background was noticeably short of fast cars, beautiful women and vodka Martinis — either shaken or stirred.
He had an undistinguished career until he was called up for the role of Bond in 1960 at the age of 30.
Richard Burton, Cary Grant and Rex Harrison were all considered but it was co-producer Albert R. "Cubby" Broccoli's wife, Dana, who persuaded her husband that there was something special about Connery.
Even Fleming did not initially see Connery's potential and commented dismissively: "I'm looking for Commander Bond and not an overgrown stuntman."
Later on, of course, when he saw the screen shots, he revised his opinion. Fleming, who had a home in Jamaica, told Noel Coward, a neighbour, words to the effect: "We have a Scottish actor coming to dinner — he is going to play Bond. A bit rough round the edges but I think we can knock him into shape."
Chowdhury recalled the beginning: "Cubby and Saltzman make a deal and form a company called EON Productions — in retrospect called Everything or Nothing. The offices are at 2 South Audley Street in Mayfair just along the road from where the Nehru Centre is now situated.
"This is where in 1960 Sean Connery parks his Porsche outside, walks up, and meets them. They have a double partners' desk on the first floor. They ask Sean Connery to screen test — he stamps his fists and says. 'I am not going to screen test,' walks out and they watch him walk across the road. They say he walked like a jungle cat. And they are impressed with him. They like him. That was the screen test. They eventually get him to screen test by testing other actresses."
A director friend, Terence Young, took Connery under his wing, "escorting him to expensive restaurants and casinos; teaching him how to carry himself, so the slightly gauche Scot would pass as a suave and sophisticated secret agent".
Connery made the character his own, blending ruthlessness with sardonic wit. Many critics didn't like it and some of the reviews were scathing. But the public did not agree.
The action scenes, sex and exotic locations were a winning formula. The first film, Dr No, made a pile of money at the box office. Even abroad it was hugely successful, with President Kennedy requesting a private screening at the White House.
Sir Connery was knighted by the Queen in 2000.
In their tribute, the current Bond producers Michael G Wilson and Barbara Broccoli said: "We are devastated by the news of the passing of Sir Connery.
"He was and shall always be remembered as the original James Bond whose indelible entrance into cinema history began when he announced those unforgettable words — 'The name's Bond... James Bond' — and he revolutionised the world with his gritty and witty portrayal of the sexy and charismatic secret agent.
"He is undoubtedly largely responsible for the success of the film series and we shall be forever grateful to him."
The family and office of the late Roger Moore, one of Connery's successors as Bond, tweeted: "How infinitely sad to hear the news Sir Sean Connery has passed away. He and Roger were friends for many decades and Roger always maintained Sean was the best ever James Bond. RIP."
Throughout Connery career he remained relatively guarded about his private life. His first wife to whom he was married for 11 years, the Australian actress Diane Cilento, died in 2011. They had a son, Jason, who survives him, along with his second wife, French artist Micheline Roquebrune, whom he married in 1975.
He was a long-time supporter of Scottish independence, saying in interviews in the run-up to the 2014 referendum that he might return from his Bahamas home to live in Scotland if it voted to break away from the rest of the UK.
Scotland's First Minister Nicola Sturgeon said: "I was heartbroken to learn this morning of the passing of Sir Sean Connery. Our nation today mourns one of her best loved sons."
Chowdhury, co-author of Some Kind of Hero: The remarkable story of the James Bond Films, summed up: "(He was) the original and for many, the best James Bond. Scintillating, ground breaking British anti-hero. He prowled the screen like a leopard. The global James Bond community mourns the loss of an indelible man and some kind of hero to us all."