Sajid Javid supports Liz Truss over Rishi Sunak
Move does have the potential to disturb the generally harmonious relations between the Indian and Pakistani communities in the UK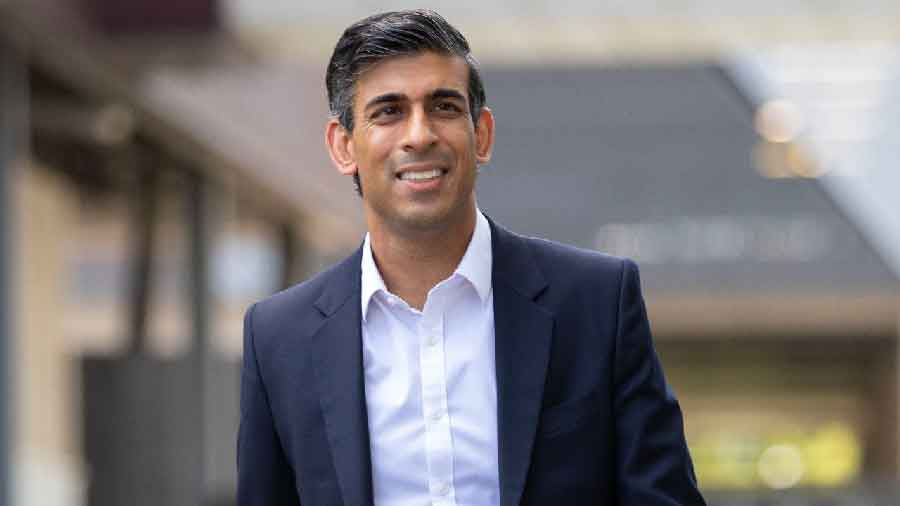 ---
London
|
Published 05.08.22, 12:11 AM
|
---
Sajid Javid has caused intense disappointment in the British Indian community by announcing he will not be backing his close friend Rishi Sunak in the Tory leadership contest but his rival, Liz Truss.
Rishi has been accused by the Truss camp of betraying Boris Johnson but it was Javid who resigned first as health secretary on Tuesday, July 5 at 6pm, followed by Rishi as chancellor at 6.10pm.
Their resignations triggered 50 others from the government, forcing Boris reluctantly to concede he could no longer stay as Prime minister.
That "our Saj", who had made much of his modest origins as the son of a Pakistani bus driver, hasn't backed Rishi does have the potential to disturb the generally harmonious relations between the Indian and Pakistani communities in the UK. Asked why Sajid had chosen not to back Rishi, a senior Indian Tory, who is friendly with both men but is probably closer to the Pakistani, told The Telegraph: "I cannot understand it."
Pressed for an explanation, he expressed his frustration with Sajid: "I feel he waited until the end to make sure who was likely to win and back the person to secure his place in the cabinet. Please don't use my name as Saj is a good friend."
He feared relations between the two communities might be affected "very badly". He said: "This was an opportunity to show the friendship between the two. There is no loyalty in politics. Always self-interest comes first." The Times, where Javid declared his support for Truss, expressed the same sentiment. "So is Javid's backing of Truss simply realpolitik, with the lure of a cabinet job taking precedence over personal loyalty?" the paper wondered. "Truss's status as the frontrunner will have been a factor in Javid's decision over who to back.
Having failed to win enough endorsements even to make it to the leadership run-offs, he was never going to back either of the final candidates from a position of great strength." The Times added: "Wisdom would have it that it's better in those circumstances to make yourself useful to the likely winner rather than alienate yourself by backing the loser." Rishi and Sajid share a passion for Star Wars movies. Rishi took over as chancellor when Javid resigned from the post in February 2020. 
In a TV interview, Rishi, 42, described Javid, 52, as "a good friend and mentor".  Speaking to Sky News, Rishi recalled: "He was my first boss actually... Sajid and I have been in touch so yes, he has always given me advice." The advice was "more on the personal side than on the policies side", Rishi added. 
The Independent described them as "ideological soulmates". But in an article in The Times, Sajid mounted a direct attack on Rishi: "Some claim that tax cuts can only come once we have growth. I believe the exact opposite — tax cuts are a prerequisite for growth." The new government would face many challenging tests, said Sajid: "This contest has at times been bruising and unpleasant, but two very credible candidates have emerged through it. After careful consideration, it is clear to me that Liz Truss is best placed to pass these tests."