Vladimir Putin now faces dissent in his own camp
Sergei Shoigu should consider killing himself because of the Russian army's failures in Ukraine: Kirill Stremousov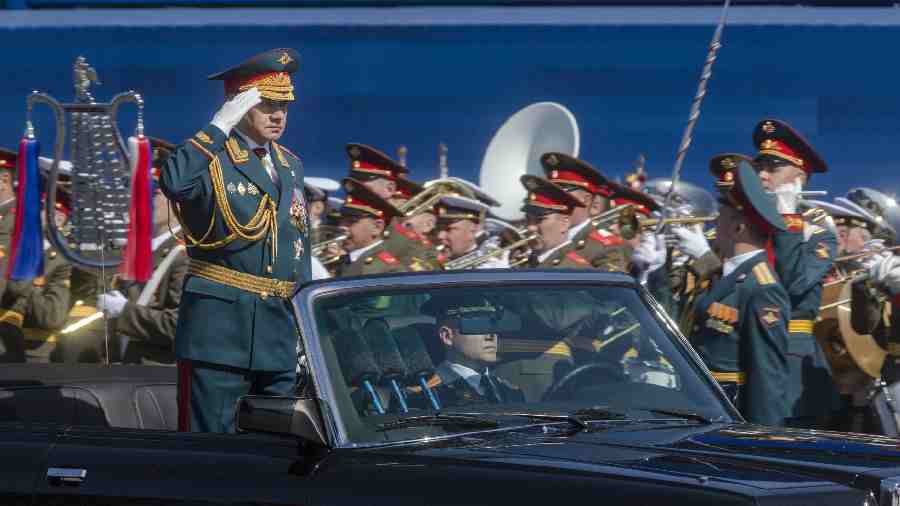 Russia's defense minister, Sergei K. Shoigu, saluting Russian servicemen during the Victory Day military parade in Moscow.
Shutterstock
---
Published 07.10.22, 01:27 AM
|
---
Discontent among supporters of Russia's faltering invasion of Ukraine has produced an extraordinary barrage of criticism directed at the leadership of the Russian military, creating a new challenge for President Vladimir Putin, who now faces dissent in his own camp.
The latest salvo came on Thursday when a Russian-installed occupation official in Ukraine upbraided the Russian defence minister, Sergei K. Shoigu, a close associate of Putin.
The official Kirill Stremousov, said Shoigu should consider killing himself because of the Russian army's failures in Ukraine.
"Many people are saying that as an officer, the defence minister could simply shoot himself for being the one who let things get to this state," said Stremousov, the deputy governor of the Kherson region of southern Ukraine.
Andrei Kartapolov, the head of the defence committee in Russia's parliament, excoriated the defence ministry for covering up the bad news from the front. 
Myanmar military court punishes Japanese filmmaker
A military court in Myanmar sentenced the Japanese documentary filmmaker Toru Kubota to 10 years in prison on Wednesday for violating sedition and communications laws, his lawyer said.
Kubota, 26, was detained on July 30 while filming a demonstration against the military that seized power in a coup last year. The military claimed that Kubota entered the country on a tourist visa, rather than a journalist visa.
He was sentenced to 3years for sedition and 7 years for violation of an electronic transaction law. However, he was expected to serve the sentences concurrently.