Russian occupiers rattled by rebels
You are not safe, say Ukrainian fighters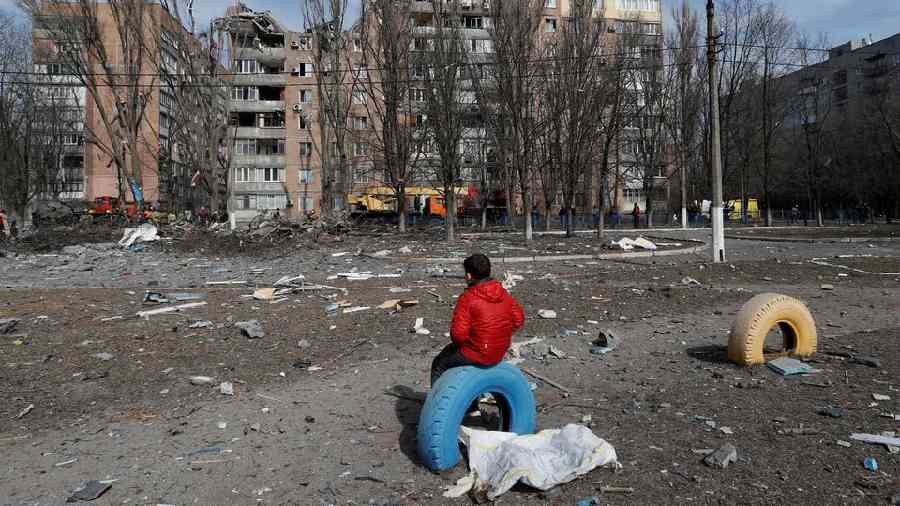 A boy sits in front of a residential building damaged by shelling during Ukraine-Russia conflict in the separatist-controlled city of Donetsk, Ukraine.
File picture
---
Zaporizhzhia, Ukraine
|
Published 18.08.22, 12:44 AM
|
---
They sneak down darkened alleys to set explosives.
They identify Russian targets for Ukrainian artillery and long-range rockets provided by the US. They blow up rail lines and assassinate Ukrainian officials they consider collaborators with the Russians.
Slipping back and forth across the front lines, the guerrilla fighters are known in Ukraine as partisans, and in recent weeks they have taken an ever more prominent role in the war, rattling Russian forces by helping deliver humiliating blows in areas they occupy and thought to be safe.
Increasingly, Ukraine is taking the fight against Russian forces into Russian-controlled areas, whether by using elite military units, like the one credited on Tuesday with a huge explosion at a Russian ammunition depot in the occupied Crimean Peninsula, or by deploying an underground network of the partisan guerrillas.
Last week, Ukrainian officials said, the partisans had a hand in a successful strike on a Russian air base, also in Crimea, which Moscow annexed eight years ago. It destroyed eight fighter jets.
"The goal is to show the occupiers that they are not at home, that they should not settle in, that they should not sleep comfortably," said one guerrilla fighter, who spoke on condition that, for security reasons, he only be identified by his code name, Svarog, after a pagan Slavic god of fire.
In recent days the Ukrainian military made Svarog and several other operatives available for interviews in person or online, hoping to highlight the partisans' widening threat to Russian forces and signal to western donors that Ukraine is also successfully rallying local resources in the war, now nearly 6 months old.
A senior Ukrainian military official familiar with the programme also described the workings of the resistance in detail.
Their accounts of attacks could not be verified completely but aligned with reports in the Ukrainian media and with the descriptions of Ukrainians who had recently fled Russian-occupied areas.
Svarog and I met over lemonade and cheese pastries at a Georgian restaurant in Zaporizhzhia, a city under Ukrainian control about 65 miles north of the occupied town of Melitopol, where he operates.
He spoke with intimate knowledge of partisan activities, providing a rare glimpse into one of the most hidden aspects of the war. Insurgent activity is now intensifying, as the resistance fighters strike stealthily in environs that they know intimately, using car bombs, booby traps and targeted killings with pistols — and then blending into the local population.
Before the war, Svarogo occasionally joined weekend training with Right Sector and National Corps, a branch of the Azov movement, both of which are aligned with paramilitary units in Ukraine. They were just two of dozens of organisations running military training for civilians throughout Ukraine.
New York Times News Service