Putin announces first military mobilisation since World War II
A monitoring group says more than 100 people were arrested in protests after President's speech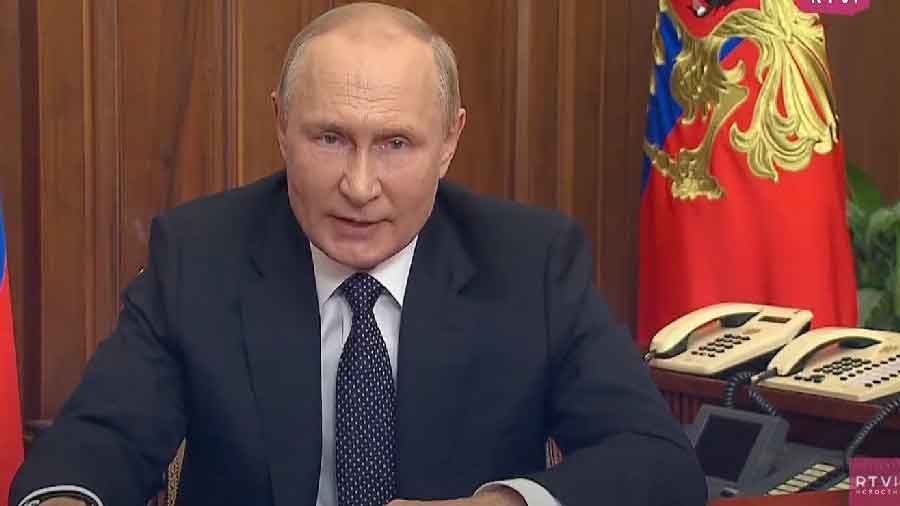 Vladimir Putin
Twitter/@AdamJSchwarz
---
Kyiv/New York/Gdansk
|
Published 22.09.22, 02:04 AM
|
---
President Vladimir Putin on Wednesday ordered Russia's first wartime mobilisation since World War Two, shocking his countrymen with what western countries described as an act of desperation in the face of a losing war.
Putin made the announcement in a televised address in which he also announced moves to annex swaths of Ukrainian territory and threatened to use nuclear weapons to defend Russia, declaring: "It's not a bluff."
Flights out of Russia quickly sold out. Jailed Opposition leader Alexei Navalny called for mass demonstrations against the mobilisation. Russians said some people were already receiving call-up notices, and police were barring men from leaving one city in the south.
A monitoring group said more than 100 people were arrested in protests in the hours after Putin's speech.
In a country that counts millions of former conscripts as reservists, Putin's "partial mobilisation" decree gave no clue as to who would be called up. Defence secretary Sergei Shoigu said 300,000 people would be mobilised from a pool of 25 million. Contracts of professional troops would be extended indefinitely.
Putin also effectively announced plans to annex four Ukrainian provinces, saying Moscow would assist with referendums on joining Ukraine's Luhansk, Donetsk, Zaporizhzhia and Kherson regions to Russia, and implement the results.
Calling a mobilisation is possibly the riskiest domestic political move of Putin's two decades in power, and follows months in which the Kremlin had promised it would do no such thing.
The war has so far appeared to enjoy popular support in the country. But for many ordinary Russians, the prospect of being sent to fight would be the first hint of the war affecting them personally