Loud Ukraine appeal for artillery
Heavy fighting is still being reported in Sievierodonetsk, the small eastern city that has become the focus of Russia's advance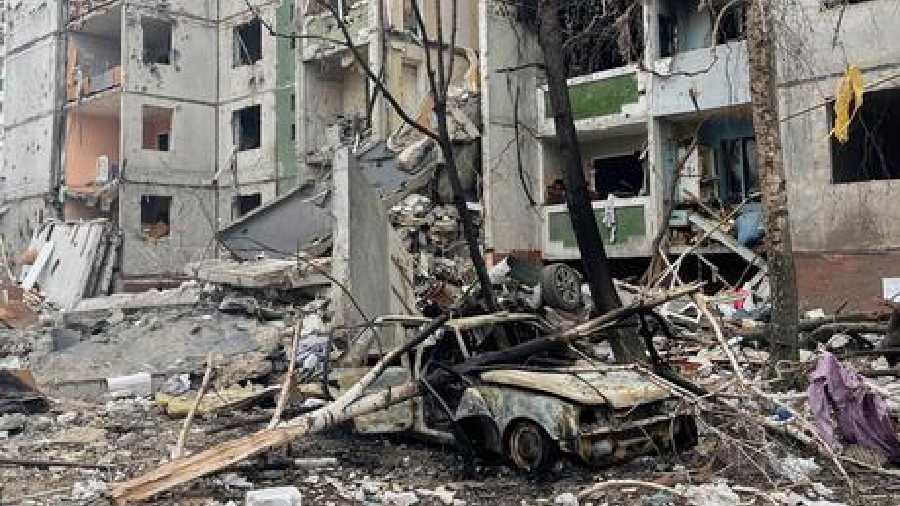 Russian invasion has devastated Ukraine
File picture
---
Published 11.06.22, 01:42 AM
|
---
Ukraine's military and its government renewed their pleas for more western arms as fierce fighting continued in the city of Sievierodonetsk, which President Volodymyr Zelensky has said is pivotal to the fight for the eastern region of Donbas.
While the US and other countries have sent Ukraine many weapons and promised more, officials say they are not coming fast enough to hold off Russian forces. Defence minister Oleksiy Reznikov said on Thursday that while he was grateful for the support, he had not been "satisfied with the tempo and quantity of weapon supplies. Absolutely not".
Reznikov and other officials are making no secret of the challenges Ukraine faces in the east, perhaps to add a sense of urgency to their daily calls for heavy western weaponry.
Although the Ukrainian military has "a clear artillery supply plan until the end of July," Reznikov said, soldiers on the front lines are increasingly asking for more powerful weapons as the gruelling battles continue, three and a half months into the war.
Mykhailo Podolyak, a senior adviser to Zelensky, told the BBC that 100 to 200 Ukrainian military personnel were now dying each day. Zelensky said last week that the army was losing 60 to 100 soldiers a day. Podolyak said a "complete lack of parity" with Russia's military capabilities was the reason Ukraine's losses were so high.
Heavy fighting was still being reported in Sievierodonetsk, the small eastern city that has become the focus of Russia's advance and site of one of the bloodiest battles in a war that has increased financial and physical hardship around the world.
 Chronic hunger could afflict up to 19 million more people globally over the next year because of reduced exports of wheat and other food commodities from Ukraine and Russia, the UN food agency said.
 Within Ukraine, officials said they were worried about the spread of deadly cholera and dysentery in the southern city of Mariupol, where tens of thousands of civilians live in ruins captured last month after being pulverised by Russian siege.
"The European Union can take a historic step that will prove that words about the people of Ukraine belonging to the European family are not just words, and therefore are not empty," Zelensky said, calling on the EU to accept Ukraine's request to be accepted as a membership candidate.
 Ukrainian officials say the war in the east has become primarily an artillery battle, in which they are severely out gunned by Moscow. The tide could be turned only if the West fulfils promises to send more and better artillery, including rocket systems that Washington and others have promised.
"This is an artillery war now," Vadym Skibitsky, deputy head of Ukraine's military intelligence, said in an interview with Britain's Guardian newspaper.
"Everything now depends on what (the West) gives us," said Skibitsky. "Ukraine has one artillery piece to 10 to 15 Russian artillery pieces. Our Western partners have given us about 10 per cent of what they have."
New York Times News Service and Reuters