Russia slashes benchmark interest rate
Country's currency at its strongest level in four years against the US dollar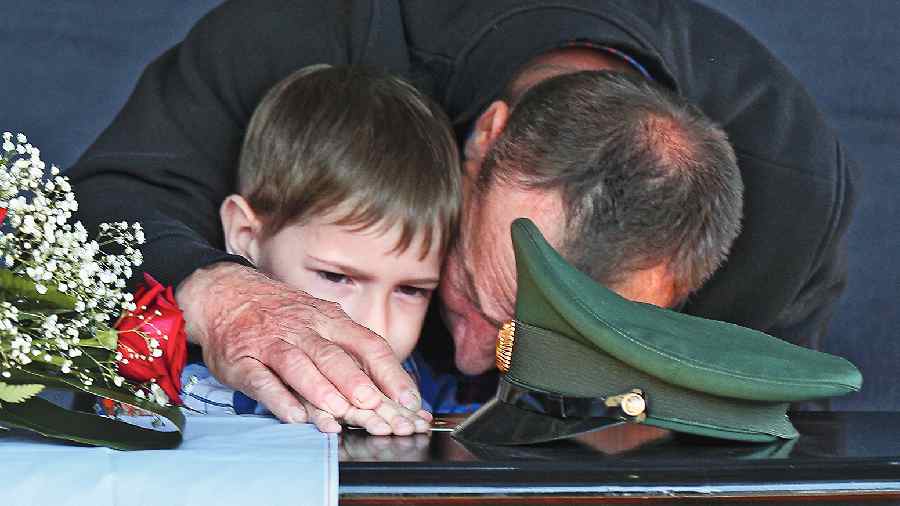 Father and son of Russian Army Sergeant Daniil Dumenko, who was killed during fighting in Ukraine, mourn during a farewell ceremony in Volzhsky, outside Volgograd, Russia, on Thursday.
AP/PTI
---
Published 27.05.22, 01:03 AM
|
---
Russia's central bank slashed its benchmark interest rate to 11 per cent, from 14 per cent, in a hastily arranged meeting on Thursday as policymakers sought to support businesses and households struggling under sanctions.
The bank is cutting interest rates faster than expected as the country's currency has rapidly appreciated, reaching its strongest level in four years against the US dollar this week.
Capital controls imposed by the central bank after Russia's invasion of Ukraine, particularly those forcing exporters to exchange their earnings into roubles, have increased demand for the Russian currency.
The country's large current account surplus, a measure of trade and investment flows, has been bolstered by high earnings from oil and gas exports and a drop in imports, is also keeping the rouble elevated. While the strength of the rouble has the benefit of easing inflation, it is also putting pressure on the country's public finances because the budget relies on revenues from oil exports denominated in dollars.
The annual inflation rate in Russia climbed to 17.8 per cent last month, the central bank said, but it was estimated to have declined slightly since then, faster than policymakers expected.
"The capital controls are probably the primary driver of why the rouble has recovered and strengthened so much," said Brendan McKenna, an emerging markets economist and currency strategist at Wells Fargo Securities. "It's really, really difficult right now to just buy US dollars and convert roubles into dollars or any other currency in Russia."
In the days after Russia's invasion of Ukraine on February 24, the currency dropped to its weakest ever level against the US dollar. The bank quickly hiked its benchmark interest rate to 20 per cent and imposed capital controls to restrict the flow of money out of the country in an effort to support the currency. Since then, the rouble has strengthened and become the best-performing currency in the world. It's up 25 per cent against the dollar this year.
Amid the currency's rapid ascent, Russia eased some of its capital controls. On Monday, the finance ministry said exporting companies needed to only exchange half of their foreign currency earnings into roubles within 60 days. Previously, they had to exchange 80 per cent.
The central bank has room to cut interest rates as it focuses on stimulating an economic recovery. The bank previously forecast the economy would shrink as much as 10 per cent this year as companies have to develop new supply chains with even fewer imported goods.
"External conditions for the Russian economy are still challenging, considerably constraining economic activity," Russia's central bank said in a short statement on Thursday. "Financial stability risks decreased somewhat, enabling a relaxation of some capital control measures."
New York Times News Service