Russia outlaws news website
The move made Meduza the latest journalistic outlet to fall victim to the Kremlin's efforts to suppress criticism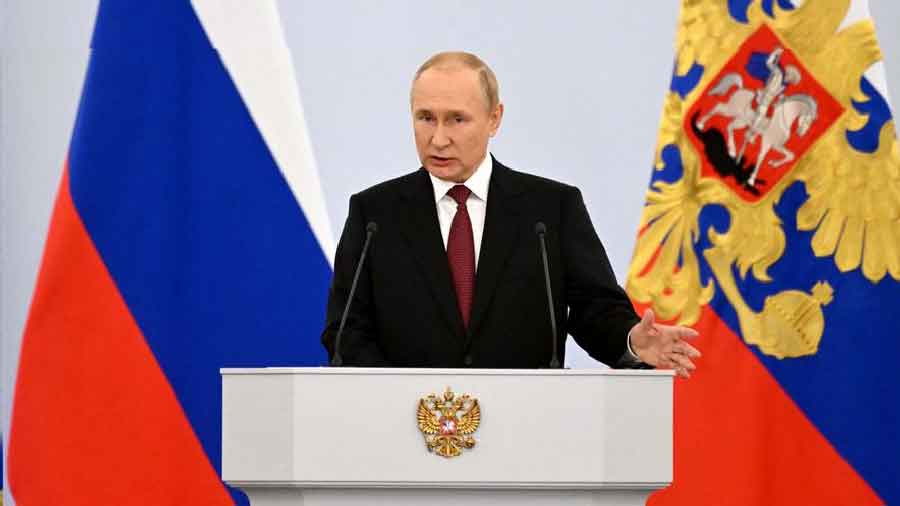 Russia President Vladimir Putin
File Photo
---
New York
|
Published 28.01.23, 12:29 AM
|
---
Russian officials continued their campaign to stifle press freedom on Thursday, labelling the independent news website Meduza an "undesirable organisation" and effectively outlawing its content.
The move made Meduza the latest journalistic outlet to fall victim to the Kremlin's efforts to suppress criticism. The Russian prosecutor general's office said that Meduza's activities posed "a threat to the foundations of the Russian Federation's constitutional order and national security", according to the Interfax news agency.
Over the past year, Moscow has ramped up its attempts to control coverage of the war in Ukraine. In March, President Vladimir V. Putin signed a law effectively criminalising any public opposition to or independent reporting about the war.
Announcements about the new law pushed some Russian independent news media outlets to shut down even before it was enacted. The Russian government has also cut off access to Facebook and to the BBC and other news sources.
(New York Times News Service)
Unesco protection for Odesa
The UN cultural agency, Unesco, has designated the historic centre of Odesaas a World Heritage Site and classified it as being "in danger" during a committee session in Paris on Wednesday, in a nod to the historic importance of a Black Sea port that Russia has battered with missiles.
France's foreign minister, Catherine Colonna, travelled to the city on Thursday in as how of support, but her plans were interrupted by the threat of a Russian missile strike.
"Thanks to a Russian missile, I experienced my first diplomatic bilateral meeting in a shelter," Colonna wrote on Twitter, sharing a photo with Ukraine's minister of foreign affairs. (New York Times News Service)