Russia aims to take 'full control'
I want to remind you that many Kremlin plans have been destroyed by our army and people: Chief of staff to Ukraine's president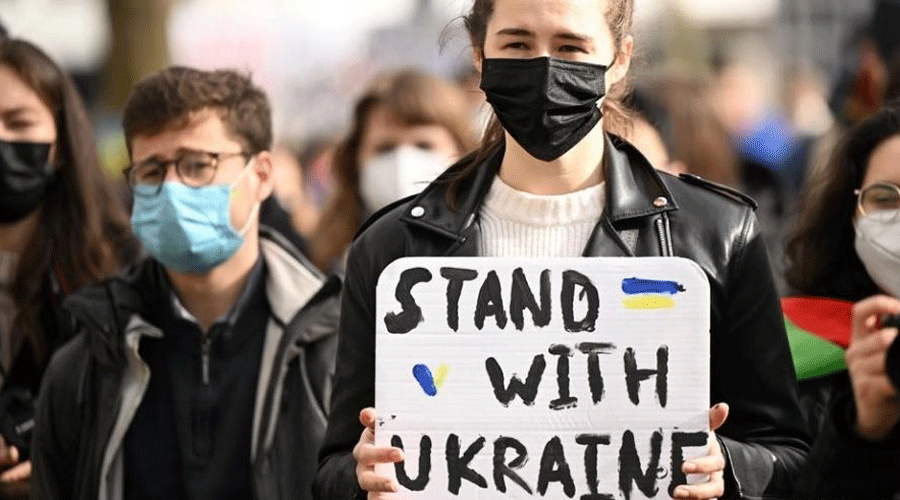 Representational Image
File Photo
---
Published 23.04.22, 02:33 AM
|
---
Russia aims to take "full control" of southern Ukraine, a senior Russian military commander said on Friday, though it was not immediately clear whether the surprise announcement amounted to an official policy shift in the Kremlin's stated goals for the war.
The commander, General Rustam Minnekayev, told a defence industry meeting that Russia was seeking to win control of a swathe of territory extending to Moldova, Ukraine's southern neighbour. That would cut off Ukraine's access to the Black Sea, General Minnekayev said, according to Russian news agencies, allowing Russia to "influence critical elements of the Ukrainian economy" and gain "yet another point of access" to the pro-Russian Moldovan enclave, Transnistria.
Those are far more ambitious goals than those set out by President Vladimir V. Putin in recent weeks, which have focused on gaining control of the Donbas region in eastern Ukraine. And they also don't appear to be realistic, at least for now, since military observers question whether Russia has enough troops and equipment to win the grinding battle for the Donbas — let alone for southern Ukraine, which is home to Odessa, a fortified city of a million people.
"I want to remind you that many Kremlin plans have been destroyed by our army and people," Andriy Yermak, chief of staff to Ukraine's president, wrote on social media in response to General Minnekayev's remarks.
It wasn't clear whether the general's statement reflected Putin's plans for the war — or was instead meant to distract or confuse Ukraine as fighting in the Donbas intensifies. When asked in a regular conference call with reporters whether General Minnekayev had disclosed wider Russian war goals than previously announced, Dmitri S. Peskov, the Kremlin's spokesman, declined to comment.
In his remarks on Friday, General Minnekayev said that a "second phase" of the war had started two days earlier. "One of the goals" of that phase, he said, "is to take full control of the Donbas and southern Ukraine". He said that would allow Russia to control Ukraine's Black Sea ports, "through which agricultural and metallurgical products are delivered" to other countries.
The commander also issued a veiled warning to Moldova. A Russian regiment already is stationed in Transnistria.
"Control over the south of Ukraine is another connection to Transnistria, where there is also evidence of oppression of the Russian-speaking population," General Minnekayev said.
Yuri Fyodorov, a Russian military analyst, said that the broader aims detailed by General Minnekayev "from the military standpoint are unreachable".
"All of Russia's combat-ready units are now concentrated in the Donbas, where Russia failed to achieve any significant advances over the past five days," Fyodorov said in an interview. General Minnekayev's rank would generally not allow him to make such sweeping policy statements that also contradict what has been said by the country's top politicians, Fyodorov added.
"It might signal a divergence of positions, perhaps a significant one, among the military top brass and the political elite," he said.
Since launching the war in Ukraine, Putin has used false claims of a "genocide" against Russian speakers in the eastern part of the country as a justification for the invasion.
On Thursday, Russia claimed it had taken control of Mariupol, a port city on the Sea of Azov.
It has been the last pocket of serious resistance in the "land bridge" the Kremlin has created between territory it already holds in the Donbas region, in the east, and the Crimean Peninsula, in the south, which Russia annexed in 2014.
(New York Times News Service)