Have a dish on Rish at half the cost
'50% reduction on meals at eligible outlets'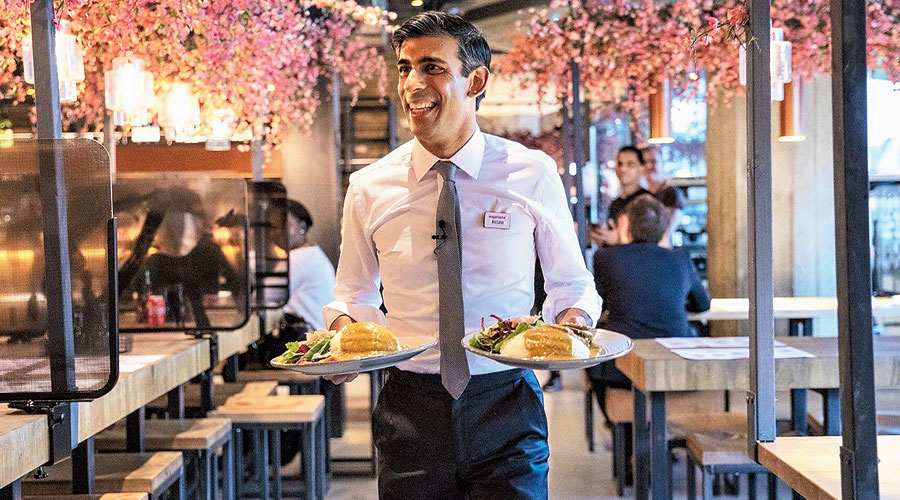 Chancellor Rishi Sunak serves food at a Wagamama outlet in London on July 9.
Sourced by the correspondent
---
London
|
Published 11.07.20, 01:28 AM
|
---
Indian restaurants in Britain have given a warm welcome to possibly the most innovative part of Rishi Sunak's mini-budget in which the chancellor urged the nation to eat out at half price in order to help the hospitality industry that has been hit hard by the coronavirus pandemic.
His scheme, "Eat out to half out", offers "50 per cent reduction on meals and non-alcoholic drinks — up to a maximum of £10 per head — at eligible pubs, cafes and restaurants" in August on Mondays, Tuesdays and Wednesday.
Value Added Tax, currently at 20 per cent, has also been slashed to 5 per cent until January 12, 2021.
A treasury document said the discount can be used "unlimited times", so in theory those feeling a trifle peckish can avail of breakfast, brunch, lunch, high tea, supper and dinner.
The Telegraph consulted Yadgar Marker, who runs the India Club in the Strand, where the masala dosa, bhuna lamb and daal are among dishes favoured by loyal clientele from the nearby High Court, the London School of Economics, King's College London and the Indian High Commission just across the road.
Marker said on Thursday: "Today is the first day of the re-opening of our restaurant and we look forward to welcoming our customers. It has been a very difficult time for us these past three months with the whole establishment being closed to the public.
"Nevertheless, I must give credit to the chancellor for helping businesses and easing the financial burden in many ways.  As for his 50 per cent meals offer, the scheme is an excellent way of encouraging people to start eating out. We shall be taking up the offer."
Since meals at the India Club seldom exceeded £20 per person, the discount will make a difference.
But "eat out to help out" was also welcomed by Sriram Aylur, executive chef at the Bombay Brasserie and Quilon, where the well-heeled think nothing of leaving £10 or £20 tips after lunches and dinners where the average spend on food is over £50 per person.
"I think it is a brilliant offer, we will also participate," enthused Aylur. "The Vat reduction from 20 to 5 per cent is also of great help."
Restaurants, cafes and pubs have been severely affected by the lockdown. The UK's hospitality and tourism industry employs 4.5 million people — nearly 10 per cent of the working population.
But in a bid to encourage customers to return, Sunak told the Commons during his economic update on Wednesday: "I can announce today that, for the month of August, we will give everyone in the country an 'Eat Out to Help Out' discount.
"Meals eaten at any participating business, Monday to Wednesday, will be 50 per cent off, up to a maximum discount of £10 per head for everyone, including children. Businesses will need to register, and can do so through a simple website, open next Monday. Each week in August, businesses can then claim the money back, with the funds in their bank account within five working days."
Sunak's budget impressed his growing number of fans in the British press, with Robert Shrimsley commenting in the Financial Times: "Have a dish on Rish. The chancellor's summer stimulus has something for everyone prepared to consume for their country. His promise of £10 a head discount on eating out is an imaginative gimmick that will make headlines and help reignite the chilled ovens of the hospitality industry.
"Yet again Rishi Sunak has shown the combination of gravitas and soft political skills that make him such a potent operator in an administration not overly graced with substantial figures. His speech was pitch perfect, demonstrating both that he understands the unique nature of the moment yet is still unafraid to deliver less welcome political messages."
In the evening, Sunak did a photo op. As the London Evening Standard pointed out: "Chancellor Rishi Sunak stepped up to the plate to serve customers at a Wagamama restaurant in central London after unveiling his 'eat out to help out' scheme."