Rishi Sunak loses to Liz Truss, but does better than expected
It's right we now unite behind the new PM, as she steers the country through difficult times, says former chancellor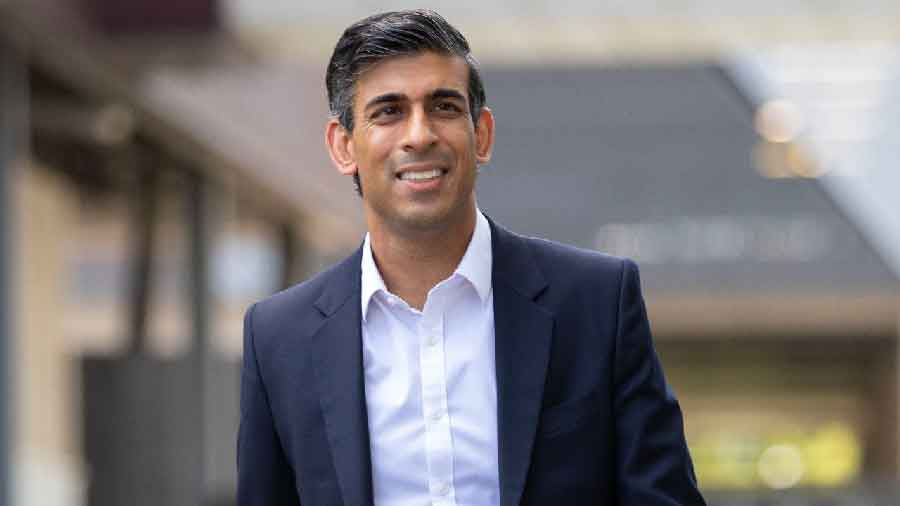 ---
London
|
Published 06.09.22, 03:52 AM
|
---
Rishi Sunak lost out to Liz Truss in the Tory leadership contest but he did better than expected.
A brief spell of drama descended on the Queen Elizabeth II conference centre in Westminster, just round the corner from 10 Downing Street, as the result was announced around 12.35pm on Monday. "I, Sir Graham Brady, returning officer for the Conservative and Unionist Party leadership election, declare that the total number of eligible voters was 172,437. The turnout in the election was 82.6 per cent. The total number of votes rejected was 654. The total number of valid votes given to each candidate was as follows: Rishi Sunak 60,399, Liz Truss 81,326. Therefore, I give notice that Liz Truss is elected as the leader of the Conservative and Unionist Party."
The BBC immediately pointed out that Truss's 57.4 per cent to Rishi's 42.6 per cent was a clear win but not the landslide the foreign secretary's supporters had predicted. That Sunak, the former chancellor, was the choice of Tory MPs and Truss was picked by Conservative Party members means she may have trouble uniting the parliamentary party. For comparison, Boris Johnson won 66.4 per cent of the vote in 2019, David Cameron 67.6 per cent in 2005 and Iain Duncan Smith 60.7 percent in 2001. On Monday, Truss's husband, Hugh O'Leary, sat by her side.
Sunak's wife, Akshata Murty, was missing — a clear sign that he knew he had lost. Sunak tweeted after the result: "I've said throughout that the Conservatives are one family. It's right we now unite behind the new PM, Liz Truss, as she steers the country through difficult times." The immediate reaction from Chris Mason, the BBC's political editor, was: "For Liz Truss, this is the crowning moment of her career. But what beckons now is the in tray from hell. 
The question for her party, and the country, is whether she is up to it." If Truss, 47, is defeated by Labour's Keir Starmer in the 2024 general election, it is possible that Sunak, 42, will have another crack at the leadership. For now, as he returns to the back benches, he will be reflecting on the old Tory cliché: "He who wields the knife never wears the crown."
Given the hurdles Sunak faced, he did well to close the gap in the later stages of the seven-week campaign. But two-thirds of the members voted on receiving their ballots without bothering to listen to what Sunak had to say.
The accusation of "backstabber" followed him throughout the campaign because Boris felt that it was Sunak's resignation as chancellor on July 5 that encouraged nearly 60 other ministers to step down and seal his fate as Prime Minister. So bitter was Boris that he effectively launched an "anyone but Rishi" movement. In her speech, Truss rubbed home the point that, unlike Sunak, she had been loyal to Boris.
She said: "I also want to thank our outgoing leader, my friend, Boris Johnson. Boris, you got Brexit done. You crushed Jeremy Corbyn, you rolled out the vaccine, and you stood up to Vladimir Putin. You are admired from Kyiv to Carlisle." Sunak also had to contend with personal attacks on his wife and her non-dom status, and the allegation that she wasn't paying taxes in the UK while her husband was putting them up for others.
Truss appealed to party members with a single-minded message of tax cuts and smaller government. But Sunak's message — that the government should not cut taxes before it had tamed inflation — was less appealing to the 142,000-odd party members who cast ballots.
Some economists said Truss's proposals — reliable Tory party touchstones — would do little to solve Britain's problems, and could even worsen them.
Throughout the campaign, Sunak claimed there was no racism among Conservative Party members. But it does seem they had been infiltrated by some 50,000 people who had earlier belonged either to the UKIP (United Kingdom Independence Party) or the Brexit Party, both far Right organisations that had previously been led by Nigel Farage.
Initially, the rules allowed members to send in emails changing their votes. But after protests from the Truss camp, this was dropped for fear that members might be persuaded by Sunak. The first vote, often delivered early, was the only one that counted. Sunak was also up against the massed ranks of The Daily Telegraph, The Daily Mail and The Sun.
Even on Monday, the Mail suggested that Sunak plans to quit Britain for California where he and his wife once worked. This, despite his assertion that he intends to remain the Tory MP for Richmond in Yorkshire "so long as they want me". In her acceptance speech, Truss said: "I'd like to pay tribute to my fellow candidates, particularly Rishi Sunak. It's been a hard-fought campaign. I think we have shown the depth and breadth of talent in our Conservative Party."
She has yet to appoint her cabinet and will not move into 10 Downing Street until she has seen the Queen at her Scottish holiday home in Balmoral on Tuesday. But there is so far no indication that she is prepared to offer Sunak a job.
Additional reporting by New York Times Service