Rishi leads in first voting round of UK Conservative leadership race
Opinion poll overshadows Rishi triumph, showing rival Penny Mordaunt would easily defeat him in two-way contest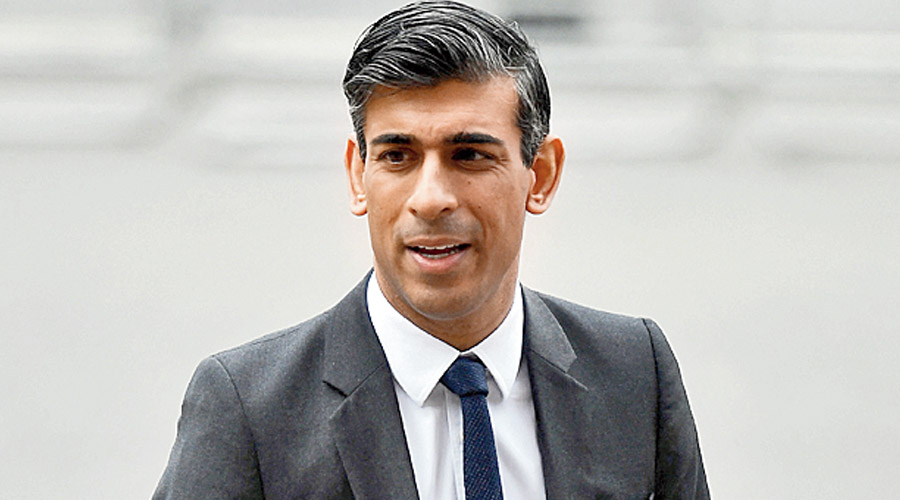 ---
Published 14.07.22, 09:15 AM
|
---
Former UK finance minister Rishi Sunak is still far out in front after the first round of voting in the Conservative leadership contest. But the smart money's now moving to another horse galloping forward, Penny Mordaunt, who was briefly defence minister for 85 days and has otherwise only held very junior government jobs.
Sunak, who is emerging as the centrist candidate, picked up 88 votes in the first leadership voting round and was ahead of Mordaunt who has 67 votes. In third place was Foreign Secretary Liz Truss with 50 votes, who is reckoned to be the third strongest candidate in the field.  
But the first-round numbers were overshadowed by a YouGov poll which showed that Mordaunt would easily defeat Sunak in a straight two-way contest. Mordaunt, according to YouGov, would also steamroller Truss.
Mordaunt, a staunch Brexiteer, emerged on top after the candidates made their opening campaign speeches in trying circumstances on a hot summer's day in London. "Penny Mordaunt's leadership launch was by far the most impressive – calm, authoritative, creating the impression of a precise policy agenda… There's a self-contained enigma about her – a quality in potential leaders," said broadcaster and writer Steve Richards.
One-to-one contest?
By contrast, Sunak, who's still  far in front with the most number of MPs backing him, got a slap in the face after the YouGov poll of 800 Conservative party members declared he would lose in a one-to-one contest with almost any of the other candidates in the running. YouGov said he could only beat the current attorney general Suella Braverman and middle-of-the-road veteran Jeremy Hunt.
An earlier but smaller poll of Tory party members by website Conservative Home also placed Mordaunt as the most popular choice among the party grassroots. She's getting much of her backing from newer MPs elected when Johnson swept to victory in 2019 who see her as a fresh face.
Et tu Brutus?
Going into the first round of the leadership contest, candidates had to muster 20 MP backers to stay in the fight. Two candidates of the original field of 10 were knocked out Tuesday when they couldn't get 20 backers. One was former health secretary Sajid Javid and the second was the virtual unknown, Rehman Chisti, an MP of Pakistani background who could only produce one backer.
Sunak has had a bad two days with commentators questioning how he could distance himself from the present government's economic policies when he had been responsible for them as finance minister. He's also been forced to lavish praise on Prime Minister Boris Johnson to escape the charge by Johnson loyalists that he played the role of Brutus and brought down the government.
In Wednesday's first round battle, anyone with fewer than 30 votes was eliminated from the contest. Two candidates were eliminated today, the current chancellor of the exchequer Nadhim Zahawi and veteran Hunt. The field has now been narrowed to six candidates. Zahawi got 25 votes and Hunt got 18.
A centrist candidate 
Sunak, even though he was a staunch Brexiteer and keen to leave the European Union, has emerged as the centrist candidate with big-name backers like deputy prime minister Dominic Raab, former party chairman Oliver Dowden and Transport Secretary Grant Schapps who had also been a candidate till earlier this week. Sunak has pitched himself as the candidate telling the truth to the public and says that tax cuts won't be immediately possible. Naturally, this message is not going down well with the public.
By contrast, Truss is getting her support from the party's strong and influential right-wing. Mordaunt, by contrast, appears to have support from different groups and has promised a "relentless focus on cost of living issues."  She's not from the same posh background as Johnson and many of his cabinet. She had to work as a magician's assistant during her teenage years to help support her family, was a reservist in the Royal Navy, went to the University of Reading and then worked in public relations for the Conservative Party and on George W. Bush's two successful presidential campaigns.
Spend-now-pay-later 
Truss has come up with the extraordinary spend-now-pay-later suggestion that Britain should spend money like it was a war debt and repay it in the coming years or decades. She also said she would suspend green levies in the effort to bring down taxes. The British press has been having a field day at her expense and saying she has more ambition than brains.
The Guardian's satirical political sketch writer John Crace commented about Truss: "Liz fancies herself as the new voice of change. Quite why is anyone's guess. Then, she is entitled to be delusional. She's never knowingly had an original thought." In 2016, Truss was a strong anti-Brexiteer but has firmly moved to the opposite camp now. Even the right-wing Spectator magazine pointed out that political colleagues have described her as a 'human hand grenade'.
One feature that has emerged from the Tory Party leadership contest is how far ethnic minorities have progressed in Britain. Charles Moore, the former editor of the Daily Telegraph and The Spectator, noted: "It is possible, though perhaps not very likely, that the run-off in the current contest will be between two 'people of colour', and all but certain that one finalist will not be white." Moore commented also on the fact that many younger people of colour were emerging on the far right.