Ressa, Muratov receive Nobels, say world stares at more violence
The speeches by two scribes contained dire warnings about misery without a renewed commitment to democracy and the values like truth, peace and human rights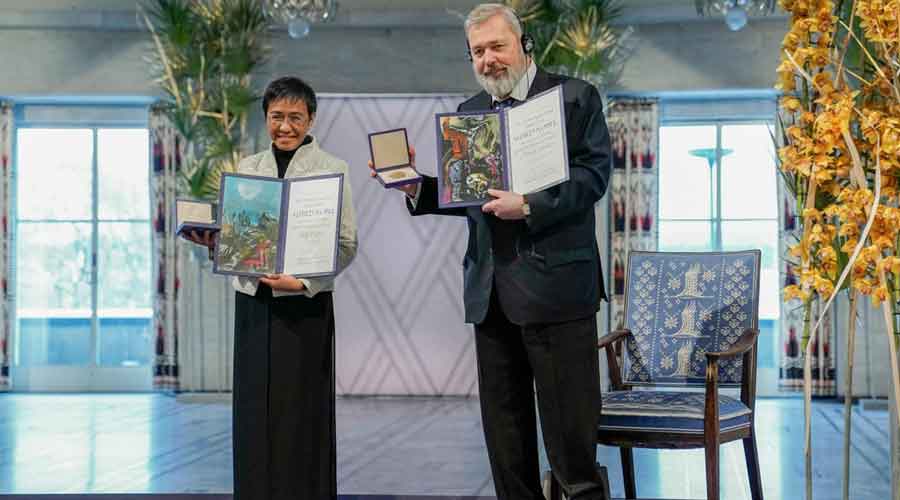 Maria Ressa and Dmitry Muratov are first journalists to win the prize since 1935.
Twitter/@newsoneplace
---
Moscow
|
Published 11.12.21, 02:34 AM
|
---
The two journalists awarded the Nobel Peace Prize, Maria Ressa and Dmitry A. Muratov, used their acceptance speeches on Friday to express alarm about the threats to democracies and call for greater accountability for social media companies that Ressa said are dividing and radicalising societies.
The speeches by the two journalists contained dire warnings that the world is headed towards more violence and misery without a renewed commitment to democracy and the values connected to it: truth, peace and human rights.
Ressa, 58, the first Nobel laureate from the Philippines, is the chief executive of Rappler, a digital news organisation that is known for its investigations into President Rodrigo Duterte's brutal five-year war on drugs. In her speech, she said social media companies still operated with impunity.
"Silicon Valley's sins came home to roost in the US on January 6 with mob violence on Capitol Hill," she said.
"These American companies controlling our global information ecosystem are biased against facts, biased against journalists," she said. "They are — by design — dividing us and radicalising us."
Muratov, 60, has been the editor in chief of Novaya Gazeta, Russia's most fearless national newspaper, for more than 25 years.
He made an impassioned plea against an escalation of violence, condemning the "militaristic rhetoric" prevalent in Russian state controlled media. His remarks — coming as Russia has massed nearly 100,000 troops across Ukraine's borders, raising concerns of an invasion — were meant to serve as an urgent warning.
"The powerful actively promote the idea of war," he said. "Aggressive marketing of war affects people and they start thinking that war is acceptable." At the same time, he said, the ideas of liberal democracy are under threat.
"The world has fallen out of love with democracy," Muratov lamented in his speech. "The world has become disappointed with the elites in power. The world has begun to turn to dictatorship."
Ressa has long been an outspoken critic of the authoritarian leader in her homeland, Duterte, whose government has filed seven criminal charges against her. "Our greatest need today is to transform that hate and violence, the toxic sludge that's coursing through our information ecosystem, prioritised by American Internet companies that make more money by spreading that hate and triggering the worst in us," Ressa said in her speech.
New York Times News Service