Priti Patel visa plan favours Indian PhDs
Indian community leaders support the home secretary's idea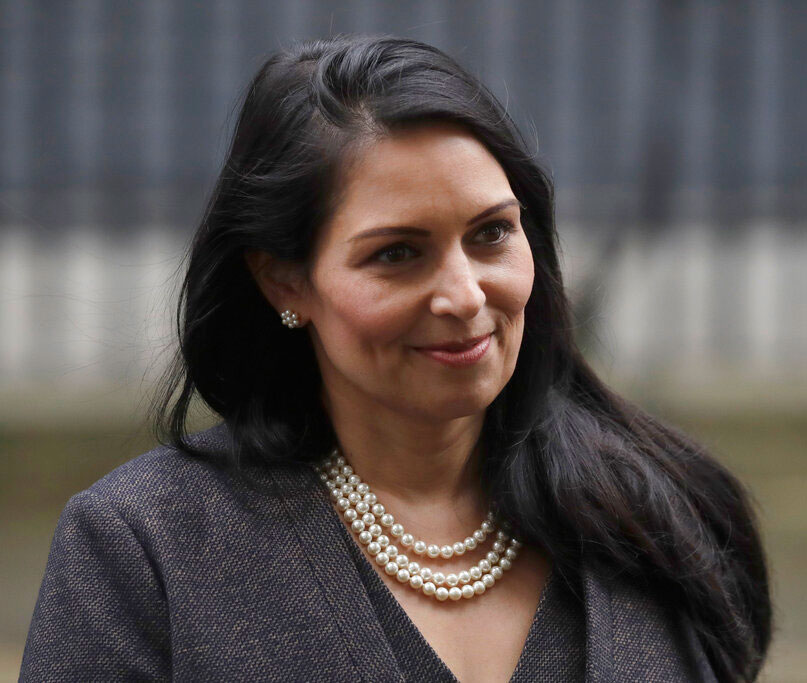 British home secretary Priti Patel at 10 Downing Street
(AP)
---
London
|
Published 19.02.20, 09:48 PM
|
---
First, the good news for Indians in the new "points based" immigration proposals officially announced on Wednesday by the home secretary Priti Patel — if you have got "a PhD in in science, technology, engineering or mathematics", you are out of the blocks with a flying start.
That gets you 20 points towards the 70 points you need before you can apply for a work visa.
A Phd in any other subject counts for 10 points.
Speak English? Great, that's another 10 points.
Do you have a job offer with a salary of at least £25,600 (the level was previously £30,000)? That's 20 points.
Are you applying for work in an area where there is a skills shortage? Yes? That's another 20 points.
Obviously, this set up favours Indians who have been to English medium schools.
The corollary is that the door is closed to Indians without English and also those who don't meet the salary target. As with all rules, the salary rule can be relaxed for those who want to work as nurses because there is a critical shortage in the National Health Service.
Indian community leaders obviously support Priti's idea of putting Indians on the same level as those who come from the EU because the latter are going to lose freedom of movement from January 1 next year.
Priti's proposals received a qualified welcome from the Tory peer Jitesh Gadhia, who strives to promote UK-India relations.
He told The Telegraph: "The new immigration proposals should be welcome news for the 'brightest and best' from India wishing to work in the UK.
"However, the devil is always in the detail and depends on how the points-based scheme will operate in practice.
"Among the priority skill areas where India could help fill a big gap are medical professionals — especially general practitioners and dentists.
"Visas are certainly part of the issue but an even bigger barrier for NHS recruitment is mutual recognition of qualifications.
"There is no use having one without the others."
The independent peer Ushar Prashar, chairperson of the UK branch of FICCI, was upbeat about the consequences for India: "Majority of the Indian businesses in the UK require skilled manpower. The new points-based immigration system coupled with the lower salary threshold is a positive move. This has been a long standing demand of FICCI members."
She added: "The new system will benefit not just qualified professionals from India but also large numbers of Indian students in the UK universities."
Crossbench peer Karan Bilimoria, vice-president of the Confederation of British Industry and chairman of Cobra Beer, said: "Several aspects of the new system will be welcomed by business, particularly abolishing the cap on skilled visas, introducing a new post-study work visa for overseas students, and reducing the minimum salary threshold from £30,000.
"Nonetheless, in some sectors firms will be left wondering how they will recruit the people needed to run their businesses. With already low unemployment, firms in care, construction, hospitality, food and drink could be most affected.
"Above all, the government must work with employers and employees — especially smaller firms — to ensure they have the time to adapt to new policies and practices."
There are genuine problems with the new immigration proposals. The main one is that large sections of British industry have got used to recruiting EU nationals. Everyone knows they work a lot harder than their British counterparts.
There are now fears that that the British economy will be badly hit if workers from the EU – in construction, for example – are barred entry. The door is also closed to the self-employed – plumbers from Poland, for instance.
It is thought there are around 3.4 million EU citizens living in the UK and most are said to be unskilled or low-skilled.
To all this, Priti's response is that it is high time the British stopped being lazy and did the work themselves – instead of relying on relatively cheap labour from Eastern Europe.
Some feel this is a little rich coming from the daughter of Indian immigrants who came to the UK from Uganda.
Priti's policy document says: "UK businesses will need to adapt and adjust to the end of free movement, and we will not seek to recreate the outcomes from free movement within the points-based system.
"As such, it is important that employers move away from a reliance on the UK's immigration system as an alternative to investment in staff retention, productivity, and wider investment in technology and automation."
Which is another way of telling British workers: "Stop being lazy."
The home secretary told Sky News: "It is about time businesses started to invest in people in this country. We have over eight million people – that is 20 per cent of the workforce – aged between 16 and 64 that are economically inactive right now."
"Economically inactive" is code for indolent or work shy.
"It is down to businesses to work well with the government and join us in investing in people, levelling up across the UK so we can have wage growth across the entire country," continued Priti.
She believes the new immigration measures will reduce net migration even though there will be no cap on the numbers of highly qualified professionals who are admitted.
The BBC's health correspondent Nick Triggle pointed out: "The immigration plans spell trouble for adult social care. The majority of people employed by the sector are low-paid care workers. They are responsible for providing daily help to older and disabled adults in care homes and the community. There are already significant shortages – one in 11 posts is unfilled."
For Labour, shadow home secretary Diane Abbott said the government did not "appear to have thought through what the effects of this policy will be on the economy as a whole and what message it sends to migrants already living and working here".
Liberal Democrat home affairs spokeswoman Christine Jardine alleged the proposals were based on "xenophobia".
And Scotland's First Minister Nicola Sturgeon said the plans would be "devastating" for the Scottish economy.
But Priti insisted that a new Immigration Bill would be introduced for a "firm and fair" system which would "attract the high-skilled workers" to create a "high wage, high skill, high productivity economy".