Pope Francis: Abuse of Canada's Indigenous residential schools was cultural 'genocide'
Pope says he didn't use the term 'genocide' during his Canada trip because it never came to mind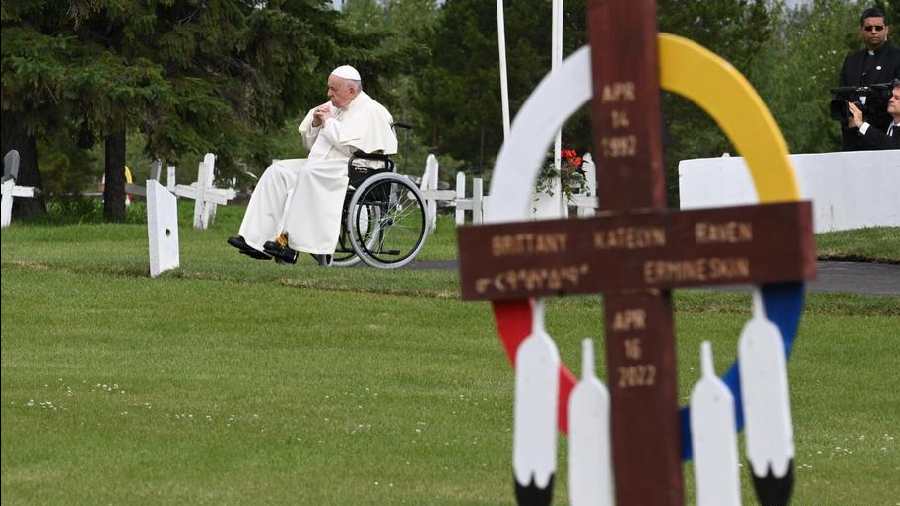 During his trip, the pope apologised for the 'evil' inflicted on Indigenous communities at Canada's residential schools
Deutsche Welle
---
Published 30.07.22, 03:40 PM
|
---
Pope Francis on Saturday said the treatment of Indigenous people in Canada amounted to a genocide, after a six-day trip where he apologized to survivors of abuse at Catholic-run schools.
"I didn't say the word (in Canada) because it didn't come to my mind, but I did describe the genocide. And I asked for forgiveness for this process which was genocide," he told reporters onboard his plane returning to Rome.
Canada's Truth and Reconciliation Commission determined in 2015 that the forced removal of Indigenous children from their homes and placement in the residential schools to assimilate them constituted a "cultural genocide."
"Taking away children, changing the culture, changing the mentality, changing the traditions, changing a race, let's put it that way, a whole culture.
"Yes, genocide is (a) technical word... But I have described what is, indeed, a genocide," he said.
From the late 1800s to the 1990s, Canada's government sent about 150,000 Indigenous children into 139 church-run residential schools.
The children were severed from their families, language and culture for months or even years.
Many faced physical and sexual abuse at the hands of headmasters and teachers while thousands are believed to have died because of neglect, malnutrition and disease.
Since last year, hundreds of remains of the children in unmarked graves have been discovered at the sites of the former schools, sending shockwaves throughout the country.
During his trip, the pope apologized for the "evil" inflicted on the Indigenous communities at the residential schools.
He, however, refrained from using the term "genocide" during his trip and instead apologized for the "cultural destruction" at the schools.
Indigenous leaders present at the meeting with Francis accepted the church's apology, many welling up with emotion, but said their people expect him to take further steps toward reparations.
Pope hints at retirement
Also en route to Rome, Pope Francis described the Canada trip as a test to his ailing health, acknowledging that he can no longer travel in the same capacity and that he needs to at least slow down.
The 85-year-old pope suffers from strained knee ligaments which constrained him to a wheelchair for much of his trip. Oftentimes he also recruited the help of a walker and a cain, which limited his program.
Though he hadn't before thought of retiring, the pope told reporters there was nothing wrong with stepping down.
"It's not strange. It's not catastrophic. You can change the pope," he said. " I think at my age and with these limitations, I have to save (my energy) to be able to serve the church, or on the contrary, think about the possibility of stepping aside."
Pope Francis had strained his right knee ligaments earlier this year. Knee treatment involving laser and magnetic therapy derailed a trip to Africa slated for the first week of July.