'Plan Balkan' that hit Jawaharlal Nehru wall
Balkanisation is defined as "the fragmentation of a larger region or state into smaller regions or states, which may be hostile or uncooperative with one another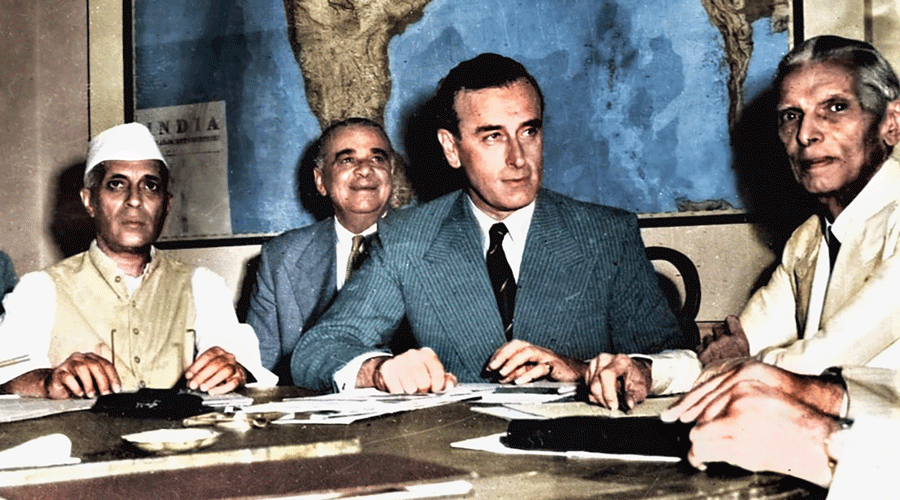 Lord Mountbatten with Jawaharlal Nehru and Muhammad Ali Jinnah.
Picture credit: Channel 4
---
London
|
Published 13.08.22, 12:40 AM
|
---
Lord Mountbatten, who was sent to India in March 1947 as Viceroy to preside over the transfer of power, apparently had an initial plan to split the country into a dozen or more autonomous provinces, according to a Channel 4 documentary.
The evidence for "Plan Balkan" comes from Lakshman Menon, grandson of V.P. (Vappala Pangunni) Menon, who served as constitutional adviser and political reforms commissioner to the last three Viceroys (Linlithgow, Wavell and Mountbatten) during British rule in India.
Mountbatten had allegedly cleared his plan with London without discussing it with any of the key Indian political leaders, such as Jawaharlal Nehru of the Congress or Muhammad Ali Jinnah of the Muslim League, or even Gandhi.
Balkanisation is defined as "the fragmentation of a larger region or state into smaller regions or states, which may be hostile or uncooperative with one another. It is usually caused by differences of ethnicity, culture, and religion and some other factors such as past grievances. The term is pejorative; when sponsored or encouraged by a sovereign third party, it has been used as an accusation against such third party nations. Controversially, the term is often used by voices for the status quo to underscore the dangers of acrimonious or runaway secessionism."
This did not happen because Nehru flew into a rage when he was shown "Plan Balkan" by Mountbatten (Jinnah was not kept in the loop at this stage). As a consequence, Mountbatten asked Menon, who was acting as his principal adviser, to draw up an alternative plan. The revised plan to carve out Pakistan from the old British and princely India was the one which came to be accepted.
Mountbatten claimed credit for the new plan but according to the first part of the documentary, India 1947: Partition in Colour – so called because the footage has been "colourised" — it had been drawn up by Menon. Channel 4 interviewed his grandson, Lakshman Menon, who set out the sequence of events in May 1947 at the Viceregal Lodge in Simla (now Shimla), the summer capital of British India.
Lakshman said: "Plan Balkan was Mountbatten's great plan to fragment and divide India before the British left, with power being transferred to a dozen, perhaps 13, provincial governments. My grandfather V.P. Menon was fully aware, firstly, that Plan Balkan would decimate India; more importantly, in a way that neither the Congress Party nor the Muslim League would ever accept.
"The events in Simla in May 1947 are of vital importance in the story of Partition because they resulted in the geographical map of the world changing. Lady Mountbatten suggested my grandfather come up to Simla as well. But the Mountbattens had a surprising guest with them."
There is footage of Nehru on horseback in Simla.
Lakshman went on: "In a top-secret memo that Mountbatten wrote, he says, 'I had a distinct hunch that I ought to take advantage of my newfound friendship with Nehru to ask his personal opinion of the new draft' — Mountbatten referring to Plan Balkan for some extraordinary reason. Going against the advice of my grandfather, going against the advice of all the other senior advisers, Mountbatten decided to show it to Nehru.
"Much as my grandfather predicted, Nehru spent the night in a fury."
Lakshman continued: "My grandfather received urgent summons from the Viceregal Lodge. When he arrived he found Lady Mountbatten holding Mountbatten's hand – he was looking completely shattered. It was at this point that my grandfather said, 'Would you like me to flesh out my alternative plan?' Mountbatten agreed.
"Armed with a bottle of whisky and several packets of cigarettes, my grandfather duly produced a plan. (He) handed it on to, first, Mountbatten, who gave it to Nehru to read. The Menon plan differed radically from Plan Balkan in that instead of transferring power to a dozen or more provincial governments, power would be transferred to two countries – India and Pakistan. To his enormous relief, Nehru agreed to the Menon plan. Mountbatten was ecstatic."
Lakshman then revealed: "Mountbatten being Mountbatten immediately took credit for it and that is the plan that has come down to be known as the Mountbatten Plan. In point of fact, Mountbatten had nothing whatsoever to do with it at all. It was V.P. Menon. It was his plan.
"In Mountbatten's last honours list, he offered my grandfather the highest level of knighthood then available within the Indian order. And my grandfather, very politely, declined it because he later on told his daughter-in-law, my mother, 'How could I accept a knighthood being the man who devised the partition of my country?'"