Passenger who died in Liverpool blast was 'suicide bomber'
There was something about the nervous behaviour of the passenger which made the taxi driver, David Perry, suspect that the man was carrying a bomb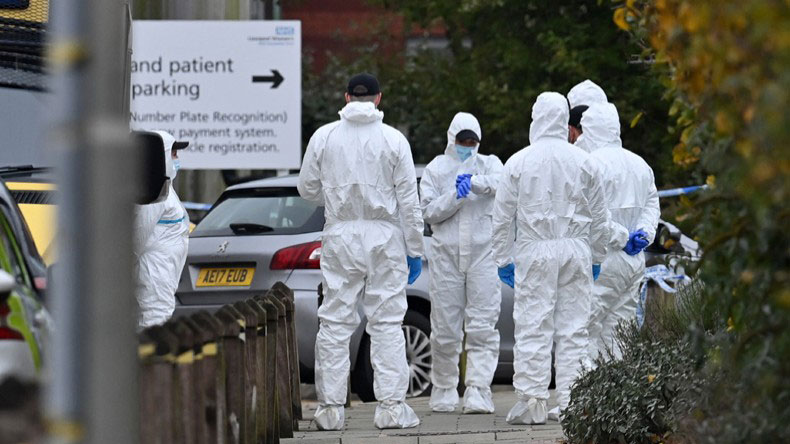 Forensic police officers at the scene of the car blast outside the Liverpool Women's Hospital on Monday.
Twitter/@MuhaburaRwanda
---
London
|
Published 16.11.21, 02:29 AM
|
---
Anti-terrorist police in Britain are now working on the assumption that a passenger who died when a taxi blew up outside the Women's Hospital in Liverpool on Sunday was a suicide bomber.
There was something about the nervous behaviour of the passenger which made the taxi driver, David Perry, suspect that the man was carrying a bomb. The cabbie dived out of his taxi and had the presence of mind to lock in his passenger but just then a bomb exploded.
The man inside died instantly as the vehicle was engulfed in flames. Perry, a married father of two, was taken to hospital but his injuries were not considered to be "life threatening", initial reports said. The dead man has yet to be formally identified but armed police have arrested three men, aged 21, 26 and 29, in Liverpool under the Terrorism Act. They will want to establish whether the alleged bomber was a "lone wolf", radicalised by online propaganda during the lockdown, or part of a wider conspiracy.
The timing of the explosion — 10.59am on Sunday — is thought to be significant. At 11am, Britain was marking Remembrance Sunday in honour of its war dead. These days thousands of Indian soldiers who died fighting for Britain in two world wars are also honoured, often with red poppies made from khadi.
In the grounds of Hampton Court Palace in London, there is currently an installation, "Standing with Giants", featuring the near life size silhouettes of 125 soldiers from the First World War, 25 of them Indian.
Joe Thomas, the crime reporter on the Liverpool Echo newspaper, told BBC Radio 4's Today programme: "The timing of the incident just one minute before 11:00 may well hold a significance to people in their attempts to understand what has happened at the moment."
Nick Aldworth, a former counter terror co-ordinator, said investigators would be focused on what happened inside the vehicle.
"They'll be looking at what sort of damage has been caused, trying to get an assessment of what might have caused that blast," he told Today. "I have to say from what I've seen there is very little blast damage — a lot of fire damage but very little blast damage. So whatever was in that vehicle was either a low yield or didn't work properly or was possibly an incendiary."
Perry, who is being hailed as a hero, was very quickly praised by his colleagues in the local taxi trade.  They said his quick action prevented a "Poppy Day carnage".
Sources said the experienced cabbie picked up a fare who initially asked to be taken to Liverpool's Anglican Cathedral, half a mile from the hospital, where a Remembrance Sunday parade ended and a memorial event featuring thousands of servicemen, veterans and dignitaries was being held.
"They couldn't get there, the roads were blocked off," one of Perry's friends revealed. "The man changed his mind and asked to go to the city centre instead.
"But when they were going past the Women's Hospital he said to pull in there. It was just before 11. David noticed the man had some kind of light attached to his clothing and was messing around with it, it didn't look right at all.
"I don't know how he's done it with a split second's thought but David's jumped out and locked the car with this guy in the back. As soon as he did, it's gone off. David's the luckiest man in Britain as well as the most heroic, if this guy got in the hospital God knows what could have happened."
Another friend added: "David suffered cuts and bruises, a perforated ear drum and needed stitches in his ear. He'll be sore but he's home. I'm just glad no new babies were leaving at the time. For David to have probably been terrified and think so fast and then end up OK — it's amazing."
Carl Bessant, whose partner had just had a baby at the hospital, said: "She was feeding the baby when it happened. We heard a loud bang and looked out of the window. We saw the car on fire and someone jumped out... screaming, and there was someone inside the car. The hospital shut down, no-one in or out, so they said, but people were using the back entrance."
One theory police are probing is that the detonators on a potential bomb exploded but not the main charge. That would be a repeat of the failed 21/7 bombings in London, three weeks after the 7/7 atrocity in 2005.
In the latter incident, four British-born suicide bombers — Mohammad Sidique Khan, 30; Shehzad Tanweer, 22; Germaine Lindsay, 19; and Hasib Hussain, 18 — detonated bombs on the London Underground and a bus, killing 52 people and injuring 700.
There was another suicide bombing on 22 May 2017 when Salman Ramadan Abedi, 22, who had been a refugee from Libya and was given asylum by Britain, detonated a rucksack bomb inside the Manchester Arena where the American singer Ariana Grande was finishing a concert. Abedi killed 23 mostly young people and injured 1,017. In March 2020, the bomber's brother, Hashem Abedi, was found guilty of 22 counts of murder relating to the attack.