Pakistan Supreme Court orders vandalised temple to be rebuilt
The court instructed authorities to recover the money for the restoration from the attackers, saying the attack had caused 'international embarrassment' to the country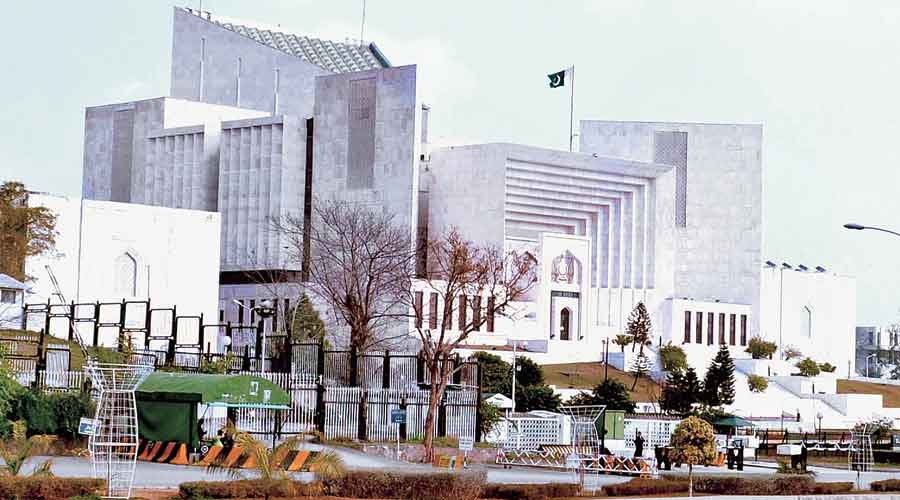 Pakistan Supreme Court
Sourced by The Telegraph
---
Islamabad
|
Published 06.01.21, 01:22 AM
|
---
Pakistan's Supreme Court on Tuesday ordered the reconstruction of a century-old Hindu temple that was vandalised in Khyber Pakhtunkhwa last week.
The court instructed authorities to recover the money for the restoration from the attackers, saying the attack on the temple had caused "international embarrassment" to the country.
(Regardless of how the order will play itself out on the ground in Pakistan, the judicial pronouncement stands in sharp contrast with the Ayodhya verdict in India, adds our bureau in New Delhi.
The Indian Supreme Court has allowed a Ram temple to be built on the site where the Babri Masjid stood although the court ruled that the demolition of the mosque had violated the law. The Indian court asked the government to give land elsewhere in Ayodhya to build a mosque. Eventually, another Indian court acquitted all the accused in the demolition case.)
The Pakistan apex court had ordered the local authorities to appear before the court on January 5. It also directed the Evacuee Property Trust Board (EPTB) to submit details of all functional and non-functional temples and gurdwaras across Pakistan.
The attack on the temple at Terri village in Khyber Pakhtunkhwa's Karak district last Wednesday by the Jamiat Ulema-e-Islam party (Fazal-ur-Rehman group) had drawn strong condemnation from human rights activists and minority Hindu community leaders.
On Tuesday, a bench headed by Chief Justice Gulzar Ahmed ordered the EPTB to start the reconstruction.
The court directed the EPTB to clear encroachments from temples across the country and take action against officials involved in the encroachments.
The EPTB is a statutory board that manages religious properties and shrines of Hindus and Sikhs who had migrated to India following the Partition.
Shoaib Suddle, the head of a commission on minorities' rights, told the court that the provincial EPTB "did not protect the shrine".
Inspector-general of police Sanaullah Abbasi told the court that 109 people had been arrested. He added that 92 police officers, including the superintendent of police and the deputy superintendent of police, had been suspended.
Chief Justice Ahmed said that "suspension was not enough".