Sarah Gilbert hopes new Barbie doll made in her likeness inspires kids
The Oxford scientist led the design of the Covid vaccine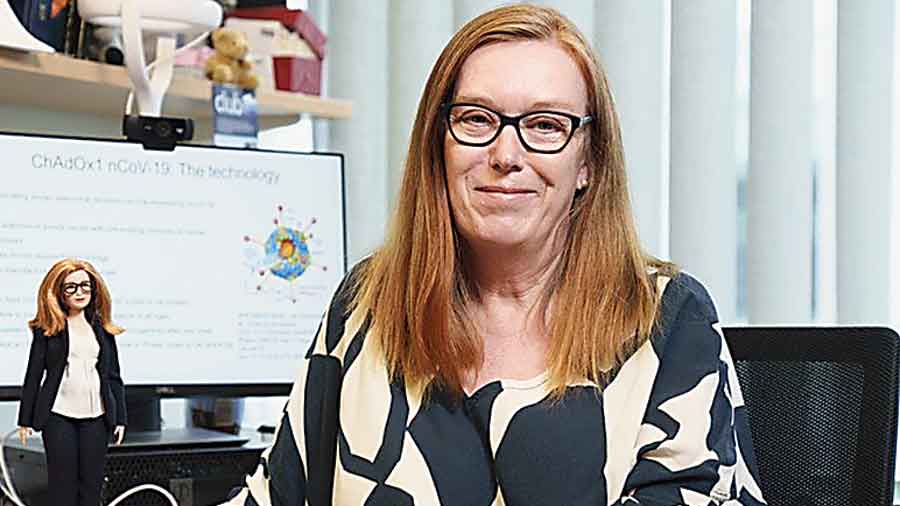 Prof. Sarah Gilbert with the Barbie doll
Sourced by The Telegraph
---
London
|
Published 05.08.21, 12:33 AM
|
---
Prof. Sarah Gilbert, the Oxford scientist who led the design of the Covid vaccine, says she hopes a new Barbie doll made in her likeness will inspire children — especially little girls — all over the world to take up science.
In past years, Barbie has been criticised for being invariably "blonde and curvy" but the one Gilbert contemplated in her office with wry amusement shows her attired in a blue trouser suit, white blouse, black glasses and black shoes.
For Gilbert, who took less than 12 months to design the life-saving vaccine (and agree to collaborate with AstraZeneca and the Serum Institute of India), it's been quite a year. She and co-author Catherine Green have told the vaccine story in a book, Vaxxers: The Inside Story of the Oxford AstraZeneca Vaccine and the Race Against the Virus.
She been given a Damehood, a high British honour, and received an emotional standing ovation at Wimbledon when spectators found out she was seated in Centre Court.
Gilbert's reaction to the Barbie doll is surprisingly positive.
The 59-year-old professor said she initially found the gesture "very strange" but hoped it would inspire young girls to work in science, technology, engineering and mathematics (Stem).
"I am passionate about inspiring the next generation of girls into Stem careers and hope that children who see my Barbie will realise how vital careers in science are to help the world around us," she said.
"My wish is that my doll will show children careers they may not be aware of, like a vaccinologist."
Lisa McKnight, senior vice-president and global head of Barbie and dolls at Mattel, commented: "Barbie recognises that all frontline workers have made tremendous sacrifices when confronting the pandemic and the challenges it heightened. To shine a light on their efforts, we are sharing their stories … to inspire the next generation to take after these heroes and give back."
As well as the likeness of Gilbert, the toy company has created models in honour of five other women working in Stem around the world.
They include US healthcare workers Amy O'Sullivan and Audrey Cruz; Canadian doctor and campaigner Chika Stacy Oriuwa; Brazilian biomedical researcher Jaqueline Goes de Jesus; and Dr Kirby White, an Australian medic who co-created a reusable gown for frontline staff.
Barbie was launched by Mattel in 1959 as a fashion doll, the creation of American businesswoman Ruth Handler. 
From the start, some complained that "the blonde, plastic doll conveyed an unrealistic body image to girls".
A standard Barbie doll is 11.5 inches tall, giving a height of 5 feet 9 inches at 1/6 scale. Barbie's vital statistics have been estimated at 36 inches (chest), 18 inches (waist) and 33 inches (hips).
But Mattel has tried to move with the times.
The Economist, for example, emphasised the importance of Barbie to children's imagination: "From her early days as a teenage fashion model, Barbie has appeared as an astronaut, surgeon, Olympic athlete, downhill skier, aerobics instructor, TV news reporter, vet, rock star, doctor, army officer, air force pilot, summit diplomat.", rap musician, presidential candidate (party undefined), baseball player, scuba diver, lifeguard, fire-fighter, engineer, dentist, and many more....When Barbie first burst into the toy shops, just
as the 1960s were breaking, the doll market consisted mostly of babies, designed for girls to cradle, rock and feed. By creating a doll with adult features, Mattel enabled girls to become anything they want."