Oust Cecil Rhodes: Oxford college
Decision to remove the imperialist's statue sparks outrage among the alumni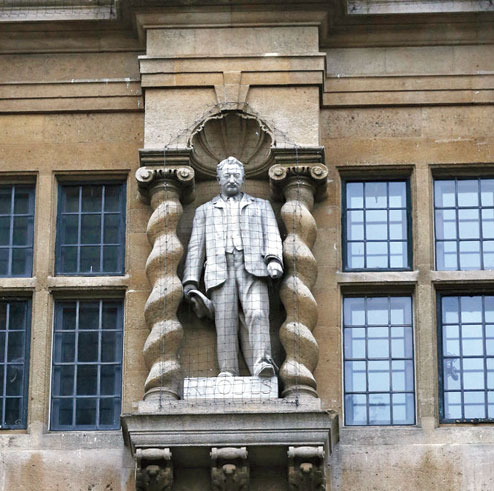 ---
|
London
|
Published 19.06.20, 04:37 AM
---
Zane Dalal, who was an organ scholar at Oriel College, Oxford, in 1983 and is today a distinguished orchestra conductor, expressed sadness that the governing body of his alma mater has voted to remove the statue of the imperialist Cecil Rhodes over the entrance of the Rhodes Building.
Dalal, who is based in Los Angeles but has nurtured the Symphony Orchestra of India at the National Centre for the Performing Arts in Mumbai, told The Telegraph: "Oxford is not a place where one rewrites history. It is a place of history, that has seen much worse than Rhodes. Those who rewrite history for modern comfort will not be able to teach generations what not to do.
"We need these markers. The same reason that Auschwitz is not erased from memory, aside from being a grave, it is a permanent marker for what not to do, and that, yes it actually happened. Without it, it's appalling to contemplate what we are capable of.
"If any statue was put up since 1950 that offends it must be taken down, but if it is duly part of history then we doom ourselves to this ridiculous cycle because we are animals that bear the stamp of our lowly origins and will not learn.
"Also, as someone who has seen the ridiculous defacing of every building in Bombay to remove statues of Victoria and Edward, it's a stupid rather philistine thing, considering everyone, including all taxi drivers, still refer to it as Victoria Terminus.
"Look, I support Black Lives Matter unequivocally, but tampering around the edges, literally with cosmetics, is a disservice and serves nothing but glee in destruction. I ask, does the building and the famous scholarship in his name get removed as well? Rhodes must Fall has to have more in its manifesto than removing a statue."
Many Indians have benefited from the Rhodes scholarship, among them Devi Shridhar, high profile professor of Global Public Health at Edinburgh University, who was pressed on this apparent hypocrisy when she appeared on BBC Radio 4's Question Time on Friday last week.
Shridhar admitted: "That's a really hard one because I am so grateful for the scholarship being there … because Rhodes scholarships often go to people who otherwise often wouldn't have the opportunity to study at Oxford… it was kind of like winning a lottery to be able to have that and it changed life and many other people's lives..… At the same time it was very strange to be there at dinner and be toasting the Queen and the founder Cecil Rhodes, knowing that history so I think it's right to remove the statue and put it into a museum.
"It's part of Oxford's history, part of the world's history but it doesn't need to be showcased either."
After a meeting on Wednesday, the 40-strong Oriel governing body said in a statement that it had "voted to launch an independent Commission of Inquiry into the key issues surrounding the Rhodes statue.
"They also expressed their wish to remove the statue of Cecil Rhodes and the King Edward Street Plaque. This is what they intend to convey to the Independent Commission of Inquiry.
"Both of these decisions were reached after a thoughtful period of debate and reflection and with the full awareness of the impact these decisions are likely to have in Britain and around the world."
Oriel, founded in 1326, opened its Rhodes Building in 1911 after receiving a £100,000 bequest from Cecil Rhodes (1853-1902), who had been a student at the college.
His 4 foot statue, between two first floor windows, with the inscription, "E L A R G A M V N I FI C E N T I A C A E C I L I I R H O D E S" (by means of the generous munificence of Cecil Rhodes), was put up in 1911.
Black Lives Matter, which has a hit list of 80 statues, said that "while we remain hopeful, our optimism is cautious. While the governing body of Oriel College have 'expressed their wish' to take down the statue, we continue to demand their commitment."
In London, the statue of Winston Churchill has been "liberated" from its "metal coffin" in time for a visit by President Emmanuel Macron of France but Mahatma Gandhi and Nelson Mandela remain boarded up and "under review".