One dead, several injured in Sri Lanka after police clash with protesters
Three injured are in critical condition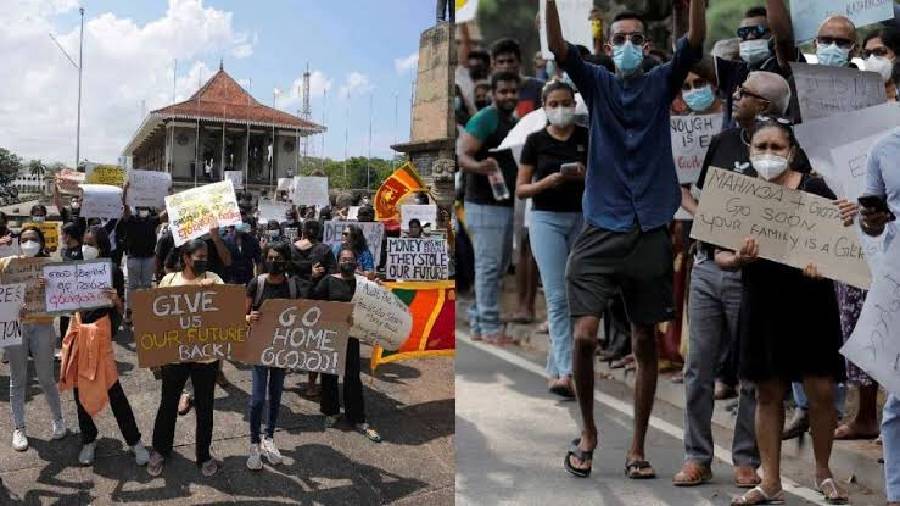 Protests have only intensified in Sri Lanka
File Picture
---
Colombo
|
Published 19.04.22, 08:15 PM
|
---
At least one person was killed and over a dozen injured in Sri Lanka after protesters clashed with police in the central town of Rambukkana, a doctor told Reuters, the first fatality since demonstrations began in the crisis-hit country weeks ago.
"Fifteen people who were injured in the incident were brought to the hospital and three are in critical condition having sustained quite severe injuries to their abdomen region," a doctor at the state-run Kegalle Hospital told Reuters.
"One person died after being admitted," the doctor said, declining to be named as he is not authorized to speak to media.
Sri Lanka's embattled Prime Minister Mahinda Rajapaksa on Tuesday proposed to restore the 19th amendment to the Constitution to curb presidential powers and empower Parliament as protests intensified in the island nation against his government over its handling of the economy.
Addressing parliament on the first day after the traditional Sinhala and Tamil New Year, Prime Minister Rajapaksa said it is important that a solution to the multiple crises is found on a solid economic, political and social foundation.
I believe a constitutional change must take place. As a start, I believe implementing the 19th Amendment with necessary and timely changes is the best short term solution for the current situation in the country, said Premier Rajapaksa.
It is my belief that 19A has to be revived with certain amendments as a short term solution," he told the House. The 19A adopted in 2015 pruned presidential powers by empowering Parliament above the executive president.
However, the 19A was scrapped after his brother Gotabaya Rajapaksa won the November 2019 presidential election. With the blessings of the president, we must walk towards broader constitutional reform in the future, said the prime minister.
Speaker Mahinda Yapa Abeywardana told the House that a special meeting was held yesterday to arrive at short and long term solutions from within parliament to address the current political crisis.
With PTI inputs