North Korea 'fires two ballistic missiles'
Launch comes five days after Pyongyang blasted several projectiles off its east coast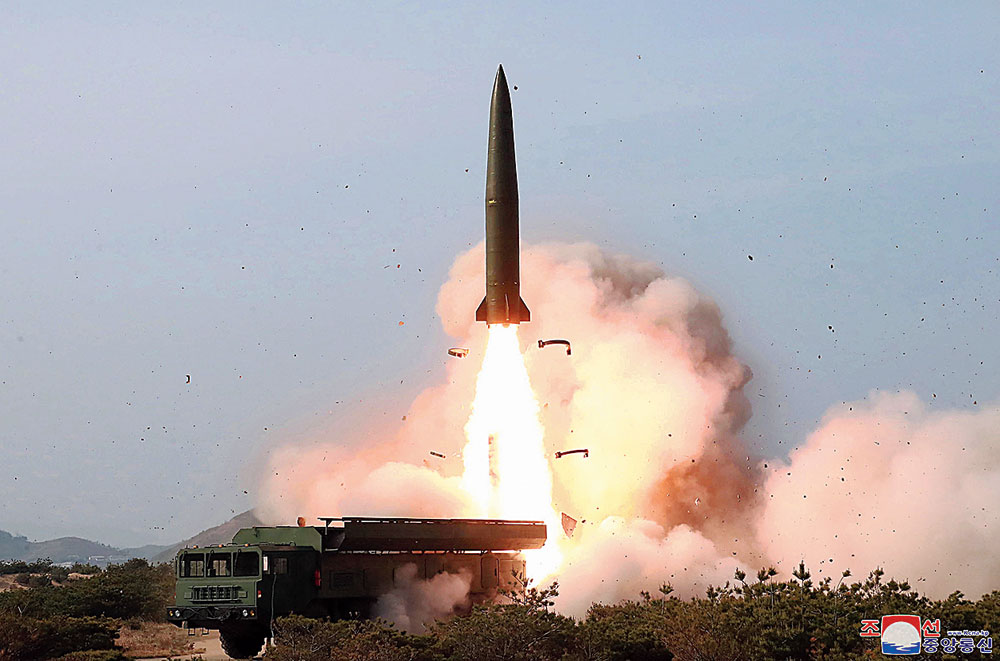 ---
|
Seoul
|
Published 09.05.19, 08:03 PM
---
North Korea launched two short-range ballistic missiles on Thursday, the South Korean military said, an escalation from the North's most recent weapons test just five days ago.
The two missiles were launched eastward from the country's northwest, with one flying 260 miles and the other about 170 miles, the military said in a statement. It said officials from the South and the US were jointly analysing flight data to determine what type of missiles they were.
"Our military has stepped up our surveillance and monitoring in preparation for possible additional launches by North Korea," the statement said. "We remain fully prepared in close coordination with the United States." The statement did not say where the missiles had landed, but the reported distances would put them in the sea between North Korea and Japan.
The launch came five days after North Korea fired several short-range projectiles off its east coast. They flew 43 to 125 miles before landing in the sea, the South Korean military said then in a statement.
Japan said on Thursday that the two missiles had not landed in its territorial waters. "At the moment, we don't see any situation that would immediately impact on Japan's security," its defence ministry said in a statement.
The South Korean military first said the missiles were fired from Sino-ri, home to a North Korean ballistic missile base. But it later amended that, saying they had been launched from Kusong, a town north of Sino-ri.
North Korea has frequently launched missiles from Kusong, including its first solid-fuel mid-range ballistic missile, known as Pukguksong-2, which it launched from there in February 2017. The Pukguksong-2 test marked a major leap forward for the North because the missile used solid fuel, which makes it easier to hide, transport and launch and harder for the US to target in a pre-emptive strike.
Ko Min-jung, a spokeswoman for President Moon Jae-in of South Korea, called the Thursday launches "a very disturbing development", adding, "This does not help at all efforts to improve South-North Korean relations and ease military tensions on the Korean Peninsula."
Like the test on Saturday, the missile launches on Thursday did not violate a moratorium on nuclear and long-range missile tests that the North's leader, Kim Jong-un, declared in April of last year. But launching any kind of ballistic missile, including short-range missiles, violates UN Security Council resolutions that bar North Korea from testing such technology, analysts said. The tests on Saturday may also have involved at least one ballistic missile.
US seizes ship
The US has seized a North Korean shipping vessel in response to violating American-led sanctions, the US justice department announced on Thursday.
Prosecutors said the carrier ship, the Wise Honest, was being used to export North Korean coal, a critical sector of the North's economy that the US and the UN have aggressively imposed sanctions on in an effort to force Pyongyang to end its nuclear weapons programme.