New York to end remote learning in autumn
When the new school year starts on September 13, all students and staff will be back in school buildings full-time: Mayor Bill de Blasio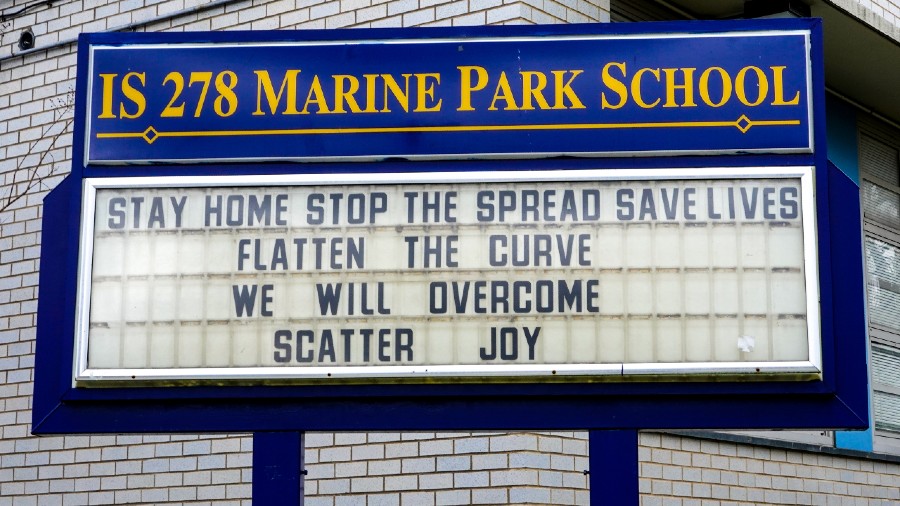 Junior high school closed in Brooklyn, NY after New York City closed down the public school system to stop the spread of the coronavirus
Shutterstock
---
New York
|
Published 25.05.21, 02:48 AM
|
---
New York City will no longer have a remote schooling option come autumn, mayor Bill de Blasio announced during a television appearance on Monday, a major step towards fully reopening the nation's largest school system.
This school year, most of the city's roughly one million students — about 600,000 — stayed at home for classes. When the new school year starts on September 13, all students and staff will be back in school buildings full-time, de Blasio said.
New York is one of the first big cities to remove the option of remote learning altogether for the coming school year. But widespread predictions that online classes would be a fixture for school districts may have been premature. Governor Philip D. Murphy of New Jersey announced last week that the state would no longer have remote classes in autumn, after similar announcements by leaders in Connecticut and Massachusetts.
New York City's decision will make it much easier to restore the school system to a pre-pandemic state, since students and teachers will no longer be split between homes and school buildings.
But the mayor's announcement will no doubt alarm some parents who are concerned about sending their children back into school buildings, even as the pandemic ebbs in the US. Recent interviews with city parents have shown that while many families are looking forward to resuming normal schooling, some are hesitant about returning to classrooms.
Non-white families, whose health has suffered disproportionately from the virus, have been most likely to keep their children learning from home over the past year.
New York, like districts across the country, has struggled to make remote learning successful. Online classes have been frustrating for many students, and even disastrous for some, including children with disabilities.
By one estimate, three million students across the US, roughly the school-age population of Florida, stopped going to classes, virtual or in person, after the pandemic began. A disproportionate number of those disengaged students are low-income Black, Latino and Native American children who have struggled to keep up in classrooms that are partly or fully remote.
De Blasio, who has been criticised for not doing more to improve the quality of online education, has said that remote learning is inherently inferior.
It has also been extraordinarily complex for the city to run two parallel school systems, one in person and one online, with many students switching between the two every few days. So many students and teachers operating from home made it nearly impossible for some schools to offer normal schedules.
For the past few months, De Blasio said he expected the city to keep some kind of remote learning option for the fall. But he and his aides changed their minds in recent weeks, officials said, as virus rates plummeted throughout the city and as children 12 and older became eligible for the Pfizer vaccine.
The mayor is expected to announce more details about the city's school reopening plan at a news conference later on Monday.
Pfizer and BioNTech plan in September to submit requests for authorisation of the vaccine in children ages 2 to 11.
"The data has been unbelievably clear," De Blasio explained on Monday. "Vaccination has worked ahead of schedule; it's had even more impact than we thought it would."
New York Times News Service