Nepal plane crash: Focus on request to change runway
Aircraft from Kathmandu, which crashed into a gorge while trying to land at the newly opened Pokhara airport, carried 68 passengers — including 5 Indians — and a 4-member crew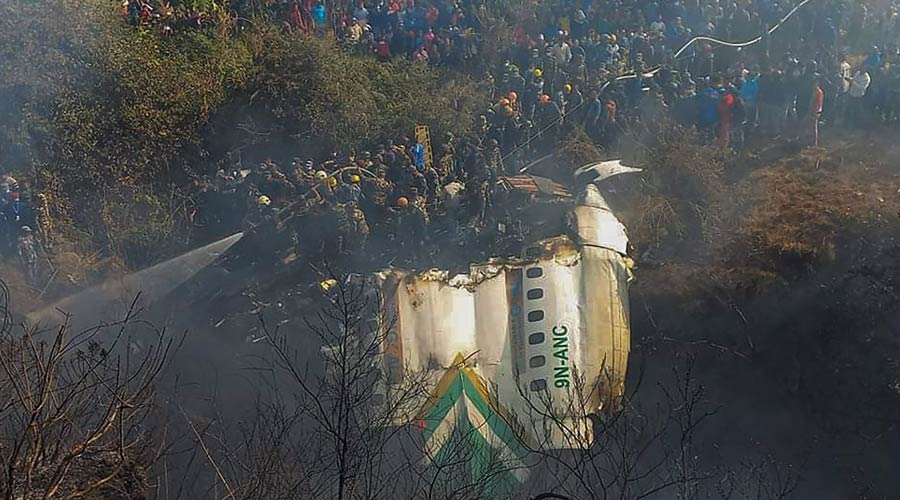 Officials said 69 bodies had been found while a search was on for the three others who were on board.
File Photo.
---
Kathmandu
|
Published 17.01.23, 03:16 AM
|
---
The black box and voice recorder of the Yeti Airlines aircraft that crashed near Pokhara on Sunday have been recovered, with officials hoping the devices would explain the reason for the tragedy and the captain's last-minute request for a change of runway.   
Officials said 69 bodies had been found while a search was on for the three others who were on board. The plane from Kathmandu, which crashed into a gorge while trying to land at the newly opened Pokhara airport, carried 68 passengers — including 5 Indians — and a 4-member crew.
Both the black box — the flight data recorder (FDR) — and the cockpit voice recorder (CVR) were found at the crash site on Monday as search and rescue teams rappelled down the 300-metre gorge, officials said.
The CVR records radio transmissions and other sounds in the cockpit, such as conversations between the pilots and engine noises. The FDR records more than 80 types of information such as speed, altitude and direction, as well as pilot actions and the performance of important systems.
"The weather was clear. We allocated Runway 30 which is the eastern end. Everything was fine," Pokhara airport spokesperson Anup Joshi was quoted as saying by The Kathmandu Post newspaper.
Captain Kamal KC, an instructor pilot who was in command, later asked for permission to switch to Runway 12, which is the western end. "We were not sure why. Permission was granted, and accordingly, the aircraft started its descent," Joshi, a senior air traffic controller, said.
The airport, built under a Chinese soft loan, had been inaugurated just two weeks ago.
Kingfisher link
The crashed 9N-ANC ATR-72 aircraft was previously used by the now-defunct Kingfisher Airlines, owned by liquor baron Vijay Mallya, according to Cirium Fleets, which tracks aircraft fleet, equipment and their cost. Cirium Fleets said the plane had been delivered to Kingfisher in 2007.
Six years later, it was bought by Thailand's Nok Air before it was sold to Nepal's Yeti Airlines in 2019.   The number "72" in its name derives from the aircraft's typical standard seating capacity of 72 passengers.