Meta removes assault content of vandalising Brazilian government buildings
Tens of thousands of supporters of Brazil's Jair Bolsonaro smashed presidential palace windows, flooded parts of Congress and ransacked rooms in Supreme Court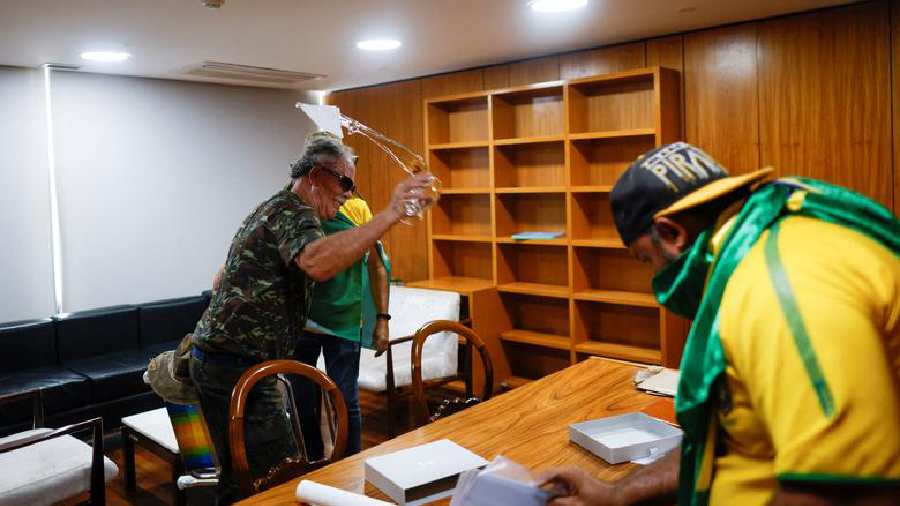 Bolsonaro supporters vandalise the interior of Planalto Palace in Brasilia on Sunday
Reuters
---
Stockholm
|
Published 10.01.23, 01:51 AM
|
---
Facebook parent Meta said on Monday it was removing content supporting or praising the weekend ransacking of Brazilian government buildings by anti-democratic demonstrators.
Tens of thousands of supporters of Brazil's far-Right former President Jair Bolsonaro smashed presidential palace windows, flooded parts of Congress with a sprinkler system and ransacked rooms in the Supreme Court in a more than three-hour uprising.
"In advance of the election, we designated Brazil as a temporary high-risk location and have been removing content calling for people to take up arms or forcibly invade Congress, the Presidential palace and other federal buildings," a Meta spokesman said.
"We are also designating this as a violating event, which means we will remove content that supports or praises these actions," he said.
"We are actively following the situation and will continue removing content that violates our policies."
Leftist President Luiz Inacio Lula da Silva took office on January 1 after defeating Bolsonaro in a runoff election in October, ending Brazil's most Right-wing government in decades.
Bolsonaro refused to concede defeat and some supporters have claimed the election was stolen, with people taking to social media and messaging platforms from Twitter, Telegram and TikTok to YouTube and Facebook, to organise protests.
Brazilian Supreme Court Justice Alexandre de Moraes has ordered social media platforms to block users from spreading anti-democratic propaganda.
Telegram, TikTok, Twitter and YouTube did not immediately respond to requests for comment.
Sunday's occupation of the government buildings had been planned for at least two weeks by Bolsonaro's supporters in groups on social media messaging platforms such as Telegram and Twitter, yet there was no move by security forces to prevent what one group called "the seizure of power by the people".
Bolsonaro ill
razil's former President Jair Bolsonaro was admitted to a hospital in Florida, a source close to his family said on Monday, adding that his condition was "not worrying".
Brazilian newspaper O Globo had reported earlier in the day that Bolsonaro had been suffering from abdominal pain.
Bolsonaro, who lost October's run-off election by less than two percentage points, criticised the Brasilia protests on Sunday evening, saying on Twitter that peaceful demonstrations were part of democracy, but that "destruction and invasions of public buildings, like what occurred today", were not. The former President, who  appeared to be in Florida, also repudiated Lula's comments that he bore some responsibility for the riots, saying those accusations were "without proof".
Alexandre de Moraes, a prominent Brazilian Supreme Court justice, has suspended Ibaneis Rocha, the governor of the district that includes Brazil's capital, for 90 days while investigations take place into security failings.