Media exaggerating coronavirus threat, says Donald Trump
The President denounced Democrats, describing their concerns as 'their new hoax'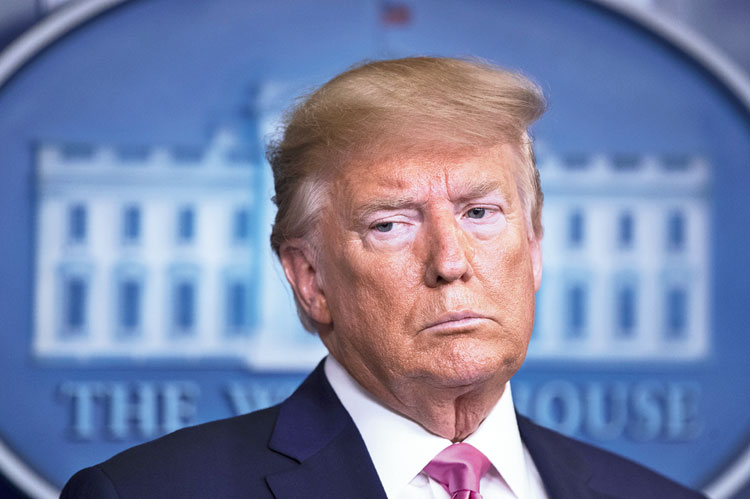 President Donald Trump
(AP)
---
Washington
|
Published 29.02.20, 08:04 PM
|
---
President Trump and members of his administration mobilised on Friday to confront the threat of the coronavirus — not just the outbreak, but the news media and the Democrats they accused of exaggerating its danger.
While stock markets tumbled, companies searched for new supply chains and health officials scrambled to prevent a spread of the virus, Trump and his aides, congressional allies and backers in the conservative media sought to blame the messenger and the political opposition in the latest polarising moment in the nation's capital.
Trump said that news outlets like CNN were "doing everything they can to instill fear in people", while some Democrats were "trying to gain political favour by saying a lot of untruths".
His acting White House chief of staff, Mick Mulvaney, went even further, telling conservative activists that journalists were hyping the coronavirus because "they think this will bring down the President; that's what this is all about".
At a campaign rally on Friday evening in South Carolina, the President denounced Democrats, describing the concerns they have expressed about the virus as "their new hoax" after the Russia investigation and then impeachment.
"Now the Democrats are politicising the coronavirus," he said. "We did one of the great jobs. You say, 'How's President Trump doing?' They go, 'Oh, not good, not good.' They have no clue. They don't have any clue. They cannot even count the votes in Iowa."
S. Korea jump in cases
South Korea urged citizens on Saturday to stay indoors as it warned of a "critical moment" in its battle on the coronavirus after recording the biggest daily jump in infections.
Italy schools closed
Schools and universities will stay closed for a second consecutive week in three northern Italian regions in an effort to contain Europe's worst outbreak of coronavirus.
Iran toll rises to 43
Deaths in Iran from coronavirus have hit 43, the highest number outside China, and the total number of infected people has risen to 593.