Mark Zuckerberg withstands a Washington 'beating'
In recent months lawmakers have spared neither Facebook nor Zuckerberg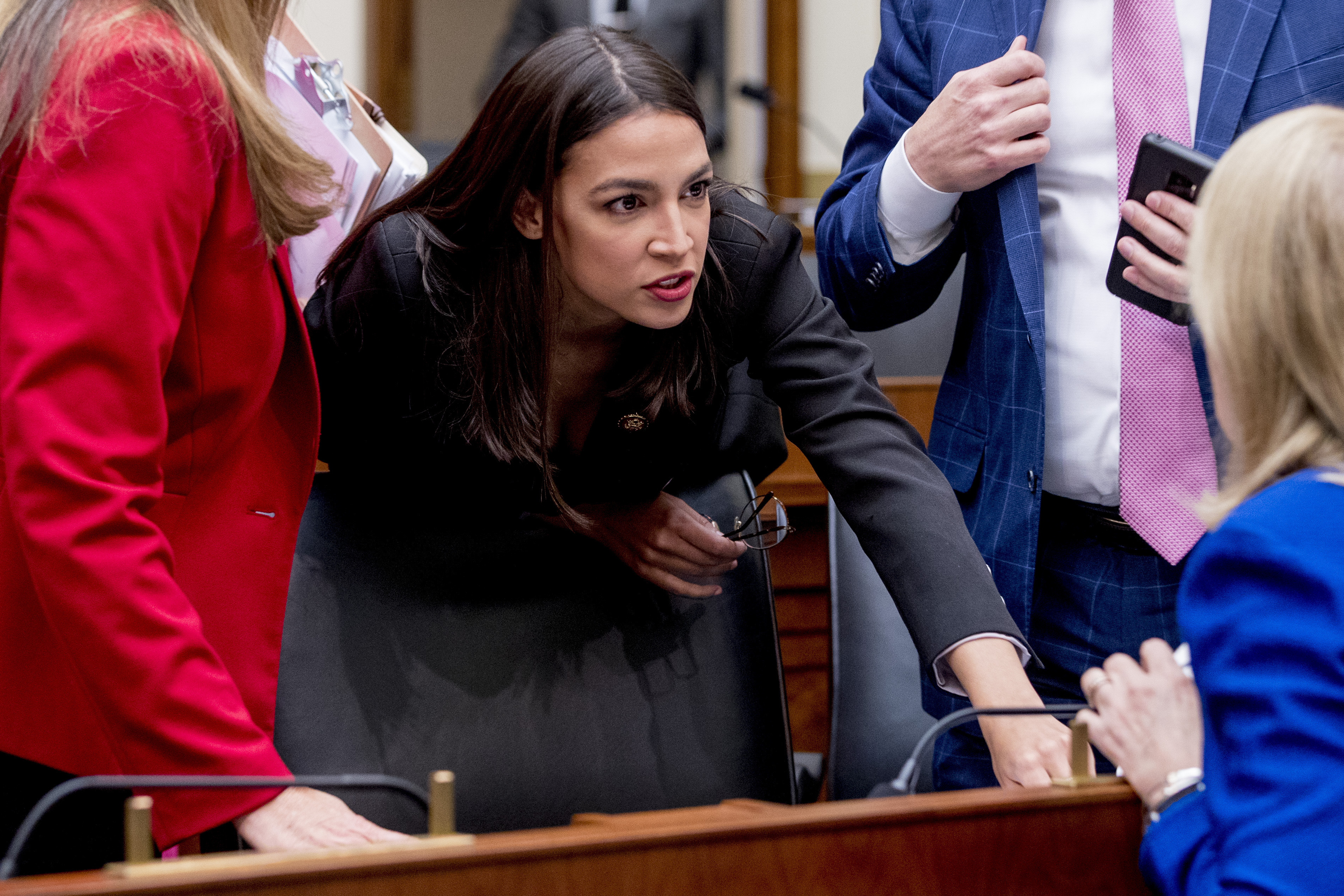 Alexandria Ocasio-Cortez speaks with other lawmakers during a break from testimony from Mark Zuckerberg before a House Financial Services Committee hearing on Capitol Hill in Washington, on Wednesday.
AP
---
Washington
|
Published 24.10.19, 07:21 PM
|
---
Mark Zuckerberg, the Facebook chief executive, travelled to Washington to defend a cryptocurrency project that has become the latest target of lawmakers frustrated with the social media giant.
He ended up answering a smorgasbord of questions on other issues on Wednesday, as members of the House Financial Services Committee took him to task for everything from political advertising and disinformation campaigns to work force diversity and child pornography.
Representative Maxine Waters, the Democratic committee chairwoman, set the tone of the hearing early. She grilled Zuckerberg on Facebook's willingness to allow unfettered speech across the platform and its recent decision to avoid vetting political advertising.
"The impact of this will be a massive voter suppression effort. Your claim to promote freedom of speech does not ring true," Waters said.
In recent months lawmakers have spared neither Facebook nor Zuckerberg. On Wednesday, that criticism became more than five hours of political theatre, making it glaringly apparent just how sceptical of Facebook Congress has become through nearly 3 years of controversy.
The company now faces several investigations by regulators in a number of countries and by 47 state attorneys general, as well as increasing calls that it should be broken up into a number of smaller, less powerful companies.
Zuckerberg acknowledged his company has a trust problem. "I get that I'm not the ideal messenger for this right now," he said. "We certainly have work to do to build trust."
Despite occasional stumbles, Zuckerberg, accompanied by a nearly full front row of Facebook lawyers, top lobbyists and public relations executives, stayed calm under the harsh questioning. He did what he was supposed to do as the chief executive of a big company called to heel in Washington. He took the heat.
Zuckerberg still brightened when the grab-bag discussion veered into the technical details of Libra.
While presenting a rosy view of how the cryptocurrency would provide a safe way for billions of people around the world, he pledged Facebook would not offer Libra anywhere in the world "unless all US regulators approve it."