Maduro early poll trick on Guaido
Trump turns down meeting with Maduro, says sending military 'an option'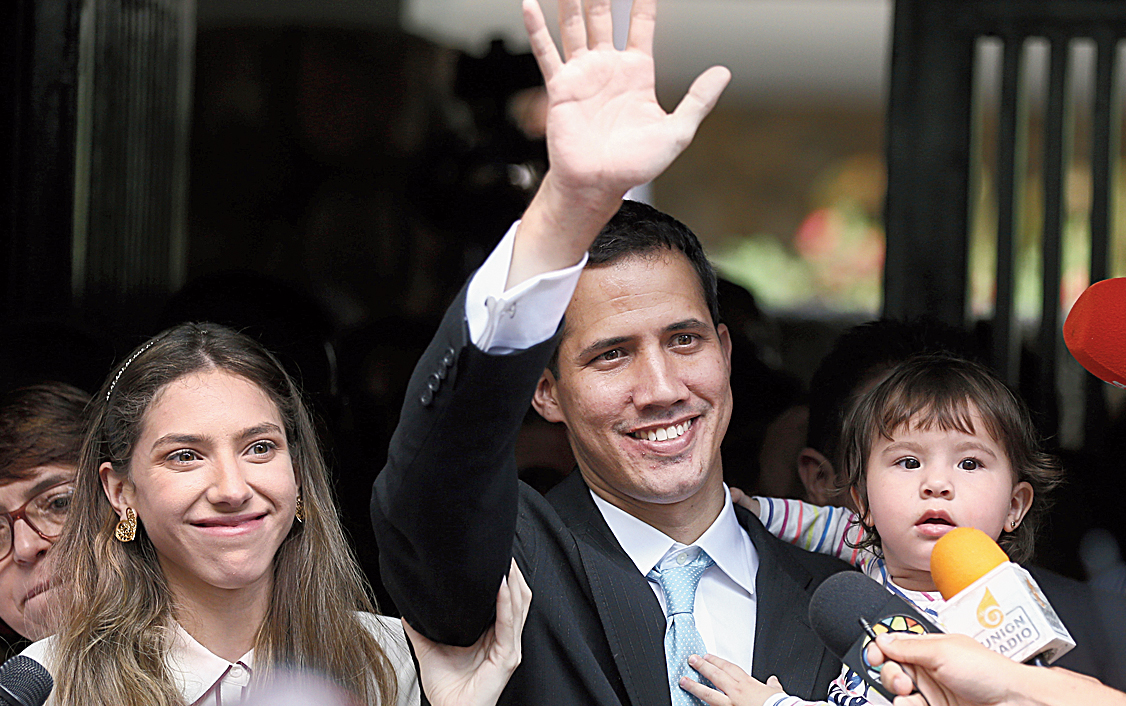 Juan Guaido with his wife Fabiana and daughter Miranda in Caracas.
(AP)
---
Washington/Caracas
|
Published 03.02.19, 07:06 PM
|
---
US President Donald Trump has said that sending the military to Venezuela is "an option" and that he has turned down President Nicolas Maduro's request for a meeting.
"Certainly, it's something that's on — it's an option," Trump said in an interview with CBS.
Trump said Maduro had requested a meeting months ago and he turned down the Venezuela leader.
"I've turned it down because we're very far along in the process," he said in excerpts from the CBS "Face the Nation" interview. "So, I think the process is playing out — very, very big tremendous protests."
Tens of thousands of people have thronged the streets to protest the Maduro government, wearing the yellow, red and blue of the Venezuelan flag.
Russia's foreign ministry said on Sunday that the international community should focus on helping to solve Venezuela's economic and social problems and refrain from any "destructive" interference, the Interfax news agency reported.
"The international community's goal should be to help (Venezuela solve socio-economic problems), without destructive meddling from beyond its borders," Alexander Shchetinin, head of the ministry's Latin American department, was cited by Interfax as saying.
France will recognise Venezuelan Opposition leader Juan Guaido as interim President if Maduro does not announce a presidential vote by Sunday night, France's European affairs minister said.
Austria, too, will acknowledge Guaido as interim President if Maduro does not respond to the European Union's call for a free and fair presidential election, Chancellor Sebastian Kurz said.
Maduro on Sunday proposed holding early National Assembly elections that could potentially oust Guaido.
Maduro's call is likely to intensify his standoff with Guaido, who heads the Opposition-controlled National Assembly and is demanding a new presidential election.
Guaido on Sunday called on more members of the military to abandon Maduro's government following the defection of a high-ranking general.
Speaking from behind a podium decorated with Venezuela's presidential seal, Guaido told supporters he would keep his Opposition movement in the streets until Maduro stopped "usurping" the presidency and agreed to a presidential election overseen by international observers.
On Saturday, tens of thousands of Venezuelans joined Opposition protests against Maduro in Caracas and other cities.
Guaido called on "blocks" of the military to defect from Maduro's administration and "get on the side of the Venezuelan people".
"We don't just want you to stop shooting at protesters," Guaido said in a hoarse voice. "We want you to be part of the reconstruction of Venezuela."
He said that in the coming days, the Opposition would try to move humanitarian aid into the country by land and sea along three border points, including the Colombian city of Cucuta.
He described the move as a "test" for Venezuela's armed forces, which will have to choose between allowing the much-needed aid to pass and obeying the orders of Maduro's government.
Maduro also dug in his heels, insisting he was the only President of Venezuela and describing the anti-government protests as part of a US-led coup attempt.
Earlier Saturday, a Venezuelan air force general defected from Maduro's administration and called on his compatriots to participate in protests against the socialist leader's rule. Gen Francisco Yanez is the first high-ranking officer to leave Maduro's government since January 23, when Guaido declared himself the country's legitimate leader.