Liz Truss takes charge at 10 Downing Street
New PM plans largely loyalist cabinet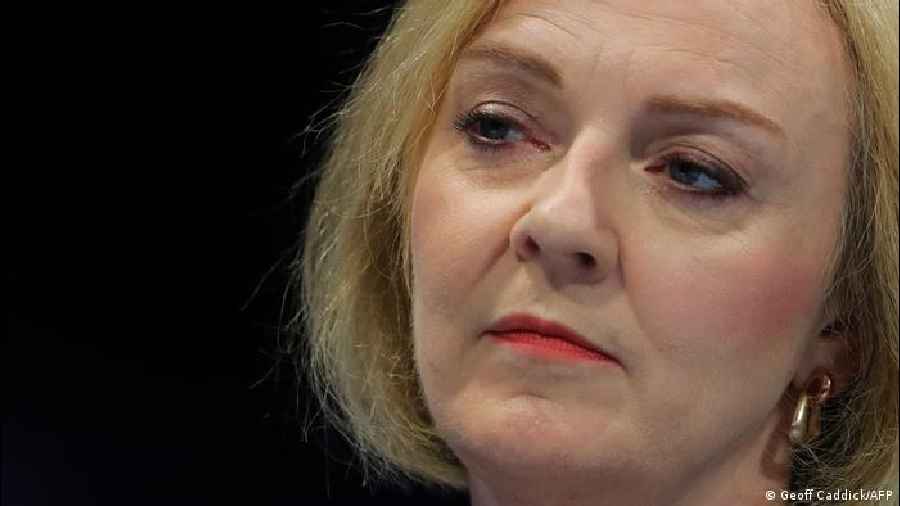 ---
London
|
Published 07.09.22, 01:01 AM
|
---
To the victor the spoils of war. Liz Truss took occupancy of 10, Downing Street and began appointing a largely loyalist cabinet on Tuesday evening after meeting the Queen at Balmoral earlier in the day.
Priti Patel, who has resigned as home secretary, is expected to be replaced by Goan-origin Suella Braverman, who has declared that "the British Empire was a force for good". Much is being made of the fact that for the first time, none of the great offices of state will be occupied by someone who is "white, male and stale".
Kwasi Kwarteng, who is said to be hate Rishi, is expected to be made chancellor, and James Cleverly foreign secretary. Among Truss's supporters, Iain Duncan Smith, the former Tory former leader, and Nadine Dorris, culture secretary, were both offered jobs but declined.
There are reports that one of Truss's closest friends, Therese Coffey, the pensions secretary, will get health and also become deputy prime minister. All the above appointments were later confirmed.
Meanwhile, the vanquished Rishi Sunak faded into the sunset – at least for the time being. Among Indians in the UK, there is a palpable sense of disappointment that he could not make it to the top job in British politics.
There is now an opportunity for the Labour party to try to rebuild its old relationship with Indian voters, who increasingly turned to the Tories over the last 20 years and so. The Labour MP for Ealing Southall, Virendra Sharma, told The Telegraph: "The Labour party needs to be very pro-active in reaching out to Indian voters, especially the Hindus."
Since Narendra Modi became prime minister in 2014, he has only had to deal with Tory prime ministers. It was David Cameron who accompanied him to a packed Wembley stadium in November 2015, while Boris Johnson gave Indians, including Rishi, Priti Patel, Alok Sharma and Suella Braverman, several top jobs in his cabinet.
On his last visit to India in April, Boris referred to Modi as his "khaas dost" and promised a bilateral trade agreement "by Diwali".
But the way Rishi has been treated by the Conservative party membership and the massed ranks of the Daily Telegraph, the Daily Mail, the Daily Express and the Sun appears to have slightly sullied the Indian love affair with the Conservative party.
From the start, the right wing press urged Rishi to quit the race because his contest with Truss was lost even before it had begun.
For example, on September 3, a headline in the Sun read: "Rishi Sunak is set to be exiled to the backbenches as he prepares to suffer a landslide defeat to Liz Truss tomorrow."
In the event after he got 60,399 votes (42.6 per cent) to Truss's 81,326 (57.4 per cent), the Sun acknowledged: "Victory for Liz Truss was a tighter affair than expected with some polls predicting a far more comfortable win." The idea all along had to been stampede Tory party members into believing there was little point in backing a loser. There was plenty of drama on Tuesday when Boris and Truss made the 1,100-mile round trip from Northolt airport in London to Aberdeen in separate private jets to see the Queen.
Boris, accompanied by his wife, Carrie – she wore a striking fuschia outfit – tendered his resignation to the Queen, who met him in the informal drawing room at Balmoral, with its mint-green carpet, matching green sofas, large fireplace with a clock and mirror above, and a number of horse-themed paintings.
First came this statement: "The Right Honourable Boris Johnson MP had an audience of The Queen this morning and tendered his resignation as Prime Minister and First Lord of the Treasury, which Her Majesty was graciously pleased to accept."
Shortly afterwards, Truss landed in a foggy Aberdeen airport, was driven to Balmoral, met the Queen and was duly appointed Her Majesty's 15th prime minister.
A new statement said: "The Queen received in Audience The Right Honourable Elizabeth Truss MP today and requested her to form a new Administration. Ms Truss accepted Her Majesty's offer and kissed hands upon her appointment as Prime Minister and First Lord of the Treasury."
There is actually no kissing of hands. Boris's farewell speech as he left No 10 for the last time as prime minister was richly entertaining. He claimed credit for Brexit, delivering the first vaccine roll out in Europe and helping in its war against Vladimir Putin.
Boris, who read classics at Oxford, said: "On the subject of bouncing around in future careers – let me say that I am now like one of those booster rockets that has fulfilled its function and I will now be gently re-entering the atmosphere and splashing down invisibly in some remote and obscure corner of the Pacific.
"And like Cincinnatus, I am returning to my plough."Cincinnatus? Professor Mary Beard, a scholar of ancient Rome, told BBC Radio 4′s Today programme: "There's a simple story about Cincinnatus with a sting in the tail.
"He was an old Roman politician in 5th Century BC who was in retirement, and when Rome was threatened with military invasion, Cincinnatus took up dictatorship – took up sole power – he defeated the enemy. Then he beautifully went back to his farm, went back to his plough."
She added that "he does come back to power again, very briefly "but just to suppress a "popular uprising by the underprivileged".
"So it's a risky analogy, I think," Beard commented. Boris did urge Tories to get behind Truss: "Thank you to everyone who has helped look after me and my family over the last three years including Dilyn, the dog. And I just say to my party: if Dilyn and Larry (the No 10 cat) can put behind them their occasional difficulties, then so can the Conservative Party."
BBC cameras tried to build up a sense of anticipation for Truss's first speech as prime minister as her motorcade made its way across London. Heavy rain delayed proceedings but in the end it stopped long enough for her to get out of her car, walk to her podium outside the famous shiny, black door of No 10 Downing Street and deliver her speech before entering the building with her husband, Hugh O'Leary.
Even her most ardent supporters could not describe it as a memorable speech but she set out her agenda. She began by paying tribute to Boris, possibly to ensure he resists the temptation to do unhelpful backseat driving as the ousted prime minister. She said: "I'm confident that together we can ride out the storm, we can rebuild our economy and we can become the modern brilliant Britain that I know we can be."
She promised to take immediate action "to deal with energy bills and to secure our future energy supply." On tax cuts and energy support she said: "As prime minister, I will pursue three early priorities. Firstly, I will get Britain working again. I have a bold plan to grow the economy through tax cuts and reform.
"I will cut taxes to reward hard work and boost business-led growth and investment. I will drive reform in my mission to get the United Kingdom working, building and growing. We'll get spades in the ground to make sure people are not facing unaffordable energy bills and we will also make sure that we are building hospitals, schools, roads and broadband.
"Secondly, I will deal hands on with the energy crisis caused by Putin's war. I will take action this week to deal with energy bills and to secure our future energy supply.
"Thirdly, I will make sure that people can get doctors' appointments, and the NHS services they need. We will put our health service on a firm footing. By delivering on the economy, on energy and on the NHS, we will put our nation on the path to long-term success."
On the challenges ahead she said: "We now face severe global headwinds caused by Russia's appalling war in Ukraine and the aftermath of COVID. Now is the time to tackle the issues that are holding Britain back ... I know that we have what it takes to tackle those challenges. Of course, it won't be easy but we can do it."
It has been confirmed that Dominic Raab, Grant Shapps and Steve Barclay – three of Rishi's most prominent backers in cabinet – have all been sacked. It seems Truss in on a revenge mission. The Daily Telegraph said: "It seems that Truss is making an example of the Rishi Sunak supporters in the Cabinet by sacking them all first."