Larry the cat will have to decide whether to Leave or Remain at 10 Downing Street, now that Boris Johnson has decided to move a dog, reported to be a rescued Jack Russell, into the premises.
In an exclusive interview with the Sunday Times, the Prime Minister said: "I cannot reveal more for security reasons." But he confirmed: "There is a dog."
As with most off the cuff remarks made by Boris, he inserted an intriguing literary reference: "The dog is like the giant rat of Sumatra, it is a creature for whom the world is not yet ready."
In case there were any readers baffled by the comparison, the paper explained this was "a reference to a Sherlock Holmes mystery which Sir Arthur Conan Doyle mentioned in a short story but never wrote".
The reference to the giant rat of Sumatra occurs in The Adventure of the Sussex Vampire, one of 12 Sherlock Holmes stories collected between 1921 and 1927 as The Case-Book of Sherlock Holmes.
It was first published in the January 1924 issues of The Strand Magazine in London and Hearst's International Magazine in New York.
The reference comes right at the start of the tale, which is apparently about vampires.
"Matilda Briggs was not the name of a young woman, Watson," said Holmes, in a reminiscent voice.
"It was a ship with the giant rat of Sumatra, a story for which the world is not yet ready. But what do we know about vampires? Does it come within our purview either? Anything is better than stagnation, but really we seem to have been switched on to a Grimm's fairy tale. Make a long arm, Watson, and see what V has to say."
Unlike the giant rat of Sumatra, one has to assume Boris's dog will soon acquire a Twitter handle. His decision to own one will also be seen as a political ploy aimed at attracting goodwill in a nation of dog lovers.
The Sunday Times said that Boris "has picked a dog but it is not yet in residence. It will belong to him and his girlfriend Carrie Symonds rather than become an official No 10 companion for Larry the cat".
According to the Mail on Sunday, Boris and his live-in girlfriend "are expected to welcome the unnamed 15-week-old puppy to Downing Street within days.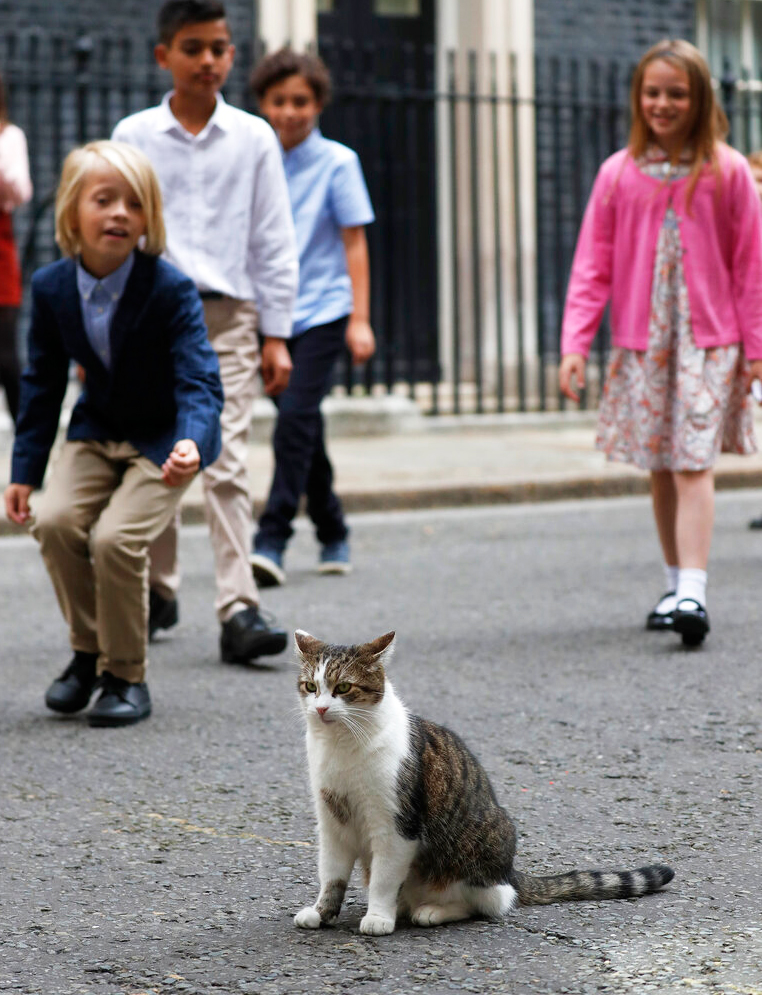 Schoolchildren approach Larry the cat as they leave after a scheduled meeting with Britain's Prime Minister Boris Johnson at 10 Downing Street in London, Friday, August 30, 2019. (AP)
"It was rescued by Friends of Animal Wales after being abandoned by a Welsh farmer for having an undershot and misaligned jaw, meaning it could not be sold.
"Last month, Johnson polled staff on whether to get a dog and received an overwhelming 'yes' from his team.
"Mr Johnson and Ms Symonds are hoping to highlight new anti-puppy farming legislation, known as Lucy's Law, which comes into force from April.
"The as-yet-unnamed pup was then rescued by Eileen Jones of the volunteer group Friends of Animals Wales —which rehabilitates sick and discarded animals."
As far as Boris and his no-deal Brexit supporters are concerned, the only rats are the Tory MPs, such as former chancellor Philip Hammond and the former attorney general Dominic Grieve, who are accused of plotting with Labour to outmanoeuvre the Prime Minister.
Worryingly for the Tory "rebels", there are suggestions that if the Commons votes to block a no deal Brexit, Boris will advise the Queen not to pass it into law, thereby drawing the monarch into politics. There are also reports that Boris will refuse to resign immediately even if he loses a no confidence motion, arguing his authority comes from "the people" who voted to leave the European Union in a referendum.