Landslides plague soggy California
Millions of residents faced flood warnings, nearly 50,000 people were under evacuation orders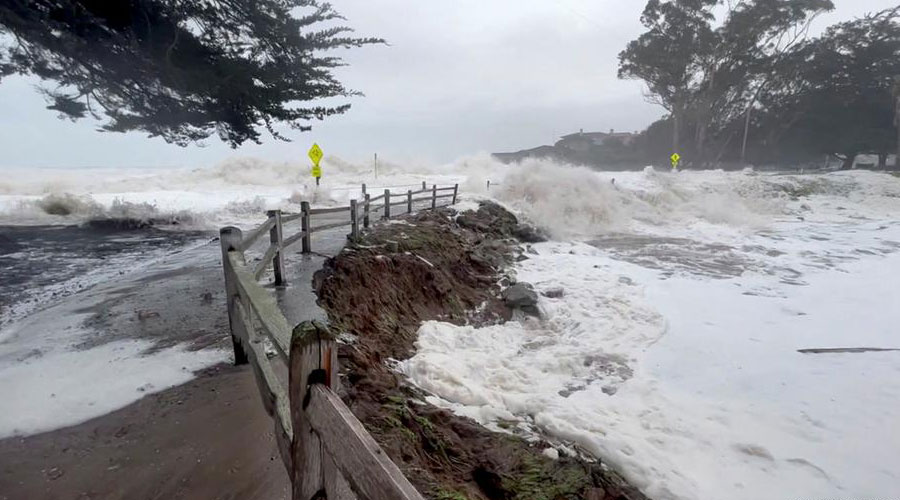 Representational image.
File Photo.
---
Los Angeles
|
Published 12.01.23, 01:37 AM
|
---
Sinkholes swallowed cars and floodwaters swamped towns and swept away a small boy as California was wracked by more wild winter while the next in a powerful string of storms loomed on the horizon on Tuesday.
Millions of residents faced flood warnings, nearly 50,000 people were under evacuation orders, and more than 110,000 homes and businesses were without power because of heavy rains, lightning, hail and landslides.
At least 17 people have died from storms that began late last month, governor Gavin Newsom said during a visit to the scenic town of Capitola on the Santa Cruz coast that was hard hit by high surf and flooding creek waters last week.
The deaths included a pickup truck driver and motorcyclist killed on Tuesday morning when a eucalyptus tree fell on them on Highway 99 in the San Joaquin Valley near Visalia, the California Highway Patrol said.
"We've had fewer people die in the last two years of major wildfires in California than have died since New Year's Day related to this weather," Newsom said. "These conditions are serious and they're deadly."
The storm that began Monday dumped more than a foot and a half (45cm) of rain in Southern California mountains and buried Sierra Nevada ski resorts in more than 5 feet (1.5 metres) of snow.
Rockfalls and landslides shut down roads, and gushing run-off turned sections of freeways into waterways. Swollen rivers swamped homes and residents of small communities inundated with water and mud were stranded.
"We're all stuck out here," said Brian Briggs, after the deluge unleashed mudslides in remote Matilija Canyon that buried one house completely and cut off the only road to nearby Ojai. Briggs described a scary night when the canyon creek began to flood people's yards and the surrounding hills —stripped of vegetation in the2017 Thomas Fire — began to tumble down in the dark.
Mudflows dragged sheds, gazebos and outhouses into the creek, he said. After helping neighbours get to higher ground, he returned home to find his fence destroyed by waist-deep mud.
A helicopter dropped 10 sheriff's deputies on Tuesday to help the residents of dozens of homes in the canyon and Briggs said he was hoping to be airlifted out.