Labour survives in Modi-factor seat
Leadbeater had been pressed to withdraw a leaflet which had condemned Boris Johnson for not taking the Indian Prime Minister to task over his stance on Kashmir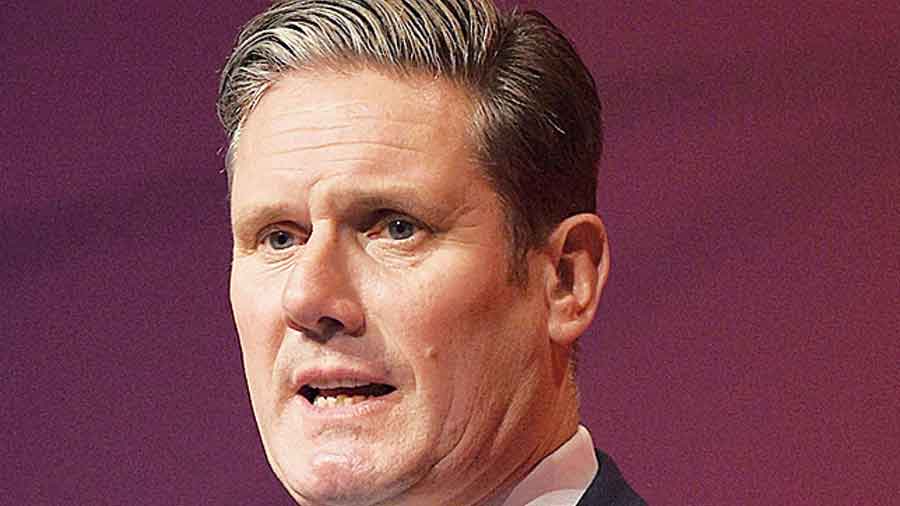 Keir Starmer
File picture
---
London
|
Published 03.07.21, 12:48 AM
|
---
The new Labour MP for the West Yorkshire constituency of Batley and Spen, Kim Leadbeater, has committed herself to campaigning against Narendra Modi's policies in Kashmir.
Results in the parliamentary by-election declared in the early hours of Friday showed Labour had narrowly held on to the seat, although its majority of 3,525 in the December 2019 general election was slashed to 323.
Leadbeater had been pressed — even by MPs in her own party — to withdraw a leaflet which had condemned Boris Johnson for not taking the Indian Prime Minister to task over his stance on Kashmir.
For example, Barry Gardiner, a senior Labour MP who has represented Brent North in London since 1997, had said prior to Thursday's poll: "I have written to the chair of the party objecting and asking that this leaflet be withdrawn."
Gardiner said: "The vicious and divisive attacks on the Labour candidate in Batley and Spen have been a disgrace. That is why it is all the more important that Labour should keep the moral high ground and refuse to engage in sectarian politics that set one community against another and stoke division.
"I have always condemned attempts to import the politics of the sub-continent into our community. I condemn all sectarian divisive politics, whether this is from the Conservatives and their anti-Islamic attacks on Sadiq Khan or whether it is Labour in leaflets like this. I believe our politics deserves better and that electors deserve better."
A tweet from a Patrick Maguire had included a photograph of Gardiner with Modi and the comment: "In Batley and Spen, Labour will put you on an attack leaflet if you pose alongside Modi."
This is the first time Modi has featured in a British election leaflet. In an effort to appeal to the constituency's 8,600 Muslim voters, mostly Pakistani , the Labour party issued the provocative leaflet showing Boris shaking hands with Modi, alongside the warning: "Don't risk a Tory MP who is not on your side."
It added, "The risk of voting for anyone but Labour is clear," saying of Boris that he was, "A Prime Minister who is silent on human rights abuses in Kashmir"; "Accused of white washing Islamophobia"; and that he had "Compared Muslim women to letterboxes" and said, 'Islam is the problem."
The Labour leader, Keir Starmer, refused to withdraw the leaflet, aware that his leadership would be called into question if the party lost to the Tories, as opinion polls were predicting.
He remain conspicuously silent although one of his Indian origin MPs, Navendu Mishra, who won Stockport in the West Midlands in 2019, reminded him that "racism is alive and well within Labour….. We beat our opponents based on policies, not by dog-whistle racism."
Commenting on the leaflet and promising Pakistani voters she would take a tough line on Modi if she were to be elected MP for Batley, Leadbeater told the BBC: "I don't think it is a mistake. I think that leaflet is about human rights and it's about having an MP who is going to speak out on the human rights issues in Kashmir.
"And, sadly, we've got a Prime Minister who isn't doing that, he isn't challenging the Indian government around these issues. So you need someone who can, and that's exactly what I would do."
The complicating factor in Batley was the appearance of the maverick politician George Galloway, who stands in parliamentary elections and makes a pitch for the Muslim vote. This time he stood for the "Workers Party" and argued that the Labour Party was not doing enough for Palestinians, an indirect way of saying it was too supportive of Israel and Britain's Jewish community.
He came third with 8,264 votes but Leadbeater appears to have attracted just enough Pakistani voters to get 13,296 votes, compared with 12,973 for the Tory candidate, Ryan Stepenson.
Galloway has threatened to go to court to have the result set aside.
In a constituency with 79,373, the turnout was 37,695 – 47.49 per cent, compared with 66.5 per cent in the 2019 general election.
Starmer, relieved his leadership will not be challenged – at least for the time being – said it was a "fantastic result" for the "brilliant and brave" Leadbeater: "Kim ran a positive campaign of hope, in the face of division. She will be an outstanding Labour MP for Batley and Spen."
Leadbeater, 44, is the sister of Jo Cox, the former Labour MP for the seat who was murdered by a right wing fanatic in June 2016.
The by-election was triggered because her successor, Tracey Brabin, stepped down in May after being elected mayor of West Yorkshire.
Labour will be accused of winning this toxic by-election by depicting Modi has a sort of bogeyman. But this will have long term consequences by encouraging even more Indians to vote Tory.
The leaflet reminded those with long memories, among them Virendra Sharma, the Labour MP for Ealing Southall, of the events in Smethwick in the West Midlands in the 1964 general election. The newly elected Labour Prime Minister Harold Wilson dismissed the victorious Tory MP, Peter Griffiths, as a "parliamentary leper", after the latter had endorsed the slogan, "If you want a n****r for a neighbour, vote Labour."
Sharma said that some in the Labour movement took the view that the Indian vote was now more or less lost to the Tories and therefore the party should shore up its support among Pakistanis. But Sharma argued this analysis was faulty and pointed out there were plenty of constituencies where Indian voters had remained loyal to the sitting Labour MP. His was an obvious example.
Gardiner's was another.
But it is true that many Indians turned away from Labour in 2019 because of Jeremy Corbyn's perceived pro-Pakistan stance over Kashmir – and helped Boris win a landslide majority. He has responded by appointing Rishi Sunak, Priti Patel and Alok Sharma to his cabinet and his government believes it is in the UK's interest to build an "enhanced" strategic relationship with India, where Modi currently happens to be Prime Minister.