King Charles III makes first Parliament address as Britain's new monarch
'Parliament is the living and breathing instrument of our democracy'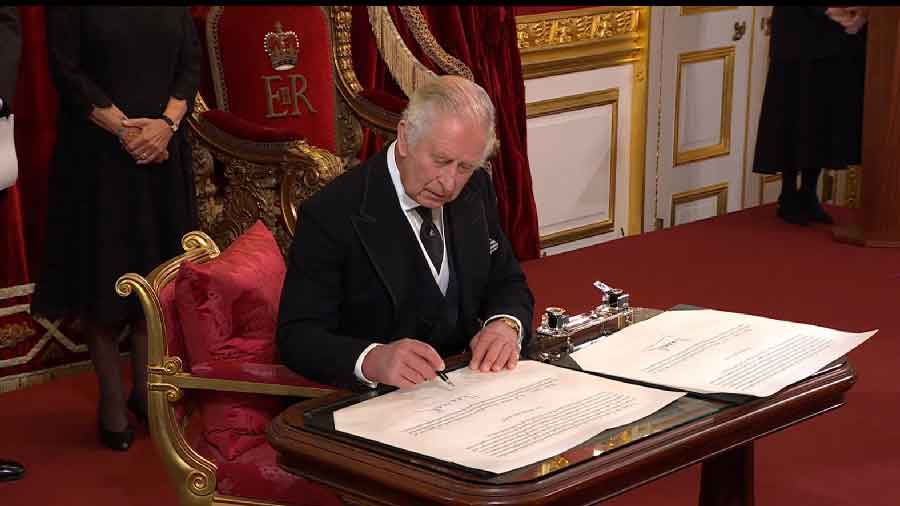 King Charles III
Twitter/@messiecondo
---
London
|
Published 12.09.22, 04:02 PM
|
---
King Charles called Britain's parliament the "living and breathing instrument of our democracy" and pledged to follow his late mother Queen Elizabeth's example in maintaining its independence in an address to both chambers on Monday.
Charles arrived at Westminster Hall in London to a fanfare of trumpets with his wife Camilla, Queen Consort, for the address — part of a series of pageantry-filled ceremonies following the queen's death on Thursday at her holiday home in Balmoral, Scotland, after 70 years on the throne.
After the address, the new monarch set out for Edinburgh to join his siblings for a solemn procession when the coffin of Queen Elizabeth is taken to the city's historic cathedral. They will then take part in a vigil at St Giles' Cathedral, on the Scottish capital's centuries-old Royal Mile, where the coffin will lie at rest before being flown to London on Tuesday. Prime Minister Liz Truss — still in her first week in office — and parliamentarians from the House of Commons and the House of Lords, attended the address in Westminster Hall. The Lord Speaker described the late queen as "both a leader to and servant of her people".
Charles and Camilla sat on ceremonial chairs, with cavalry troopers in red tunics and plumed helmets standing to attention behind. In his address, Charles said: "While very young, Her late Majesty pledged herself to serve her country and her people and to maintain the precious principles of constitutional government which lie at the heart of our nation.
This vow she kept with unsurpassed devotion. "She set an example of selfless duty which, with God's help and your counsels, I am resolved faithfully to follow."  "I think when the queen's coffin emerged from Balmoral Castle yesterday, I think that it was a moment of enormous significance," John Swinney, Scotland's deputy First Minister told BBC radio.
"I think people drew breath, because what we've all been living through over the last few days suddenly became real, it became visible." When the coffin arrives at St Giles' Cathedral, the Duke of Hamilton and Brandon, the premier Scottish peer, will place the Crown of Scotland on it. After a service, the coffin will rest there for 24 hours to allow people to pay their respects. A vigil will be mounted by soldiers from the Royal Company of Archers — the sovereign's "Body Guard in Scotland".