Killing proof of American hypocrisy, says Russia
The country's foreign ministry demanded that Washington protect the rights of its own citizens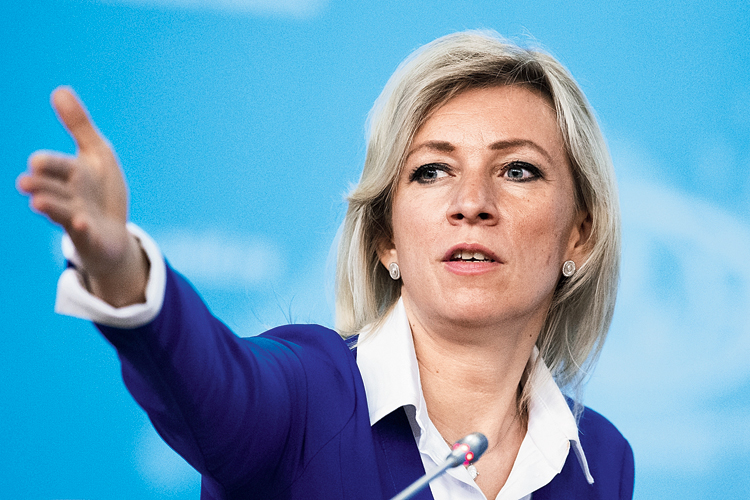 ---
|
Moscow
|
Published 05.06.20, 08:41 PM
---
Smarting over decades of American criticism of its human rights record, Russia is now getting some payback.

The Kremlin-backed leader of Chechnya, sanctioned by the US as a violent brute responsible for torture and extrajudicial killings, said this week that he was "horrified" by the brutality of the American police.
Russia's foreign ministry, for its part, lamented "a real tragedy, an American tragedy" and demanded that Washington protect the rights of its own citizens instead of constantly finding fault in Russia.
"By taking measures to prevent looting and other illegal actions, authorities should not violate the rights of Americans to peaceful protest," Maria Zakharova, the foreign ministry's spokeswoman, said on Thursday. Speaking earlier on a TV talk show, Zakharova said that because of the chaos, the US "simply cannot have any questions for others in the coming years".
The host of the show, Vladimir Solovyov, suggested that Russia commemorate George Floyd, the black man killed last week in Minneapolis, by blacklisting American officials for human rights violations — just as the US did to selected Russian officials following the 2009 death in a Moscow prison of Sergei L. Magnitsky, a tax lawyer for the American-born financier William F. Browder.
"Russia is really enjoying this," said Ivan Kurilla, an expert on Russia's relations with the US at the European University at St Petersburg.
The turmoil on American streets and the sometimes overly aggressive response of law enforcement officers, Kurilla said, has served two important Kremlin goals.
For one, it has deflected criticism of Russia's own security services. For another, videos of buildings ablaze and of sporadic looting have helped drive home one of the Kremlin's favourite messages: that protests, even if initially peaceful, invariably risk violent disorder and so need to be nipped in the bud.
New York Times News Service