Julian Assange arrest triggers global storm
Corbyn opposes WikiLeaks founder's extradition to US while Hillary supports it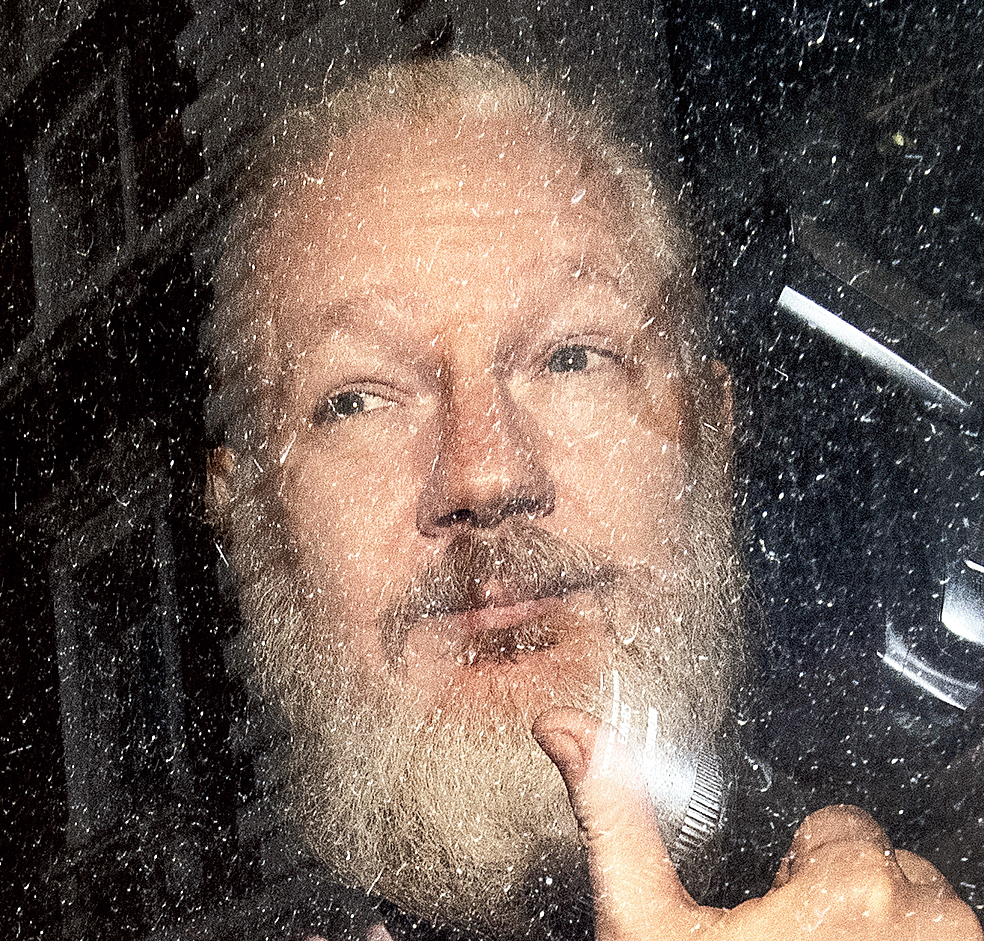 Julian Assange arrives at the Westminster Magistrates' Court in London on April 11.
(AP)
---
London
|
Published 12.04.19, 06:44 PM
|
---
Julian Assange's arrest at the Ecuadorian embassy in London has generated a global political controversy, with the Labour leader Jeremy Corbyn declaring the 47-year WikiLeaks founder should not be extradited to face espionage charges and Hillary Clinton, defeated American presidential candidate, saying he should.
Assange appears to be very much a flawed hero partly because he is accused of rape charges in Sweden — which may be revived — and partly because he turned on the Ecuadorian government which gave him shelter for seven years.
On the other hand, his supporters in the UK, the US and other countries, see the issue as one of press freedom and that his extradition is being sought because he exposed wrong doing by the American authorities. This was spelt out by Corbyn: "The extradition of Julian Assange to the US for exposing evidence of atrocities in Iraq and Afghanistan should be opposed by the British government."
He accompanied his social media post with a video tweeted by his shadow home secretary and close ally (and former lover) Diane Abbott, which she said showed leaked Pentagon footage of a 2007 airstrike in Iraq that implicated US armed forces in the killing of civilians and two journalists.
Addressing the House of Commons on Thursday, Abbott said: "On this side of the house we want to make the point that the reason we are debating Julian Assange this afternoon, even though the only charge he may face in this country is in relation to his bail hearings, is entirely due to the whistleblowing activities of Julian Assange.
"It is this whistleblowing into illegal wars, mass murder, murder of civilians and corruption on a grand scale that has put Julian Assange in the crosshairs of the US administration.
"It is for this reason that they have once more issued an extradition warrant against Assange."
In response, the home secretary, Sajid Javid, said: "Why is it whenever someone has a track record of undermining the UK and our allies and the values we stand for, you can almost guarantee that the leadership of the party opposite will support those who intend to do us harm?"
During the 2016 US presidential election, WikiLeaks disseminated the contents of internal communications stolen from the Democratic National Committee and damaged the Clinton campaign.
This explains why Clinton said: "I think it is clear from the indictment that came out it's not about punishing journalism, it is about assisting the hacking of a military computer to steal information from the US government, and look, I'll wait and see what happens with the charges and how it proceeds, but he skipped bail in the UK.
"The bottom line is he has to answer for what he has done, at least as it's been charged. I do think it's a little ironic that he may be the only foreigner that this administration would welcome to the US," Clinton quipped.
Assange was arrested after his Ecuadorian nationality was revoked by the country's President, Lenin Moreno, who took over two years ago from Rafael Correa.
The latter raged: "The greatest traitor in Ecuadorian and Latin American history, Lenin Moreno, allowed the British police to enter our embassy in London to arrest Assange."
Moreno is a corrupt man, but what he has done is a crime that humanity will never forget."
After his dramatic arrest, Assange was taken to Westminster Magistrates' Court and found guilty of a British charge of breaching bail. He spent Thursday night in custody and is facing up to 12 months in prison for that conviction.
The BBC's diplomatic correspondent James Landale said backing Assange is not without political risk and will not find universal favour among Labour MPs – but Corbyn's intervention "means the battle over Assange's future will now be as much political as it is legal".
Assange faces the prospect of a year in Wandsworth prison where Nirav Modi is currently on remand.