Spy Master who upended James Bond
John le Carré, creator of George Smiley, is no more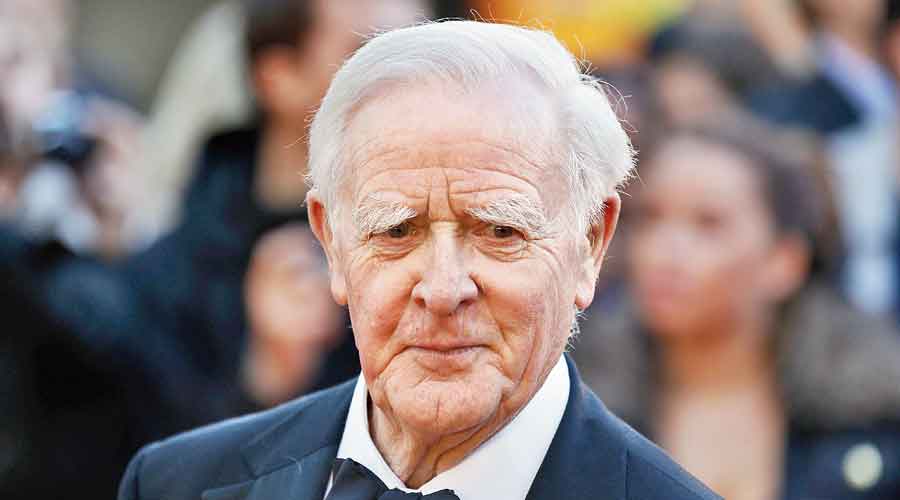 ---
London
|
Published 15.12.20, 03:39 AM
|
---
John le Carré, the British espionage writer who created the morally ambiguous world of the self-effacing English spymaster George Smiley in such novels as The Spy Who Came in from the Cold and Tinker Tailor Soldier Spy, died on Saturday in Truro, Cornwall. He was 89.
The cause was pneumonia and the death was not related to Covid-19, le Carré's literary agent Jonny Geller said. Born David John Moore Cornwell, le Carré is survived by his wife of almost 50 years, Jane, and his sons Nicholas, Timothy, Stephen and Simon.
"I think he has easily burst out of being a genre writer and will be remembered as perhaps the most significant novelist of the second half of the 20th century in Britain," the author Ian McEwan had said of le Carré in 2013.
He had added that le Carré had "charted our decline and recorded the nature of our bureaucracies like no one else has".
Le Carré's novels were the antithesis of the glamorous, racy world of James Bond as depicted by Ian Fleming.
The New York Times recalled that before le Carré published his best-selling 1963 novel The Spy Who Came in From the Cold, which Graham Greene called "the best spy story I have ever read", the fictional model for the modern British spy was Bond — suave, urbane, devoted to queen and country. With his impeccable talent for getting out of trouble while getting women into bed, Bond fed the myth of spying as a glamorous, exciting romp.
Le Carré upended that notion with books that portrayed British intelligence operations as cesspools of ambiguity in which right and wrong were too close to call and in which it was rarely obvious whether the ends, even if they were clear, justified the means.
Led by his greatest creation, the plump, ill-dressed, unhappy, brilliant, relentless George Smiley, le Carré's spies are lonely, disillusioned men whose work is driven by budget troubles, bureaucratic power plays and the opaque machinations of politicians — men who are as likely to be betrayed by colleagues and lovers as by the enemy.
"Thematically, le Carré's true subject is not spying," Timothy Garton Ash wrote in The New Yorker in 1999.
"It is the endlessly deceptive maze of human relations: the betrayal that is a kind of love, the lie that is a sort of truth, good men serving bad causes and bad men serving good."
Le Carré was born on October 19, 1931, in Poole, Dorset, but because he was working in intelligence for the foreign office, he had to adopt a nom de plume as an author.
Le Carré once said of his most famous creation: "The moment I had Smiley as a figure, with that past, that memory, that uncomfortable private life and that excellence in his profession, I knew I had something I could live with and work with."
Smiley, who first appeared in Call for the Dead in 1961, has been played by a number of actors including Rupert Davies, Alec Guinness and Gary Oldman.
On Monday, BBC Radio 4 played a small but revealing extract of Guinness as Smiley talking to his Russian nemesis, Karla: "You and I have spent our lives looking for the weaknesses in each other's systems. I'm sure each of us has experienced innumerable technical satisfactions in our wretched Cold War. I am sure both us, when we were young, subscribed to great visions but not any more.
"After all you have seen, you can't still be committed to that old grand design. You know, it's achieved nothing except new forms of the old misery. Don't destroy yourself. It's not worth it."
Le Carré's life and times were summed up by his friend, Robert Harris, himself the well-known author of such historical novels as Fatherland: "He was a completely unique character. I never met anyone like him. He was very charming, very beguiling, brilliantly intelligent."
It is known that le Carré was damaged by his father Ronnie Cornwall, a fraudster, described by one biographer as "an epic con man of little education, immense charm, extravagant tastes, but no social values".
His mother, Olive, walked out in 1937. He and his elder brother Tony were initially told that she had died. But he tracked her down years later when they met on a platform at Ipswich train station. There was nothing to heal in their broken relationship and, as he reported in his 2016 memoir The Pigeon Tunnel, she did not think very much of his novels.
Harris commented: "People often talk about his father, and how that damaged them. But I think it was the desertion by his mother when he was five years old which really informs this idea of betrayal -- you can't trust anyone -- that runs through his books."
As for his legacy, Harris said: "You only have to read a page, you don't have to be told who the author is, and you know, it's le Carré. He had an incredibly distinctive voice. He created one of those legendary characters in George Smiley, who will live on, I think, for decades. And he dealt with the issues of today and he didn't shy away from complexity; in fact, complexity was the hallmark of a le Carré novel.
"So in every respect, he was a highly literary figure. He just liked telling stories. He was in the tradition of Somerset Maugham and Graham Greene. He liked to connect to an audience.
"And for that reason, I think he will still be read in a hundred years, in particular the two masterpieces, The Spy Who Came in from the Cold and Tinker Tailor Soldier Spy.