Joe Biden and Xi Jinping agree to revive climate talks
After nearly three hours of talks, the two leaders made a cautious promise to try and improve a relationship that is at its most rancorous point in decades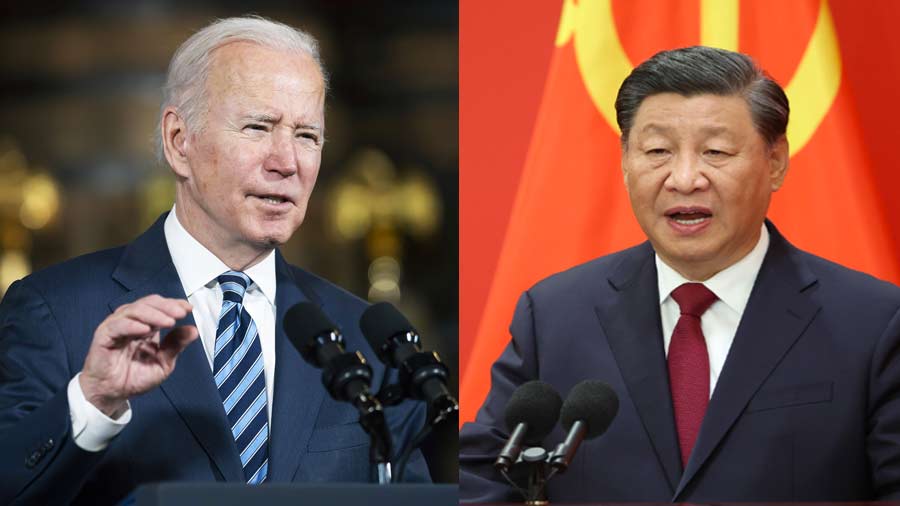 Joe Biden and Xi Jinping
File Photo
---
Bali
|
Published 15.11.22, 03:10 AM
|
---
US President Joe Biden and China President Xi Jinping agreed on Monday to restart talks between their countries as part of international climate negotiations, a breakthrough in the effort to avert catastrophic global warming.
Talks between China and the United States over climate had been frozen for months, amid rising tensions between the two countries over trade, Taiwan and a host of security issues. China suspended all cooperation with the US, including that around climate change, in August as retaliation for Speaker Nancy Pelosi's trip to Taiwan.
But the leaders of the world's two biggest economies — and the two biggest sources of fossil fuel emissions that are warming the planet — met for more than three hours on Monday afternoon ahead  of the Group of 20 summit in Bali, Indonesia, and emerged to say their representatives would return to the negotiating table.
After nearly three hours of talks, Biden and Xi made a cautious promise to try and improve a relationship that is at its most rancorous point in decades, while still laying bare the mutual distrust that could upend their efforts to repair ties.
Xi and Biden, in their first face-to-face meeting as top leaders, were betting big that personal diplomacy and their shared history could help mediate deep disagreements, over issues ranging from technology to Taiwan, that threaten to easily derail their fragile accord.
Biden warned his counterpart that China's aggressive stance towards Taiwan threatened stability in the region and could ultimately jeopardise the global economy. Xi replied that Taiwan's independence was as incompatible with peace and stability as "fire and water".
"I do not think there's an imminent attempt on the part of China to invade Taiwan," Biden said at a news conference after the meeting.
About the global economy, Biden said the US would "compete vigorously, and I'm not looking for conflict.  I'm looking to manage this competition responsibly. I want to make sure that every country abides by the international rules of the road."
China, in its statement, said that teams from each government would work on implementing the points of consensus, and "promoting the return of China-US relations to a stable track of development".
Although the two sides left the summit without finding common ground on some of their most contentious disagreements, both leaders appeared eager to downplay the idea that Washington and Beijing were headed towards Cold War-era confrontation. "I absolutely believe there need not be a new Cold War," Biden said.
The White House, in a separate statement, said that Antony Blinken, the secretary of state, would travel to China at some point after the meeting.
The announcement on the return to the talks table reverberated nearly 6,000 miles away in Sharm el Sheikh, Egypt, where delegates and activists at the United Nations climate conference, known asCOP27, were hoping for news that could spur more aggressive climate action from countries around the world.
"This is good news for the climate talks and for climate action," said Nathaniel Keohane, the president of the Center for Climate and Energy Solutions, an environmental group based in Washington.
Thousands of diplomats and activists in Egypt were hyper-focused on Biden's Bali meeting with Xi.
"A lot is at stake," said Li Shuo, a Beijing-based policy adviser for Greenpeace, an environmental group. He said the US and China needed to send a signal that the existential threat to humanity posed by climate change was worth putting aside their differences.
(New York Times News Service)