Jet black box shows struggle of Lion Air pilots
The plane's nose was forced dangerously downward over two dozen times during the 11-minute flight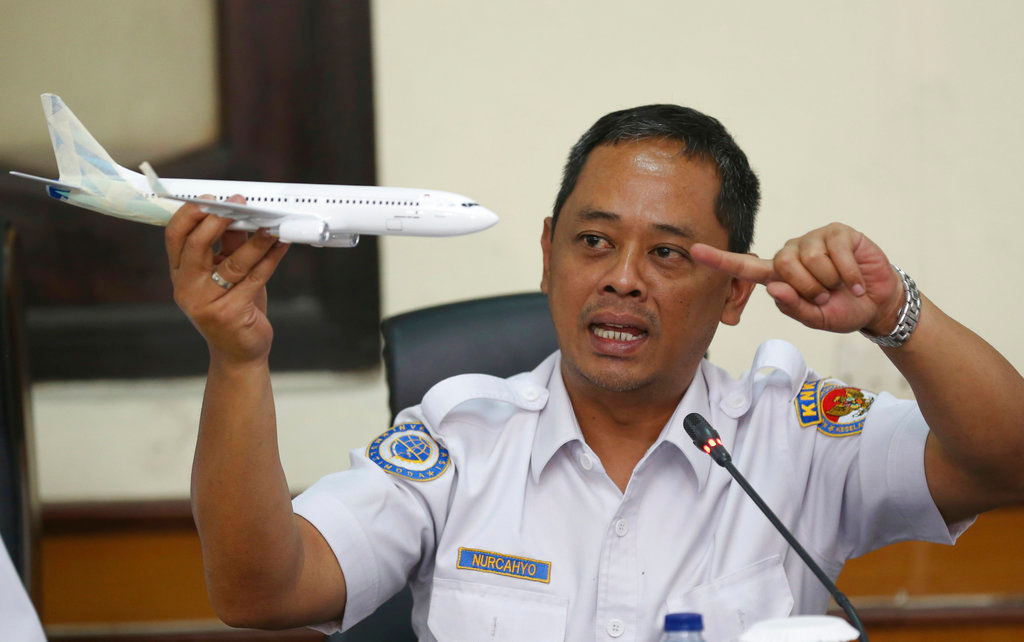 National Transportation Safety Committee investigator Nurcahyo Utomo holds a model of an airplane during a press conference on the committee's preliminary findings on their investigation on the crash of Lion Air flight 610, in Jakarta, Indonesia, Wednesday, November 28, 2018.
AP
---
London
|
Published 28.11.18, 08:38 PM
|
---
Data from the jetliner that crashed into the Java Sea last month shows the pilots fought to save the plane almost from the moment it took off, as the Boeing 737's nose was repeatedly forced down, apparently by an automatic system receiving incorrect sensor readings.

The information from the flight data recorder, contained in a preliminary report prepared by Indonesian crash investigators and released on Wednesday, documents a fatal tug of war between man and machine, with the plane's nose forced dangerously downward over two dozen times during the 11-minute flight.
The pilots managed to pull the nose back up over and over until finally losing control, leaving the plane, Lion Air Flight 610, to plummet into the ocean at 450 miles per hour, killing all 189 people on board.
The data from the so-called black box is consistent with the theory that investigators have been most focused on: that a computerised system Boeing installed on its latest generation of 737 to prevent the plane's nose from getting too high and causing a stall instead forced the nose down because of incorrect information it was receiving from sensors on the fuselage.
In the aftermath of the crash, pilots have expressed concern that they had not been fully informed about the new Boeing system — known as the maneuvering characteristics augmentation system, or MCAS — and how it would require them to respond differently in case of the type of emergency encountered by the Lion Air crew.
A fuller account of problems with the sensors on the fuselage, called angle-of-attack sensors, is expected to be part of a more complete report on the crash by Indonesian investigators. But one of those sensors was replaced before the plane's next-to-last flight, from Bali to Jakarta, after the jet experienced malfunctioning data readings, investigators say.
"The pilots fought continuously until the end of the flight," said Captain Nurcahyo Utomo, the head of the air accident subcommittee of the Indonesian National Transportation Safety Committee, which is leading the investigation.
He said that the MCAS system had been activated and that it was a central focus of the investigation.
Details of the black box data were contained in a briefing for the Indonesian parliament and were first disclosed publicly in the Indonesian media. The data was publicised and analysed in a blog post by Peter Lemme, a satellite communications expert and former Boeing engineer.
Much remains unknown about the doomed flight.