Japan emperor ascends throne
Emperor Naruhito is the first Japanese emperor born after World War II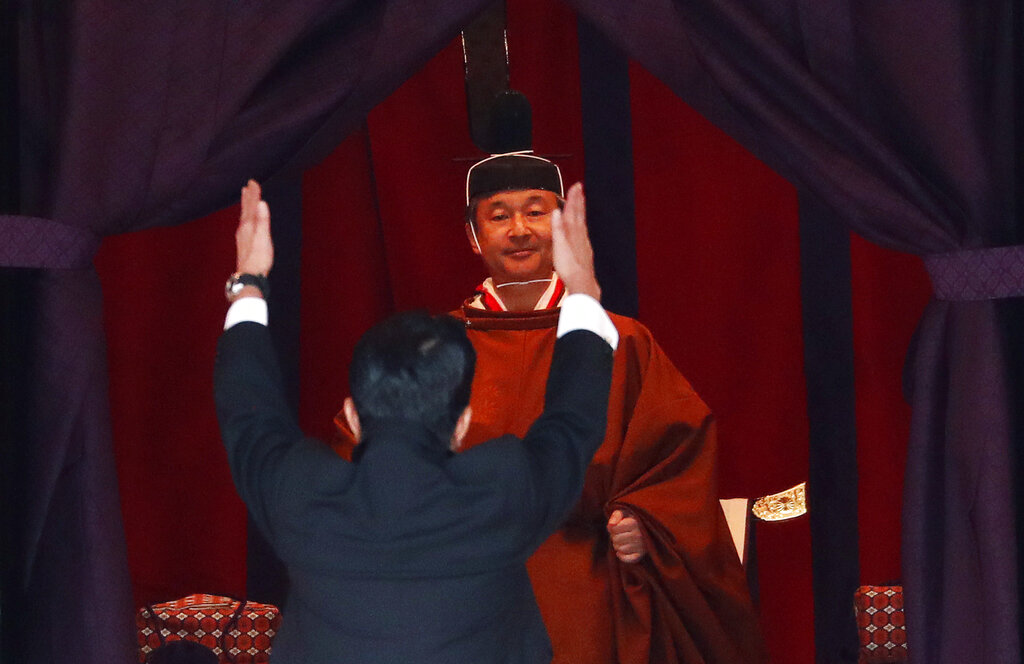 Japan's Prime Minister Shinzo Abe raises his hands as he shouts "banzai" or cheers in front of Emperor Naruhito during a ceremony to proclaim Emperor Naruhito's enthronement to the world, called Sokuirei-Seiden-no-gi, at the Imperial Palace in Tokyo, Japan, Tuesday, Oct. 22, 2019.
AP
---
Tokyo
|
Published 22.10.19, 08:02 PM
|
---
Japanese Emperor Naruhito formally proclaimed his ascendancy to the throne on Tuesday in a centuries-old ceremony attended by dignitaries from more than 180 countries, pledging to fulfil his duty as a symbol of the state.
Naruhito became emperor and his wife Masako became empress on May 1 in a brief ceremony, but Tuesday''s "Sokui no Rei" was a more elaborate ritual at the royal palace in which he officially announced his change in status to the world.
"I swear that I will act according to the constitution and fulfil my responsibility as the symbol of the state and of the unity of the people," the 59-year-old emperor declared, his voice slightly hoarse, in front of about 2,000 guests including Britain's Prince Charles.
"I sincerely hope that Japan will develop further and contribute to the friendship and peace of the international community, and to the welfare and prosperity of human beings through the people's wisdom and ceaseless efforts."
Naruhito is the first Japanese emperor born after World War II.
He acceded to the throne when his father, Akihito, became the first Japanese monarch to abdicate in two centuries, worried that advancing age might make it hard to perform official duties.