Iraq downs US spy plane
Read more below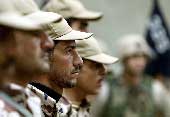 ---
Published 24.12.02, 12:00 AM
|
---
Israeli soldiers wear chemical warfare protection suits during a training session. (AFP)
Baghdad, Dec. 23 (Reuters): Iraqi forces shot down an unmanned US Predator spy plane over southern Iraq today in a "delicate and planned operation".
An Iraqi military spokesman said in a statement that the Predator, flying in from a base in Kuwait, breached Iraqi airspace in southern Iraq while on a spying mission.
"With God's help, and with the will of the men of our heroic air defence forces and brave sky eagles, it was shot down in a delicate and planned operation," the statement said, adding that the plane was downed at 3.35 pm (1235 GMT).
In Washington, a Pentagon spokesman had said a Predator was presumed lost after being fired on by an Iraqi aircraft in the no-fly zone imposed over southern Iraq.
It was the first downing of a US aircraft in the no-fly zone since a new UN disarmament resolution was passed in November. US Joint Chiefs of Staff Chairman General Richard Myers said he did not view the incident as an escalation of the dispute with Iraq over UN disarmament demands.
However, in signs that the market believed war was increasingly likely, oil prices climbed nearly to three-month highs. Gold, seen as a safe store of value in troubled tim- es, headed higher also, boos- ted by a weaker dollar.
The plane strike was preceded by an outburst by Baghdad which termed termed President George W. Bush's drive a "mad campaign of little Bush".
"The administration of little Bush is launching a mad campaign based on lies and accusations," the ruling Baath Party newspaper al-Thawra wrote in a front-page editorial.
President Bush's father George Bush had led the first US campaign against Iraq as President in 1991.
In Washington, a US official said the drive to rid Iraqi President Saddam Hussein of weapons of mass destruction was entering a final phase.
The United Nations Vienna-based International Atomic Energy Agency said it had begun one-on-one interviews with Iraqi scientists about suspected nuclear, biological and chemical weapons programmes.